Franklin Graham: You Can Be Gay and Go to Heaven, No Question...But You Must Repent First Like All Sinners (VIDEO)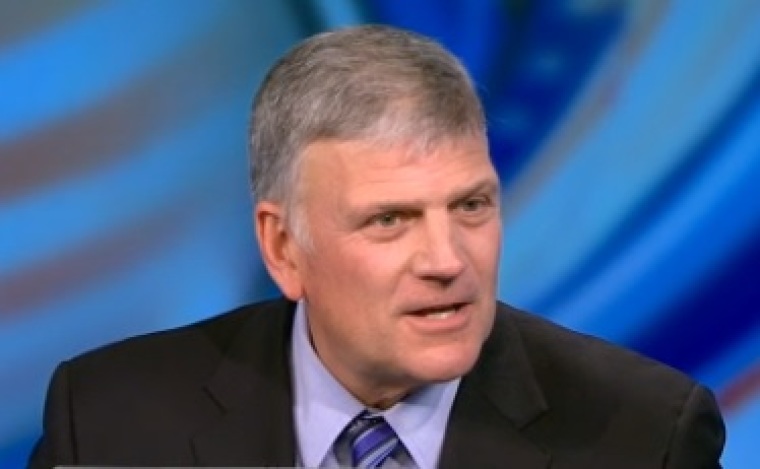 Franklin Graham, president of the Billy Graham Evangelistic Association, recently said in a panel discussion broadcast on Easter Sunday that he believes, as an Evangelical Christian, "you can be gay and go to heaven, no question." But importantly, Graham clarified that the reason for this is that all humans are sinners and all must repent before they can be accepted into heaven.
Graham was discussing various subjects, including same-sex marriage, Russia, and the Easter season, with other panel members and ABC's "This Week" host Martha Raddatz for the program's Easter week special focusing on religion. Graham was joined by Dr. Russell Moore, president of the Southern Baptist Ethics & Religious Liberty Commission, Ralph Reed, chairman of the Faith and Freedom Coalition, and "This Week's" own Cokie Roberts.
When the topic of same-sex marriage and same-sex adoption came up on the panel, Graham said: "When we talk about families and we talk about gay people … maybe gays that are watching want to know, 'Can God forgive me? Or can I go to heaven as a gay person?' Absolutely."
"But the same for any of us. We have to repent of our sins in turn. A person cannot stay in adultery and be accepted by God. You'll have to repent."
"Franklin Graham is a sinner," Graham continued, "and I'm no better than a gay person. I'm a sinner. But I've been forgiven, and I've turned from my sins. For any person that's willing to repent in turn, God will forgive. You can be gay and go to heaven, no question."
Cokie Roberts offered a retort to Graham's statement, saying, "A lot of gay people feel that they are sinners, but not because they're gay."
The topic of Russia and Vladimir Putin also came up during the panel discussion, and Graham, son of famed evangelist Billy Graham, said he continues to support the Russian president's decision to ban gay and lesbian couples from foreign countries from adopting Russian children.
Putin signed the law banning same-sex foreigners from adopting Russian orphans almost a year after he signed a law banning Americans from adopting Russian orphans.
Moore, however, sought to distance himself from Graham's comments, saying he does believe every child "deserves to have a mom and dad" but that he disagrees that Vladimir Putin is doing "what's best for Russia" with his adoption ban. He noted that he himself has two adopted children from Russia and he believes the president has used the country's orphans as "pawns" in a political game.