Freed Christian Pastor Describes North Korean Labor Camp Conditions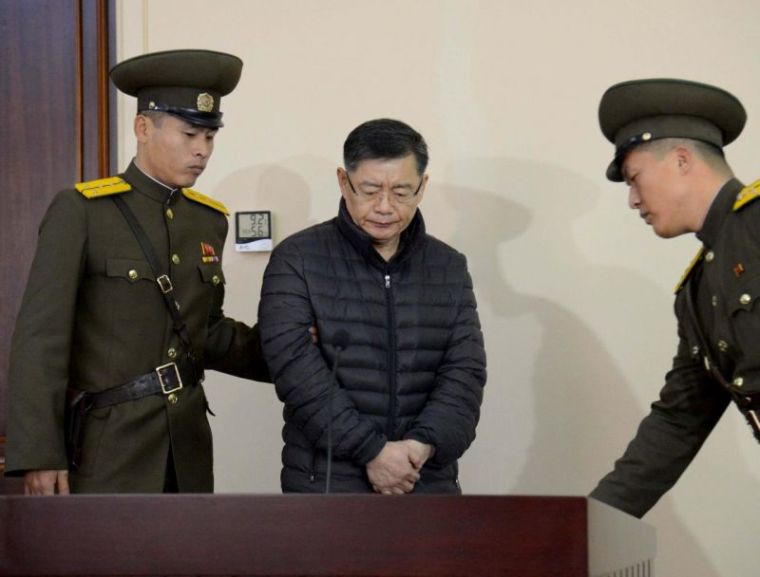 Rev. Hyeon Soo Lim, the Christian pastor who last week was freed and returned home to Canada, revealed what he had to suffer through at the North Korean labor camp where he was held.
"During the winter, I had to dig holes that measured one meter wide and one meter deep," Lim said on Sunday upon his return to Light Korean Presbyterian Church in Mississauga, Ontario.
"The ground was frozen. The mud was so hard that it took two days to dig one hole. It was incredibly challenging. My upper body was sweating. My fingers and toes were frostbitten," he recalled, according to The Globe and Mail.
As Reuters reported, Lim was held for more than two years in North Korea after originally being sentenced to hard labor for life in December 2015, accused of attempting to overthrow Kim Jon Un's regime.
Lim spoke before his church on Sunday for the first time since his release. He thanked the Canadian government for its assistance, including National Security Adviser Daniel Jean, who visited North Korea to ask for his freedom.
"It's a miracle for me to be here today," the pastor said in Korean. "I always knew Canada was a very warm and compassionate nation, but through my ordeal I really began to grasp that very deeply."
Lim further revealed that he suffered from "overwhelming loneliness" while in prison, explaining that he ate 2,757 meals in isolation and worshiped alone for 130 Sundays.
Additionally, he read more than 100 books and watched many propaganda films about North Korea's history, which he said allowed him to "grasp and gain a deeper understanding of the 70-year history that formed the nation."
The pastor was made to confess to "indescribable treason" back in 2015 for writing biblical phrases and the name of his church on sacks of food, which the government said represented efforts to try and overthrow the Kim regime.
Senior Pastor Jason Noh said that he was not sure what Lim's role at the church will now be, but said that the congregation's "prayers were answered."
"It was incredible. We've been waiting for this moment to come. I had tears of joy," Noh said.
"He's been alone, praying and planning for the past two and a half years. He's a visionary. There are a lot of things he wants to do," he added.
Persecution watchdog groups have long described North Korea as the worst persecutor of Christians in the world, outlawing and punishing any expression of faith.
"Essentially, North Korea is the most oppressive regime in the world; it is certainly the most closed, isolated country in the world. It's a regime that stands accused by the U.N.'s own Commission of Inquiry of crimes against humanity," Benedict Rogers, East Asia Team Leader at Christian Solidarity Worldwide, told The Christian Post in an interview in March.
"Those crimes against humanity include the incarceration of 100,000 to 200,000 prisoners, who are jailed because of political crimes, and are subjected to the worst forms of torture, slave labor, denial of medical care, sexual violence, and in some instances execution."