Gaza Protests, Killings: 6 Things to Know About Israel-Palestine
4. United Nations Calls Out Israel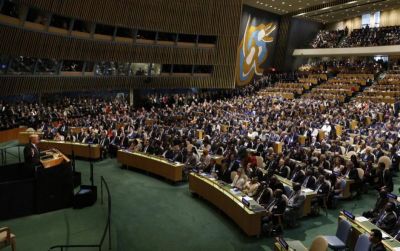 The U.S. blocked on Tuesday a U.N. Security Council statement that called for an independent investigation into the deaths of the Palestinians on the Israeli-Gaza border.
"The Security Council expresses its outrage and sorrow at the killing of Palestinian civilians exercising their right to peaceful protest," read a draft of the statement, as reported by AFP. 
"The Security Council calls for an independent and transparent investigation into these actions to ensure accountability."
The draft statement argued that the protests on the Gaza Strip were "peaceful."
"The Security Council calls on all States not to undertake any steps that further aggravate the situation, including any unilateral and unlawful measures undermining the prospects of peace," it added.
The U.N. Human Rights Council separately said that it would hold a special session on Friday to discuss "the deteriorating human rights situation" in the region. 
"The special session is being convened per an official request submitted this evening by Palestine and the United Arab Emirates," the Geneva-based body said, noting that the session has received support from 26 states so far.
U.N. Watch has pointed out that from its inception in 2006, the Human Rights Council has held 22 specials sessions focused on criticizing countries, with Israel being the subject of eight such sessions, more than any other nation. 
It noted that the sessions have been initiated by Arab states, and do not include any condemnation of Hamas.
Moreover, the U.N. General Assembly issued 97 resolutions from 2012 through 2015, 83 of which were focused on Israel.
American conservative political commentators, such as Ben Shapiro of The Daily Wire, have criticized the U.N. and argued that the U.S. needs to defund it. 
"The U.N. has always been a foolish fantasy, a League of Nations knockoff that's been about as productive and twice as irritating. It's an outmoded organization that's outlived whatever small usefulness it once had. There's no reason for us to continue cutting checks to prop up regimes that condemn us publicly for exercising the most basic standards of morality," Shapiro wrote in December 2017.