Gaza Protests, Killings: 6 Things to Know About Israel-Palestine
3. Are the Gaza Protests Really Peaceful?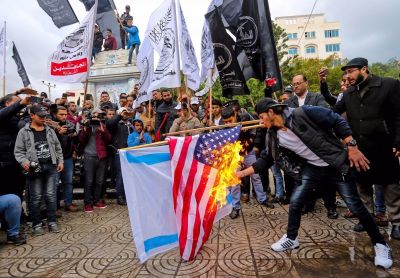 The nature of the several weeks of protests along the border between the Gaza Strip and Israel has also been disputed. Hamas claims the protesters are peaceful, but several Israeli and international reports have insisted that they have been anything but.
Palestinian President Mahmoud Abbas has said that Israel's military has been carrying out "massacres" of unarmed civilians, and Senior Hamas Official Mahmoud Al-Zahhar argued that it has employed a "peaceful resistance bolstered by a military force and by security agencies, and enjoying tremendous popular support."
BBC reported that close to 40,000 people took part in a protest campaign dubbed the "Great March of Return," which Hamas insisted was in support of Palestinian refugees wishing to return to land they were forced out of. 
But some reports say that several of the protesters threw stones and Molotov cocktails at Israeli soldiers, and have flown petrol-soaked kites intended to ignite fires on the Israeli territory.
Still, Rupert Colville, a spokesman for the U.N. High Commissioner for Human Rights, said on Tuesday that the actions of the Palestinians do not warrant Israeli forces using live ammunition on the protesters. 
"An attempt to approach or crossing or damaging the fence do not amount to a threat to life or serious injury and are not sufficient grounds for the use of live ammunition," Colville argued.
Israel has positioned, however, that its military's response to the violence on the Gaza border is "in keeping with Israeli and international law." 
Netanyahu said on Monday that "Hamas intends to destroy Israel and sends thousands to breach the border fence in order to achieve this goal." He explained that everything its military is doing is "with determination to protect our sovereignty and citizens."
Lt. Col. Jonathan Conricus, international spokesman and head of Social Media of the IDF, said in April that soldiers use live fire "only when absolutely necessary and when there is clear threat to infrastructure or to Israeli soldiers." 
"If there is, then we use snipers who fire specifically and under very clear guidance by commanders," he said.