Global Leaders Pledge to Fight ISIS 'by Any Means Necessary' But Pathway to Victory Uncertain Without Support From Iran and Syria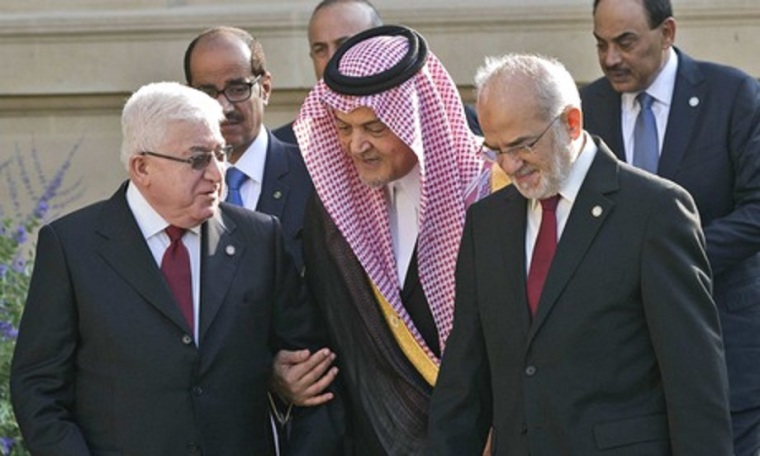 While diplomats from 26 countries pledged to unite to fight ISIS "by any means necessary" at a conference in Paris Monday, the pathway to defeating the militant Islamic terror group appeared far from certain as Syria and Iran, the two countries sharing most of Iraq's borders, showed no support for the global coalition led by the U.S.
"They committed to supporting the new Iraqi government in its fight ... by any means necessary, including appropriate military assistance, in line with the needs expressed by the Iraqi authorities, in accordance with international law and without jeopardizing civilian security," said a statement after the meeting Monday, according to Al Arabiya.
"They will ensure that the commitments made today are implemented and followed up on, notably in the framework of the United Nations," it continued.
Iraq's new President Fouad Massoum highlighted the need for cooperation from its neighbors as a part of the strategy to combat ISIS in his remarks at the meeting.
"We are asking for airborne operations to be continued regularly against terrorist sites. We must not allow them to set up sanctuaries. We must pursue them wherever they are. We must cut off their financing. We must bring them to justice and we must stop the fighters in neighboring countries from joining them," he said, according to the The Associated Press.
The AP also reported Monday that neither Iran nor Syria was asked to join the international meeting on ISIS. Iran also publicly declared its rejection of offers from the U.S. to collaborate on fighting the terror group citing a less than honorable motive by the U.S. in launching a war against ISIS.
Supreme Leader Ayatollah Khamenei noted in a series of tweets via his Twitter account that Iran wouldn't support U.S. action against ISIS in Iraq because the "U.S. has corrupted its hands in this issue." He also charged that the U.S. intends to dominate the region through the ISIS war.
"Lots of evidence shows the contradictory and false claims and behaviors of the U.S. concerning #ISIS and its invitation of #Iran to join this coalition," noted Khamenei.
"I rejected U.S. offer to #Iran abt #ISIS because U.S. has corrupted its hands in this issue. Mr.Zarif (Iranian Minister of Foreign Affairs) rejected U.S. Secretary of State's offer too," he said.
"Our disagreement on #Iran's cooperation with #U.S. over #ISIS is because the U.S. has been involved in creating and spreading #terrorism. The U.S.'s goal in planning a war on #ISIS is to dominate the region and turn #Iraq and #Syria to #Pakistan where it can commit #crimes whenever it wants," he continued.
"If the U.S. enters #Iraq and #Syria without permission, they will go through the same problems as they did over the past 10 years in Iraq," he said in his latest tweet on the issue.
U.S. State Department officials remained hopeful in forming an alliance, telling the AP that they may be able to persuade Iran to join the coalition in talks, precluding military action, later this week.
Hisham al-Hashimi, a leading Iraqi expert on ISIS, told CNN that the decision by the global coalition to meet without Iran is one of several missteps that have already been made in the war against ISIS.
"They sidelined Iran, and that is a very big mistake because Iran controls the Shiite militias in Iraq and these militias could sabotage military operations when it comes to logistical support or can threaten the safety of American advisers and trainers," said al-Hashimi.
Obama explained he might have also already revealed too much about how he plans to fight ISIS' leader, Abu Bakr al-Baghdadi.
"The mistake was announcing too much of the strategy, and this was a free gift to al-Baghdadi to prepare and counter what has been revealed," explained al-Hashimi.
ISIS, he noted, might have already started making strategic moves, such as moving weapons and ammunition into depots and putting elite fighters among civilian populations to avoid airstrikes, according to CNN. He said the anti-ISIS coalition could also force more terrorist groups to join ISIS.
Canada's Foreign Affairs Minister John Baird, who was also at the conference, said all countries in attendance are likely to have supplied foreign fighters to ISIS.