'God Will Have to Judge America' or 'Apologize to Sodom and Gomorrah' After SC Marriage Ruling, Says John Hagee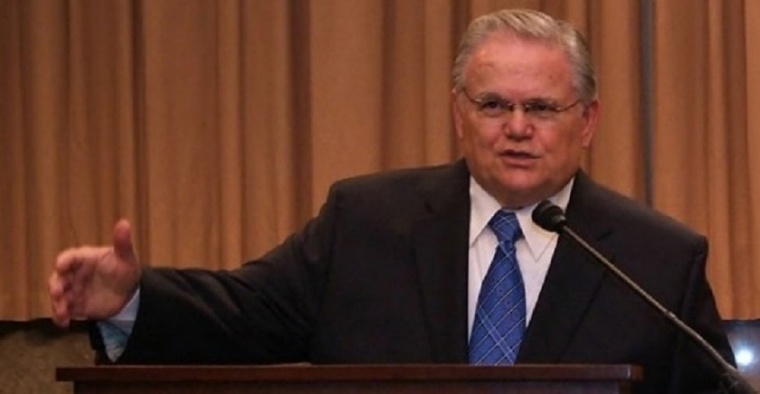 Outspoken San Antonio, Texas pastor John Hagee joked Tuesday that "God will have to judge America" or "apologize to Sodom and Gomorrah" after last week's U.S. Supreme Court decision that legalized same-sex marriage nationwide.
"This Supreme Court has made American the new Sodom and Gomorrah," said Hagee during his "Hagee Hotline" broadcast. "God will have to judge America or He's going to have to apologize to Sodom and Gomorrah."
During the program, Hagee called the ruling a "naked judicial power grab" and a "direct attack on states' rights."
And even though same-sex marriage has now become the law of the land, Hagee promised that God would never accept it.
"The Supreme Court in Washington has handed down its decision in a 5-4 ruling supporting same-sex marriage," said Hagee. "But the Supreme Court in Heaven has handed down its unanimous decision in a 3-0 ruling from God, the Father, Son, and Holy Spirit [that] marriage is exclusively between a man and a woman. Same-sex marriage will never be accepted in Heaven as legitimate, so says God Almighty."
The Cornerstone Church pastor also agreed with Justice Antonin Scalia's position on same-sex marriage viewing it as a "threat to democracy."
Hagee's home state of Texas has already issued 108 marriage licenses to same-sex couples despite strong opposition from the state's leadership.
Top Texas officials such as Attorney General Ken Paxton called the Supreme Court decision a "lawless ruling" and said state employees could cite religious objections to issuing marriage licenses to gay couples.
Texas governor Greg Abbott wrote a two-page memo on Friday that said state agency leaders could not take "adverse action" against employees acting on their religious beliefs.
A spokesman for the governor later clarified that Abbott was not ordering employees to deny benefits to same-sex couples.
Abbott also passed the "Pastor Protection Act" last month which is a law that affirms Texas clergy's right to not be forced into marrying same-sex couples.
"Religious leaders in the State of Texas must be absolutely secure in the knowledge that religious freedom is beyond the reach of government or coercion by the courts. Today I am proud to sign into law SB 2065 — the Pastor Protection Act — to ensure that clergy in Texas cannot be forced to violate their religious beliefs," said Abbott during the bill's signing on June 11.