Gospel for Asia social worker lost 5 family members in Sri Lanka Easter bombings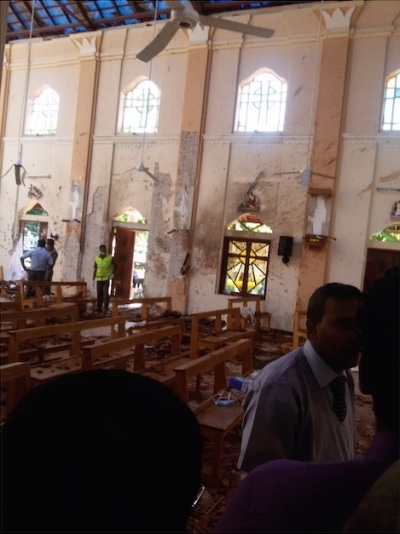 A social worker affiliated with Gospel for Asia lost five family members in the Easter Sunday bombings that took the lives of over 250 people, the humanitarian mission agency announced Thursday.
The female social worker in question serves at a GFA-supported children's center. The GFA-supported Bridge of Hope centers provide education, meals and medical care to children impacted by Sri Lanka's civil war.
In a statement, GFA founder K.P. Yohannan explained that the social worker was in "utter shock and great grief" to learn that her five relatives were killed in blasts at two churches on Sunday.
The bombings killed four members of the same family: parents and their two children.
"Please pray for God's comfort and peace upon the bereaved families," Yohannan said in his statement shared with The Christian Post. "Pray that God will give them strength during this difficult time … and for protection upon all families and communities in Sri Lanka as insecurity and uncertainty continues."
According to GFA, the funeral services were already held for the social worker's family members.
The Sunday bombings targeted churches as Christians celebrated Easter and three hotels in Negombo, Batticaloa and Colombo.
Officials on Thursday released an updated death toll, one that lowers the number of lives lost by over 100 to 253. A Colombo police spokesman had previously said that 359 lives were lost in the bombings, which would have made the bombings the deadliest attack claimed by the Islamic State.  
Authorities have also discovered dozens of detonators. GFA reports that a bomb was defused on a street near one of its supported offices.
GFA is one of the world's largest international ministries that seeks to serve the "least of these" in Asia. Its national workers in Sri Lanka will be part of the effort to bring healing and restoration as the country moves forward.
Through its Bridge of Hope centers, GFA aids children who have lost their parents in the civil war, which officially ended in 2009. One center in Sri Lanka is home to over 120 children who lost parents in the war.
"I ask for your prayers and support, that the people of Sri Lanka may find strength in God's grace as they move forward," Yohannan said. "Please join us in praying that during these pain-filled days ahead, our brothers and sisters on the field would be the healing hands of Jesus to broken and hurting people."
Yohannan said on Wednesday that it was clear that the bombings were carried out to "incite fear in the hearts of everyone around on the holiest day on the Christian calendar."
Earlier this week, IS released a video through its Amaq News Agency where the suicide bombers who carried out the attack pledged their allegiance to IS caliph Abu Bakr al-Baghdadi.
In the video, Easter is referred to as a "blasphemous holiday."
The social worker's five family members are just a few of the many killed on Sunday. Other victims include children in a Sunday school class at Zion Church in Batticaloa. One teacher at the school said that the blast came minutes after the students expressed their willingness to die for Christ. 
A report naming other victims of the bombings can be found here.
GFA recently settled a class-action lawsuit that accused the nonprofit of mishandling hundreds of millions in donations designated to be used in the mission field worldwide.
While the organization did not admit any wrongdoing, it will pay $37 million as part of a settlement fund. A spokesperson for the group said the settlement fund amounted to basically "refunding donations."