Greg Laurie: Jesus Revival May Lead to US Christians Being Raptured, Removing America From End Times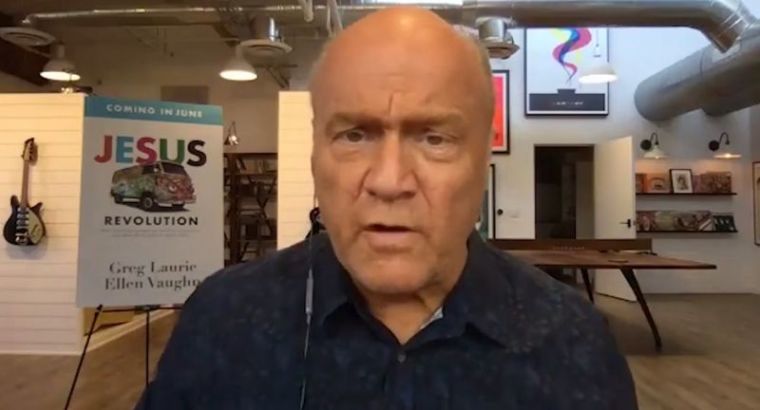 Evangelist Greg Laurie has suggested that a massive Jesus revival in America could lead to Christians being snatched from Earth, removing the U.S. from the End Times conflict.
Speaking with PureFlix on Sunday in a Facebook video, Laurie, who pastors Harvest Christian Fellowship in California, recalled that one of the earmarks of the Jesus movement of the 1960s and 1970s was that people believed Jesus was coming soon.
The pastor insisted that the Christians of that time were not wrong to believe that, noting that "we've never been closer to the return of Jesus than right now."
He said that looking at Bible prophecy, he doesn't see anything specifically that needs to happen before Christ returns to remove believers from the Earth, which is sometimes called the rapture of the Church.
"When you look at the major superpowers of the world, you can find Israel, you can maybe find Russia, China, you can definitely find Iran-Persia, but why is there is no clear identification of the reigning super power, the United States of America?" he said, referring to End Times scripture found in the book of Revelation.
"We know that the players of the last days will be the forces united under the anti-Christ going into a great battle in the battle of Armageddon with the kings of the East. But where is America in all this?" he positioned.
Laurie suggested that by a conservative estimate, there are perhaps 50 million legitimate Christians in America today.
"Let's say a great revival broke out, and that number increased to 150 million, and suddenly the Lord came for His Church," the evangelist envisioned.
"That will certainly explain how America ceased to be a superpower, if Christians disappeared from every walk of life; from government; to the military; to technology; to the medical field" and other areas.
"All these Christians caught up to Heaven will certainly give an explanation as to why America would not be a super power in the End Times," he suggested.
Laurie has theorized about the possible fate of America in regard to End Times prophecy in the Bible on a number of occasions in recent years.
In May 2017, when tensions between the U.S. and North Korea were high and talk of nuclear war was surfacing, he warned that the possibility of a strike on America with nuclear weapons "can't be dismissed or taken lightly."
"How does this fit into the prophetic puzzle? Well, in the last days there is no mention of any nation that would resemble North Korea," the pastor said at the time.
"Here is what concerns me. We do not find the reigning superpower on the face of the Earth anywhere in the Last Days scenario. Other nations emerge. So where is America? I pray we are not out of the picture, because we have been in some kind of nuclear conflict," he added.
Last month, Laurie and New York Times best-selling author Ellen Vaughn released a book, titled Jesus Revolution: How God Transformed an Unlikely Generation and How He Can Do It Again Today.
In it, Laurie explores how he moved away from a life of drugs and bad decisions and came to faith in the 1970s, and also explores some of the main figures and influences behind the Jesus Movement.
Laurie told PureFlix that millennials, along with Generation Z, are today "asking a lot of questions" about the world, and want answers that are authentic.
"They are not attracted to the so-called megachurch model, the big flashy model. They want it real. They want to engage. They want their questions answered. Well, that's fantastic," he said, urging the Church to step up.
He suggested that while in the past the Church might have been too disconnected from culture, today he fears there might be the opposite problem.
"We have startup churches everywhere, we have ultra-cool pastors, we have pastors that are like fashionistas, they're on the cutting edge, hanging out with rock stars and movie stars, and we are the coolest we've ever been. That's fine, but let's not sacrifice the Gospel for coolness," he urged.
"What this generation needs is not more cool stuff — they need to know what the Bible says, and they need it in a way that they can understand it," he added.
The Harvest Christian Fellowship pastor said that beside high production values and welcoming messages, churches need to tell young people "who Jesus is; that Jesus died on the cross for their sins," and will rise again.
"God intervened in a generation, and He can do it again," he affirmed.