Hillary Clinton Refuses to Declare War on ISIS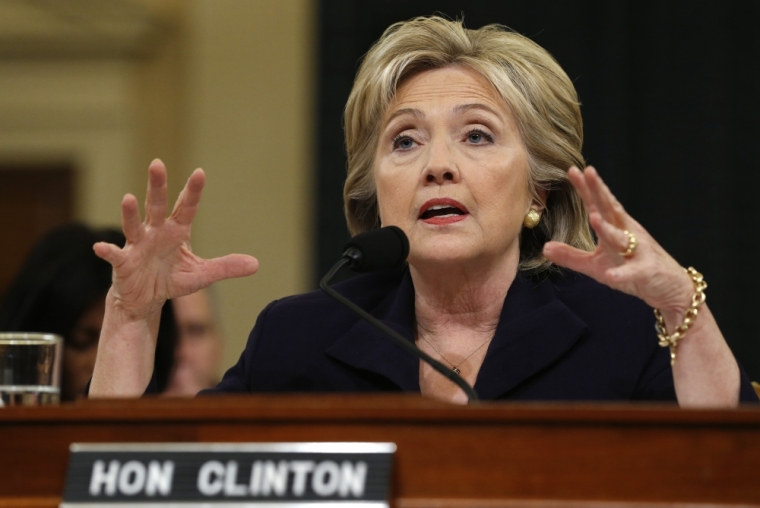 Democratic presidential candidate Hillary Clinton has said that she is against declaring war on the Islamic State terror group, arguing that it would be too much of a strain on the U.S. budget.
"If you have a declaration of war, you'd better have a budget that backs it up," Clinton said during a campaign stop in New Hampshire, according to Reuters.
"I do think that we have to do a better job of understanding the threat that is posed by radical Islamic jihadist groups," she added.
The U.S. and a broad team of international allies have been launching airstrike operations against IS, which has captured several cities across Iraq and Syria.
President Obama, however, has yet to sign a formal declaration of war, preferring to stick to coordinated missions aimed at slowing the advance of the Islamic militants who are trying to establish their Caliphate on the captured territory.
The White House announced at the end of October that it is sending ground soldiers into the region for the first time since operations began in the summer of 2014. Obama said he is deploying fewer than 50 soldiers to train, advise and assist local rebel forces on the ground in northern Syria that are fighting IS.
GOP presidential hopefuls, such as former Florida Gov. Jeb Bush, have blamed the rise of IS on Obama and Clinton, who served as Secretary of State between 2009 and 2013.
"The terrorists are possessed. The terrorists are possessed by the same violent ideology that gave us 9/11 and they are on the offensive and gaining ground. It is not true, and was wishful thinking by the administration to claim that the tide of war is receding," Bush said back in August.
"The reality is radical Islam has been spreading like a pandemic across the Middle East, throughout Africa, and to parts of Asia, even in the nations of the West, finding recruits in Europe and the United States."
Clinton insisted in her latest speech that declaring war on IS would not be wise, given how spread out the group is across the Middle East.
She also called the militants "the first Internet terrorist network," referring to their heavy social media presence, where they often post beheading videos and propaganda material.
While IS has mostly been centered in Syria and Iraq, it has affiliate groups operating all across the region and as far as Nigeria, in the face of Boko Haram.
Recently an IS affiliate in Egypt claimed responsibility for the downing of a Russian airliner over the Sinai peninsula, which killed all 224 passengers and crew.
While the terror group has yet to reveal how precisely it carried out the attack, investigators have found evidence they say strongly suggests a bomb on board the plane brought down the airliner.
Texas GOP Rep. Mike McCaul, chairman of the House Homeland Security Committee, said that the attack can be seen as Russia's 9/11.
"All indicators are pointing to the fact that it was ISIS putting a bomb on an airplane," McCaul said.
"I have a high degree of confidence. It's been my gut (feeling) all along. … This is comparable to 9/11 for" Russia, he added.
Russian forces joined the airstrikes effort against IS in October.