Hillary Clinton: Why You Shouldn't Say 'Radical Islam'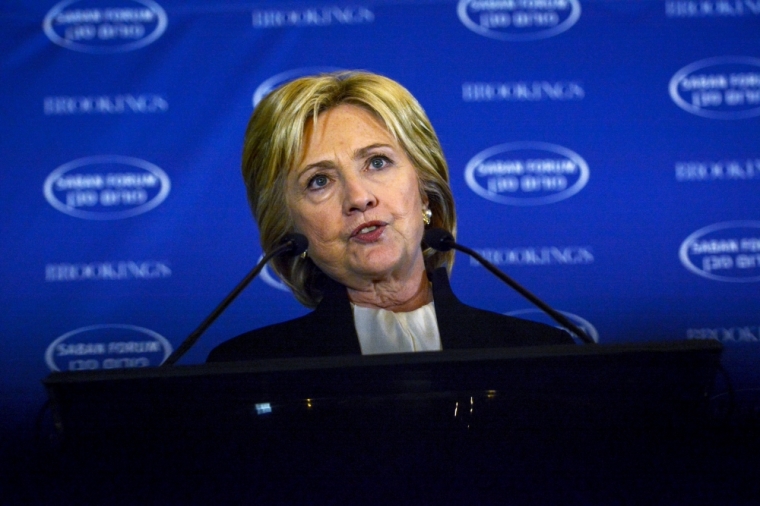 Democratic presidential candidate Hillary Clinton said she does not use the term "radical Islam" because it sounds hostile to Muslims.
Clinton told ABC's "This Week" on Sunday that the term "sounds like we are declaring war against a religion."
She added: "It doesn't do justice to the vast number of Muslims in our country and around the world who are peaceful people."
Clinton has made similar comments in the past, and in November said at the Council on Foreign Relations in New York City:
"The bottom line is that we are in a contest of ideas against an ideology of hate, and we have to win. Let's be clear, though. Islam is not our adversary."
She added: "Muslims are peaceful and tolerant people and have nothing whatsoever to do with terrorism. The obsession in some quarters with a clash of civilization or repeating the specific words, 'radical Islamic terrorism' isn't just a distraction."
Clinton's arguments have been criticized by some Republicans, such as New Jersey Gov. Chris Christie, who told CBS' "Face the Nation" that the Muslim community understands what is meant by the term "radical Islam."
"The folks who are peaceful and who attend mosques in a peaceful way, work in our country, raise their families, pay their taxes. They know they're not radical Islamic jihadists," Christie said.
President Barack Obama has also refused to use such a phrase, and in his anti-terror speech on Sunday said that attackers are acting out based on a "perverted interpretation of Islam that calls for war against America and the West."
Obama focused on the San Bernardino massacre last week, where a Southern California Muslim couple killed 14 people and left 21 wounded.
The couple, who died in a shooting with police, were supporters of the Islamic State group, as representatives of the terror organization claimed.
GOP presidential frontrunner Donald Trump also slammed Obama for failing to name the terror threat in America, however.
"Well, Obama refused to say (he just can't say it), that we are at WAR with RADICAL ISLAMIC TERRORISTS," Trump said in a Facebook message following Obama's remarks.
Clinton has in the past said that she would be against declaring war on IS, noting that it would be too much of a strain on the U.S. budget.
"If you have a declaration of war, you'd better have a budget that backs it up," Clinton said during a campaign stop in New Hampshire in November.
"I do think that we have to do a better job of understanding the threat that is posed by radical Islamic jihadist groups," she added.
In her ABC interview, the Democratic candidate admitted that America is not yet winning the war against terrorism.
"We're not winning, but it's too soon to say that we are doing everything we need to do," Clinton said.
"And I've outlined very clearly. We have to fight them in the air, we have to fight them on the ground, and we have to fight them on the Internet, and we have to do everything we can with our friends and partners to protect ourselves," she added.
Clinton again repeated it is dangerous to say that America is at "war" with the terror group, but said that "we are definitely in conflict with ISIS."