How sexting destroyed a young megachurch pastor's marriage and ministry
In a presentation at the Bob Russell Ministries Mentoring Retreat, Patrick Garcia, a former lead pastor at the 7,000-member Crossroads Christian Church and The Hills Church in Indiana, compared his fall out of ministry to a distracted truck driver involved in a deadly crash.
"Since my fall happened two years ago, I've been able to determine what caused my crash," Garcia says in the presentation made to a small group of preachers at the retreat. "I've learned this through lots of prayer, self-reflection, hours of counseling and having difficult conversations with mentors and other pastors."
One of these mentors, explains Garcia, is his former pastor, Bob Russell, who served for 40 years as the senior pastor at Southeast Christian Church in Kentucky. Russell started his mentoring retreat after retiring from leading one of the largest churches in America to "spend time encouraging younger preachers," among other things, his website says.
And Garcia has needed encouragement.
In October 2020, two years after his controversial firing from Crossroads Christian Church over philosophical differences, the young pastor, who went on to start and lead The Hills Church with former Crossroads leaders, resigned from that role after confessing to a months-long affair with a woman who was not his wife.
"I wanted to inform you that I am resigning from my position as the Lead Pastor at The Hills Church," Garcia, now 35, said in a statement released by the church at the time.
"Ashamedly, for the past 11 months, I've engaged in an inappropriate relationship, both physically and emotionally. The Bible makes it clear that one can't lead a church while abdicating his first responsibility of leading the home. My family — especially my wife Savannah — deserves better than the husband she's had over the past few years," he explained. "The Hills Church deserves a leader of integrity who lives above reproach."
Garcia promised to undergo "a season of restoration so that the root of my brokenness and dysfunction can be addressed."
While he has been on that path of restoration, Garcia has faced significant loss and pain.
The former megachurch pastor, who was married with three children, is now a single, divorced father of three working as a sales executive. He also has a lawn care company and helps run a friend's window cleaning business. 
"I didn't just lose a job. … I lost a career. The options in the corporate world for fallen pastors aren't many. I vastly underestimated the challenge of this," Garcia revealed to The Christian Post in a recent interview. "The only job I could initially find was washing windows for a friend's company."
Though he was unsuccessful in his efforts, Garcia told CP that when he resigned from The Hills, his plan was to repair his marriage to his now ex-wife, Savannah, whose father, Dave Stone, took over the leadership of Southeast Christian Church after Russell retired. Stone led the 27,000-member megachurch from 2006-2019. He now leads the Bay Harbor Church in Michigan.
"I went through a time when I was totally angry with God because I believed He could save my marriage. I preached for years that He can revive what's dead. My marriage was obviously very bad. I wanted it to live again," Garcia told CP. "And, unfortunately, that never happened. But in the same sense, I want to say, Jesus held me together during the lowest, deepest, darkest moments of my life."
Garcia recalled how 3,500 people gathered for his wedding to Savannah in the summer of 2008. He was 20 and she was 19.
But that was 2008.
Savannah remarried in 2022. The former Mrs. Savannah Garcia is now Savannah Hubbard and she is expecting a daughter with her new husband in July. Garcia and Savannah share joint custody of their three children.
A cautionary tale and clarifying details of the affair
Since his "crash," Garcia says he has learned a lot about life and himself and wants to help other pastors avoid the ministry missteps he made.
"My mentor, Bob Russell, has always said, 'Wise people learn from their mistakes. Wiser people learn from the mistakes of others,'" he told CP. "So that's what I hope can be the angle of this story. I'm going to be truthful, but at the same time, my intent is not to put The Hills Church down. … I just think that it's worth knowing what happened, what didn't happen."
The first thing Garcia wants to clarify is that, according to him, the version of his confession published by The Hills Church where his ex-wife still worships isn't entirely accurate.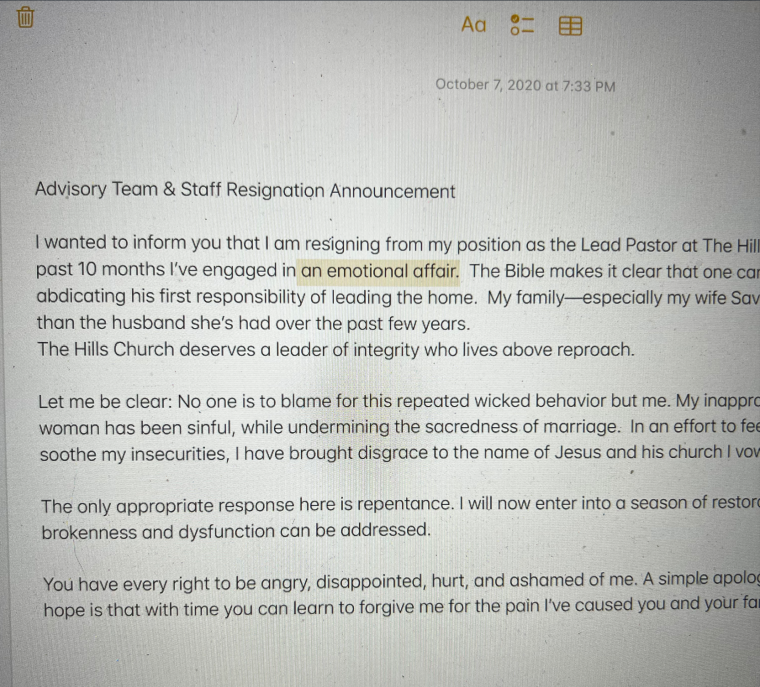 Garcia says he was never sexually intimate with the woman with whom he admits to having the months-long inappropriate, sexting relationship. 
He shared a copy of his original resignation letter he says he submitted to The Hills Church. It states that he only confessed to having an "emotional" affair.
"My affair was not a full-blown sexual affair. Yet because we weren't having sex — we never even kissed — I told myself the relationship with the other woman wasn't that wrong or as wrong as it could've been," Garcia explained.
He contends that The Hills Church elders edited his statement to include that his affair was also "physical." He speculates they might have been concerned he would start another church and bring the congregation with him as he did after leaving Crossroads Christian Church.
When asked if they would be willing to comment on Garcia's claim that the nature of his affair was altered in the statement released to the public, The Hills Church did not respond to multiple requests for comment from CP. Garcia's ex-wife also did not respond to a request for comment on this story. 
The other woman
Garcia described the other woman as someone who served in an advisory role at The Hills Church who was also married.
"She was wise, perceptive, intellectual and respected in the community. Her kids were friends with our kids. Her husband was a friend of mine, somebody I respected. I valued her voice and so did others. But over time, I targeted her voice above others because she respected me and I was attracted to her," he confessed.
While taking responsibility for the actions that led to his resignation, Garcia admits to getting swept up by the other woman's company because she provided him with affirmation he was missing in his relationship with Savannah.
"Nobody is to blame for what I did besides me. A rocky marriage is never permission to look somewhere else or to someone else. I only bring this up to help you understand and cause you to pay attention to your wife," he shared.
He remembers, though, the exact moment when he started to stray from his marriage and got "hooked."
"It was a Thursday afternoon and the other woman and I were talking on the phone when she told me, 'I'm so impressed by you. I think you're mesmerizing. I have a crush on you.'
"Being the people pleaser I am, I knew she felt awkward telling me that. Here she was being vulnerable with me and I appreciated it," he recalled. "So, to relieve her anxiety and reveal my cards, I said back to her, 'Well, I think the same. I've had a crush on you for about three years now.'"
The former Hills Church leader said things almost got physical once with the woman, but he stopped himself from going over that line.
"On one occasion right after Christmas, the two of us met up in a parking lot to exchange gifts with each other," he recalled. "She was so grateful and moved by the gift I gave her that she leaned in to try to kiss me. I pulled away and said, 'We can't do that!'"
The parking lot
Garcia has battled depression since he was 17. He takes medication for it and spoke openly about his struggle during his ministry. With the help of his counselor, he told CP he came to realize that the emotional relationship he developed with the other woman had become like a "drug" for him.
"The other woman provided shots of dopamine. It was exciting. The thrill of it caused me to downplay the consequences of it," he said. "The relationship became an 'escape' from the stress and pressure of being a senior pastor." 
He confessed to deleting "many texts, direct messages, emails, phone calls and FaceTimes" over the course of his affair in a bid to deal with his "guilt and shame."
About six months into his emotional affair with the church advisor, Garcia said he received a call from an executive pastor at The Hills late one night. That executive pastor would later reveal, in the presence of another executive pastor, that a police officer had reported that Garcia and the female board member were caught together in a car in an off-limits parking lot.
"Naturally, this led to them asking me why I was in [an] isolated parking lot with an attractive female board member. Similar to Nathan confronting King David, this was my chance to come clean. I can't tell you how many times I've replayed this moment and been plagued by regret because of the opportunity I missed," Garcia said.
"Instead of unveiling the inappropriate relationship I was responsible for, I confessed just enough to keep me from fully confessing. I told the guys we had met up one time to exchange a book I needed for my 'coaching sessions' for time management," he recalled.
"I said we talked for a few minutes when out of nowhere a police officer approached us and asked what we were doing. I downplayed the whole incident like it wasn't a big deal. They asked me why I didn't tell them sooner, and I said because I felt stupid for putting myself in that situation, and since nothing happened, there was nothing to disclose," he said.
Garcia told the church officers that he had not informed his wife about the meeting with the board members because their marriage "wasn't in a stable place."
He said he asked them for a "seven-week sabbatical to get healthy," and they agreed.
When Garcia told Savannah what happened that night, she was "irate."
Still, the former megachurch pastor believed he could keep the truth about his affair secret.
"The next day I talked to the other woman on the phone and told her what I had said in the event she was asked to verify the story. She supported covering it up as well. This is where things started to really go south as circumstances spiraled out of control for me," Garcia revealed.
The pastors who confronted Garcia about the police report would later call Savannah to verify that her husband had told her about what happened. Savannah took their children the next day and went to her parents.
"She told them everything as I'm sure it raised more red flags. The executive pastors called my former father-in-law to make sure he knew. They also talked to the two most influential people in my life: Bob, and my oldest sister's husband, Matt. I'm ashamed to say I wasn't fully honest with them either," Garcia said.
"While the intent was healing and recovery, my biggest priority at the time was to cover up the relationship. I wrote it off as a stupid mistake. In the end, I missed my chance to come clean and still walk away with my marriage intact."
The crash
Garcia's relationship with Savannah would eventually come to a screeching halt after he allowed her to take possession of his phone one night.
"I gave it to her as I headed to the backyard to play with the kids before bedtime. Thirty minutes later we came back inside to an eerily silent house. My wife was nowhere to be seen. About five minutes later she stormed through the front door and told me I had 10 minutes to leave the house for good. I knew I had been found out," he recalled.
"I begged to talk through matters. I pleaded with her not to kick me out. All I wanted was a conversation, but it became apparent that wasn't mutual. When I asked where she went, my wife said she had turned my phone in to the two executive pastors and they were downloading every conversation I had with the other woman — every text, email, Facebook message and Instagram direct message would be printed out. She then informed me that they were headed to my house to walk me out for good," he said. "Sure enough, that's what happened. I packed a few clothes, put my dogs in the car, and left."
When asked what damning evidence Savannah and the executive pastors found that made them react the way they did, Garcia said: "The content ranged from small talk, to course joking and even sexual fantasizing with each other. There's no doubt that the content was wrong and inappropriate."
He alleged that the executive pastors hacked his phone to gain access to his "texts, Instagram/Facebook messages" and printed all of them for Savannah.
"That next day, her parents came to town. Every message was printed off by that point. I was told they spent the day reading through them all. I later learned my wife prepared for divorce that afternoon. That was also the last day I had any sort of correspondence with the other woman. I was ashamed. I spent the better part of the day writing my letter of resignation," he noted.
Garcia said he went back to his parent's house in Louisville, Kentucky, where he stayed for eight months until his divorce was finalized.
Sexting. How damaging can it be?
According to researchers in the 2019 study, Sexting, Mental Health, and Victimization Among Adolescents: A Literature Review, the term sexting was first used in 2005 by the Daily Telegraph, which coined it from the words "sex" and "texting." It became an official word in 2009 and is generally accepted as "Sending and receiving sexual content (e.g., photos, videos) via the Internet and mobile phones."
One statistic cited by Gitnux says 39% of U.S. adults who are in romantic relationships report that they have exchanged sexually explicit text messages with their partners.
Erin Smalley, strategic spokesperson for Focus on the Family's marriage ministry, who is also a licensed professional counselor with a private practice, pointed CP to several studies showing that only 6%-12% of married couples sext.
"I rarely hear about sexting in my counseling practice outside of couples who have a spouse that travels for a living or military couples who are deployed, or when one spouse was sexting someone outside the marriage," Smalley said.
And when sexting happens "without the knowledge or consent of one's spouse, it can lead to a breach of trust and will make the marriage feel unsafe," she added.
When asked if Christian couples should divorce if they discover their partner was involved in a sexting affair, she said no couple has to divorce over an affair.
"A couple never 'has to' divorce over an affair of any kind. I've seen too many miracles of couples completely restoring their marriage after infidelity. A couple can build a stronger, more satisfying marriage after infidelity unless one spouse won't repent, engages in serial infidelity, or isn't willing to get help," Smalley said.
She said if a pastor is caught in a sexting affair, the first step she would suggest is church discipline and counseling.
"The elders need to place the pastor under church discipline and remove him/her from the pulpit for a season. I'm passionate about marriage but I strongly believe that Christ came to die for 'people,' not institutions," she said.
"Getting help for the individuals must be the top priority. The church has a great opportunity to help the individuals heal through a licensed Christian counselor. As the individuals start to heal and grow, the church can encourage them to work on the marriage," she added, noting that Focus on the Family has a marriage intensive program called Hope Restored which has an 80% success rate for couples in crisis.
Cheating pastors
While Garcia's marriage never survived his emotional affair, there have been many high-profile church leaders whose marriages have survived significant infidelity.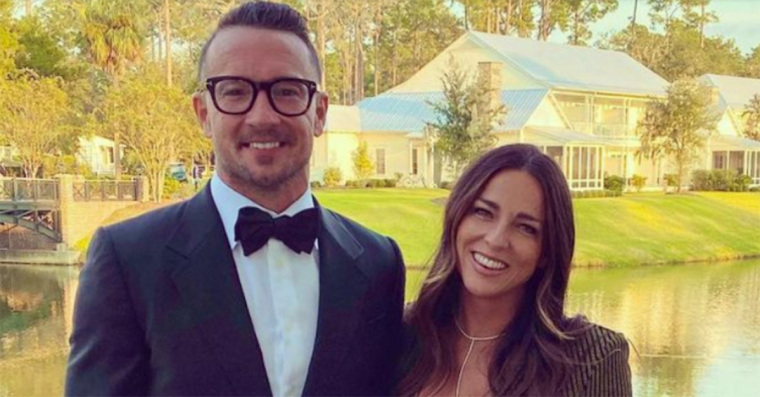 Nearly two years after a sex and leadership scandal that led to his firing from Hillsong Church NYC, Carl Lentz's wife, Laura revealed how he had "humbled" himself, taken responsibility and was getting ready to tell his story after a long season of public silence.
"Yep, it has been challenging and hell yeah it's taken a LOT of work the past 22 months (but who's counting) to make our marriage what it has become, & we will never stop working on ourselves, for this marriage and for our kids! I know there are many that don't or would never do what I chose to do, and that's ok, it's not for everyone!!," she wrote on Instagram declaring her commitment to her family.
"I look forward to sharing our story, how I came to that conclusion and I think it's going to help a lot of people. But I am so proud of my husband & for the responsibility he's taken! Mostly I'm grateful for a man who humbled himself & didn't try to defend himself, he has kept quiet publicly and he has remained focused on the one thing that matters most — our family!"
Lentz, whose fall has been the subject of many reports and documentaries,  was involved in multiple physical and sexting affairs but his marriage remains intact. He is currently serving as a strategist at the Transformation Church led by Pastor Michael Todd in Tulsa, Oklahoma.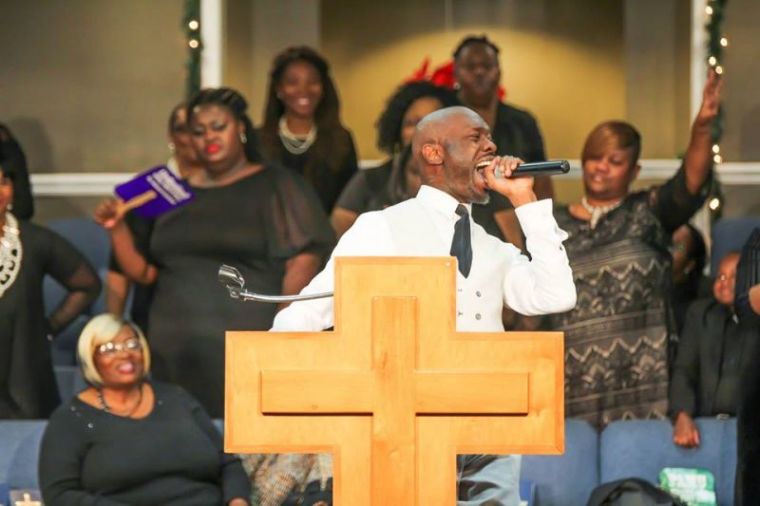 In January 2017, The Rev. O. Jermaine Simmons Sr., author and pastor of the popular Jacob Chapel Baptist Church in Tallahassee, Florida, was sent running for his life after one of his parishioners found him in bed with his wife.
A report from the Tallahassee Police Department acquired by CP said the then 37-year-old Simmons, who was married with one child at the time, was caught in bed with Claynisha Stephens, 34, by the woman's husband, Benjamin Stephens III. The husband chased him out of the home with a gun.
Simmons never resigned thanks to forgiveness from his wife and church.
Just days after he was found in bed with his parishioner, Simmons was recorded telling his very supportive church that it is better for the church if he remains committed to God's work in the pulpit.
"What I want from God I've already received it and that's his forgiveness. What I am asking of our members is something I may or may not get and that is your prayers. And I'm asking for your forgiveness," Simmons said as his congregation said "amen" and gave him a standing ovation.
"I was reminded that I can't run through this. And I got somebody who said, and I believe her, that she's gonna walk with me," Simmons added, apparently referring to his wife.
Simmons remains the leader of his church today.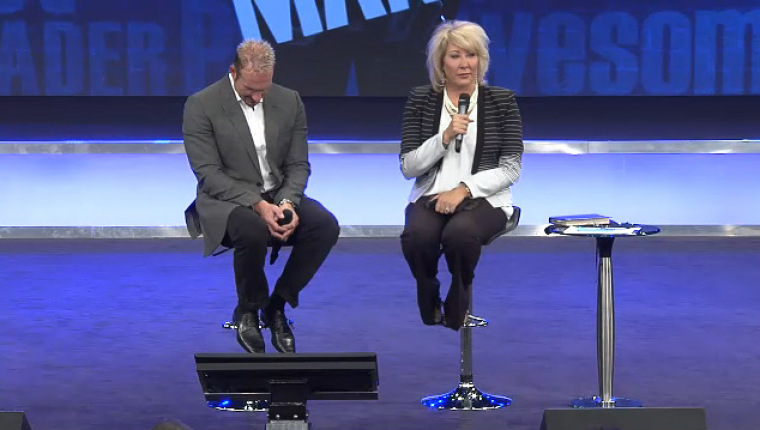 In 2014, less than four months after revealing that his wife, Hope Carpenter had committed adultery multiple times, megachurch pastor, Ron Carpenter announced that he would reconcile with her. They are still together today.
In multiple other cases covered by CP in the last decade where high-profile pastors have been removed from the pulpit for sexual sins or other misconduct, very few of them have lost their spouses in the process.
Even The Hills Church board member who was involved in the emotional affair with Garcia is also still married.
Garcia told CP that he tried to do the right thing and fight for his family. He said he got very little support in that area from The Hills Church.
He said that after his resignation, he met with leaders of Crossroads Christian Church in 2021 to reconcile. He apologized for his failures there and asked for their forgiveness and got it.
"The new senior pastor is a friend of mine. He was my youth pastor growing up. And I met with him just saying, 'Guys, look, when I was here, I was an imperfect leader. I made a lot of mistakes. And I'm so sorry about that.' And I really felt like the Lord was telling me to do that as an act of repentance, but also because I was digging up the root of a lot of pride. And a lot of pride in me was kind of proud of the fact that I got fired for those reasons," he said.  
"And, you know, starting a church down the road, there was just a lot of pride in me. And so, it was humbling, going back to them and saying, 'You know what, I need to own … and take responsibility for the wrong I did. And I need you guys to forgive me.' And to their credit they did. And it was a wonderful meeting."
He said he also felt more support for his marriage from the elders at Crossroads than from elders at The Hills Church.
"What I appreciated about the Crossroads elders during that meeting is, I knew they wanted my marriage to survive. I knew they wanted me to reconcile," he said. "They prayed for that to happen. To be honest with you, I don't know if The Hills ever wanted that. And they kind of made it clear they didn't."
While resigning from The Hills was difficult, Garcia says losing his family was worse.
"It was very tough. It was one of the toughest, absolutely toughest, things that I had to ever walk through. Just feeling helpless, and hopeless, and wanting somebody to come alongside me and fight for my family," he said. "There were a lot of people that did, but unfortunately, they weren't people that on the other side of this dilemma, those people would listen to."
Garcia maintains that the emotional affair with his former parishioner was an isolated incident and he has never engaged in any other affairs during his marriage to Savannah.
He said even after she divorced him, he tried to "win her back."
"It wasn't until she walked down the aisle with somebody else that I officially gave up on that dream," he says.
Transparency
While he never willingly revealed his emotional affair before it was too late, when it comes to ministry, Garcia says his style was always to be as open as possible with the people he served. Though his ex-wife never liked it, from his days at Crossroads Christian Church, Garcia tried to be transparent and vulnerable. 
He would, for example, talk about his struggle with anxiety and depression from the pulpit, which helped some people at the church but made some of the elders uncomfortable.
"They would say things in elders' meetings that would give me that impression," he said.
"Even my own wife at the time couldn't stand it. You know, she [would be] like, 'You need to be respectable, and people aren't going to follow somebody who they think struggles with anxiety and depression.'
"My wife and I just were on two different wavelengths in so many areas, but [in] ministry [there] were more of them. She grew up in a pastor's house, and she was taught at a very young age that you [shouldn't] be an inconvenience to people and you don't let them see you sweat. I was like, 'Hey, I'm just as screwed up as the next person. And it's really freeing to admit," he said. "I don't have to put on a front. So, we're just kind of two different schools of thought when it comes to the philosophy of ministry."
Perhaps Savannah was right because his transparency, he said, was part of the reason he would eventually get fired from Crossroads Christian Church in 2018.
"I'll never forget being told that the elders were going to meet without me. And I was actually flying to the White House, I'd been invited to be a part of some young millennial panel with the Trump administration," he recalled.
"When the chairman called me up and told me that the elders wanted to meet without me and I was a voted-in elder of the church, I said, 'Man, you can't let this happen. You and I both know it doesn't take 2,000 people to split a church. It takes two or three disgruntled elders.
"I said, 'Well, can you at least tell me how they are going to gauge my success as the senior pastor?'" he noted.
By his calculation, Garcia says the church had grown by 12% under his leadership and there was a surplus of $500,000 in the budget.
"I'll never forget being let go. I made all the elders go around the room and tell them why they were in favor of firing me. And one of the elders spoke up and said, 'You know, Patrick, you're very transparent. You talk about your depression and your anxiety very openly from the pulpit. And as a result, a whole different type of person is being attracted to the ministry here. We just don't like the people that are being drawn to this place. And so, it's time we take our church back," Garcia recalled.
"I don't think he meant to say it, but he did say it. And I'm so glad that he did say it because I knew I was getting fired for the right reason. If you're going to fire me, fire me because I'm trying to do ministry like Jesus."
He admits that his ministry at Crossroads Christian Church attracted a lot of people with addictions who were "rough around the edges."
Mental health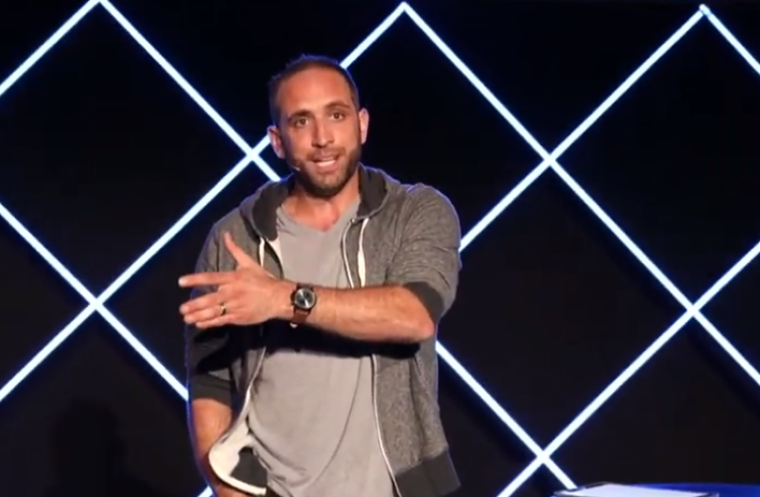 Though he says he is in a good place now mentally, Garcia remembers being in such a dark place after his resignation from The Hills Church that he believes he gained insight into why some people kill themselves under stress.
"I remember, in the middle of going through my restoration plan, I met with my counselor one Tuesday morning. And [that was] a real dark, such a dark time for me. He was actually very straightforward. He said, 'Are you suicidal at all?' And I said, 'You know, I don't have a plan. I don't. It's not something I think I would ever really do.' I said, 'But I do get it. I do understand why some people resort to death to relieve them of their current pain, because the pain just seems unbearable in the moment,'" the former megachurch leader said.
"And he said something to me that was kind of the manifestation of Christ to me in that moment. He said, 'Look, people resort to suicide, which is a death, to deal with their guilt and shame.' He said, 'Until you realize that a death has already taken place for your guilt and shame, you'll continue to wallow in darkness.' And when he said that, I saw the Cross through a whole different lens. I saw the Gospel in a way that I never had before."
Like Garcia, new data published by Barna Research last year showed how an increasing share of Protestant senior pastors were being driven to despair by stress, loneliness and other worries which caused some 42% of them to seriously consider quitting full-time ministry.
More than half of pastors, 56%, who considered quitting full-time ministry said, "the immense stress of the job" was a huge factor behind their thinking, and 43% of that cohort reported that "I feel lonely and isolated."
Joe Jensen, Barna's vice president of church engagement, told CP that the growing number of pastors now looking to leave their full-time positions is cause for alarm because it "is the highest we've ever seen it."
He pointed out that many pastors had experienced burnout in the wake of the pandemic.
"We've been tracking this in our State of Pastors report that we did with Pepperdine University in 2016, 2017. We didn't have this exact stat but we were tracking burnout. [And] pastors were feeling burnout and the risk factors involved," Jensen said.
He explained at the time that pastors, in general, shy away from counseling and mentoring, but they need to understand that it's OK to ask for help.
"Pastors traditionally don't feel comfortable for a number of different reasons to seek out counseling, to seek out mentoring. You know, it needs to be OK within a church community and the church culture for a pastor to say, 'You know what? I need help.' I need some counseling. I'm struggling emotionally," he said.
"But to be quite frank, for whatever reason, a lot of pastors don't feel comfortable being vulnerable within a leadership context," he added. "I really think that churches need to communicate and say, 'Hey pastor, it's OK not to be OK.'"
Garcia said he knew he was not OK during his sexting affair and admits he had no issues asking for help, but described the relationship a bit like an addiction he thought he had under control.
When asked if he thought the Church has a bias against ministering to people struggling with their mental health, he said, "I think the Church doesn't know what to do with it."
"It is not an easy fix. You pray for it to go away and still [it] hangs on, still lingers, and sometimes Christians say some of the dumbest things when dealing with mental illness," he said.
"They'll say, 'Well, do you have some unconfessed sin in your life? If you only had more faith, maybe this wouldn't be happening to you. You don't need medication.'
"I mean, I used to joke all the time that if it weren't for prayer, pills and people, I don't know where I'd be. I think the Church doesn't know how to deal with it. But we've got to at the very least acknowledge it and not treat it like it's the modern-day leprosy. Because when I talk openly about my depression, anxiety, it's amazing to me the amount of people that come out of the woodwork and start saying, 'Hey, me too. I get that. I never knew that the Church could be a safe place to talk about these things. I didn't think Jesus cared. I didn't think that he was big enough to handle my anxiety.'
"Like, well, of course, He is," he said. "And not only that, but he can identify with you because we're told in Hebrews Chapter 4 that we do not have a high priest that can't, because of the weaknesses, but we have one who's been tempted in every way."
Getting help sooner
One of his biggest regrets in his marriage to Savannah, says Garcia, was not asking for help sooner.
"I wish I had been more proactive earlier in getting help," he said.
In the early years of their marriage, Garcia said he and Savannah would do something each year to maintain their relationship like a marriage retreat or a marriage book.
"Then it faded to every other year," he said. "When my wife filed for divorce, it had been a good five years since I led out with any type of help."
And Rev. Steven Koster, pastor of congregational life at Grace Christian Reform Church in Grand Rapids, Michigan, who leads marriage retreats and family seminars with his wife, Deb, says the earlier couples seek help with their relationships the more likely it is to survive.
"We would always want to encourage couples to turn back toward each other. When there are intimacy struggles, and people are investing outside their relationship, we always encourage couples to turn back to each other," he told CP. "If you're talking about your day, you should be talking about your day with your spouse before anybody else kind of thing."
He noted, however, that some relationships can become too damaged for them to remain intact.
"It can be that relationships become so damaged and are abusive that it's not good to just carry them on no matter what. It's not healthy or healing to keep injuring each other, so maybe there needs to be separation. Maybe there needs to be more, but it's not a case that save a marriage at any cost when that cost is damaging. I don't think that's scriptural either," Koster said.
"As a rule, we would always try to play spouses back to investing in one another and trying to help them see each other as God's gift to each other as best they can. And you know, marriage is certainly a high calling and [has] a high value in Scripture but it isn't always something that should be preserved when the boundaries are no longer healthy."
Starting over
As he works on living his new life, Garcia still recalls the Word like a pastor. He says he has been attending an Anglican church as his home church in Louisville where "the staff and pastors have just been absolutely incredible to me." He has also been speaking at times at Adventure Church.
While it would also be nice to have a healthy marriage again, Garcia says he is prioritizing the welfare of his children.
"They've already experienced a lot of change with their mom remarried. So I think that's about as much change as they can take for a while," he told CP. "If the right person comes along at the right time, and she's willing to understand my story. I'd absolutely be open to that."
As to what life is like working in a secular job, Garcia calls it "refreshing."
"You know, I work for a great company right now. And it's been refreshing for me because it's enabled me to work with just everyday people. And when you're in ministry, and when you're a senior pastor, you kind of get buffered and insulated," he said.
With his secular job, "you're swimming with the fishes and living, breathing, working alongside people with their real issues."
"They ask real questions and that was always my philosophy with ministry was to be transparent and approachable and to say, I'm just as screwed up as the next person, but Jesus cut me a pretty sweet deal and He can do the same thing for you," he said.
"At the end of the day, we're all broken, we're all in need of a Savior, but the self-righteous side of things, the self-righteous version of ourselves, doesn't want to admit that we're broken. The self-righteous side of ourselves doesn't want to want to be honest about our flaws and faults."
While he doesn't think pastors with failed marriages automatically disqualifies them from leadership, Koster believes the circumstances surrounding why their marriage failed should be evaluated on a case-by-case basis.
"I think having marital trouble is not an automatic disqualification from ever being a servant and a leader in God's Church again. It can even be part of how God shows redemption," the Michigan pastor said.
When pastors abuse their power and have affairs with church members, Koster said, "That's a red-hot red flag to me."
Garcia believes he has what it takes to be a pastor again but whether that will happen again is another question.
"One of the things that this season of life has done for me that's been a good thing is my identity used to be totally wrapped up in being a senior pastor. It's what I lived for. It's what I ate and drank, and lived and breathed," he said.
"That's been totally taken from me. And so not only was my identity taken for me because it was resting in this false god of ministry but I've had to with Jesus rebuild my identity. There was a day when I never saw myself doing anything but that because I believe that that's just who I was," he added.
"I believe now I'm more than that. If God wants me back in the Church, I believe he'll make that clear and open that door. Am I open to that? Yeah, I am. But I'm also not going to be that one to open that door myself."