How The World is Reacting to Trump's Immigration Ban
U.S. President Donald Trump's executive order barring travelers from seven Muslim-majority countries is facing overwhelming backlash around the globe.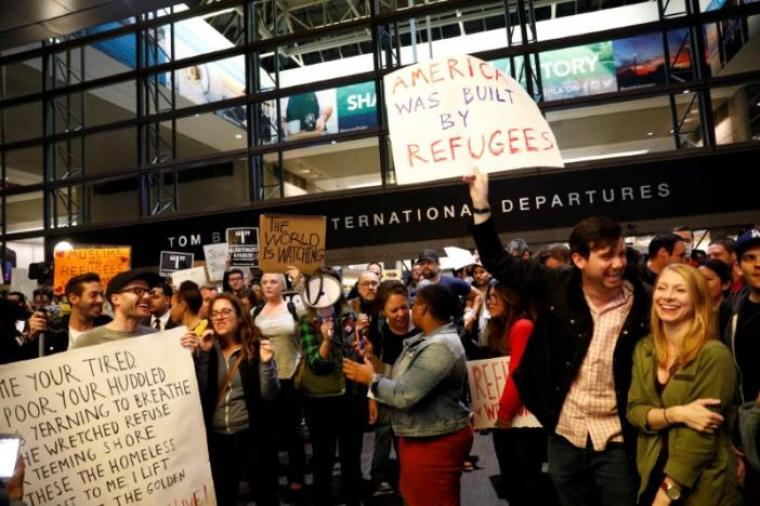 Trump's decision to prevent travelers from Iraq, Syria, Iran, Yemen, Sudan, Libya and Somalia from entering the United States is being condemned as a gross violation of human rights not only from his compatriots, but also from some of the world's most influential leaders and personalities.
The order, signed into immediate effect on Friday, resulted in chaos and confusion for America's immigration system as people from the black-listed countries who were en-route to the U.S. were detained at airports across the country despite having valid visas.
Over the weekend, tens of thousands of Americans gathered in major U.S. cities like New York, Dallas, Washington, Boston, San Francisco and Chicago among others to protest Trump's order.
Americans aren't the only ones outraged by Trump's decision to enforce a four-month hold on allowing refugees into the U.S. and temporarily bans travelers from the seven Muslim-majority countries.
World Leaders and Politicians
German Chancellor Angela Merkel petitioned Trump over a Saturday phone call to adhere to the Geneva Convention and take in war refugees on humanitarian grounds.
"The chancellor regrets the US government's entry ban against refugees and the citizens of certain countries," Merkel's spokesman Steffen Seibert said in a statement. "She is convinced that the necessary, decisive battle against terrorism does not justify a general suspicion against people of a certain origin or a certain religion."
Germany's sentiments were echoed by many of its European neighbors. "When [Trump] rejects the arrival of refugees, while Europe has done its duty, we should respond to him," said French president, François Hollande on Saturday.
Italian Prime Minister Paolo Gentiloni tweeted: "Italy is anchored to its values. Open society, plural identity, no discrimination are the pillars of Europe."
Authorities from Denmark, Norway, Sweden and Ireland also expressed their concerns about the decision which "could have far-reaching implications on humanitarian grounds" and one which "creates mistrust between people".
While Trump has argued that the order is "not a Muslim ban", his decision to prioritize helping Christian refugees from Syria suggests otherwise.
American allies Saudi Arabia, Egypt and Jordan, (which are members of the Arab League along with many countries included in the ban), too decried the restrictions as unjust, reports Reuters.
The Muslim-majority country of Indonesia registered its opposition to the policy with Foreign Minister Retno Marsudi saying that his country regrets Trump's plans for "extreme-vetting" of people from some Muslim countries.
Of the countries targeted by the executive order, Iran was the most outspoken with Foreign Minister Javad Sharif saying that Trump's decision would go down in history as "a great gift to extremists and their supporters ... Collective discrimination aids terrorist recruitment by deepening fault lines exploited by extremist demagogues to swell their ranks."
Canadian Prime Minister Justin Trudeau did not speak out against the ban directly but reiterated his country's position on offering humanitarian aid to those who need it in a tweet saying: "To those fleeing persecution, terror & war, Canadians will welcome you, regardless of your faith. Diversity is our strength #WelcomeToCanada".
Silicon Valley takes up arms against Trump
Never big fans of Donald Trump, Silicon Valley heads are condemning the anti-immigration order en masse. Most of them being first or second generation immigrants themselves, the leaders of America's biggest companies (and hence some of the most influential people in the world) are worried about the impact the order will have on their current immigrant employees, as well as any future hiring of global talent.
"We're concerned about the impact of this order and any proposals that could impose restrictions on Googlers and their families, or that could create barriers to bringing great talent to the US," said Google CEO Sundar Pichai, who was born in India.
His concern is echoed by the heads of other prominent corporations like Netflix, Uber, Apple, Tesla, Twitter, Airbnb and Paypal.
"It is not a policy we support. Apple would not exist without immigration, let alone thrive and innovate the way we do," said Tim Cook, CEO of Apple - a company that was founded by second-generation Syrian immigrant Steve Jobs.
Airbnb CEO Brian Chesky not only condemned the anti-immigration order but also vowed that his company would "provide free housing to anyone not allowed into the US."
Uber CEO Travis Kalanick said that he'll raise the issue of the ban, which will "impact many innocent people," at President Trump's first business advisory meeting to be held in Washington on Friday.