How to Breakthrough Millennial Christians' 'Cynical' Attitude on Talk Is Cheap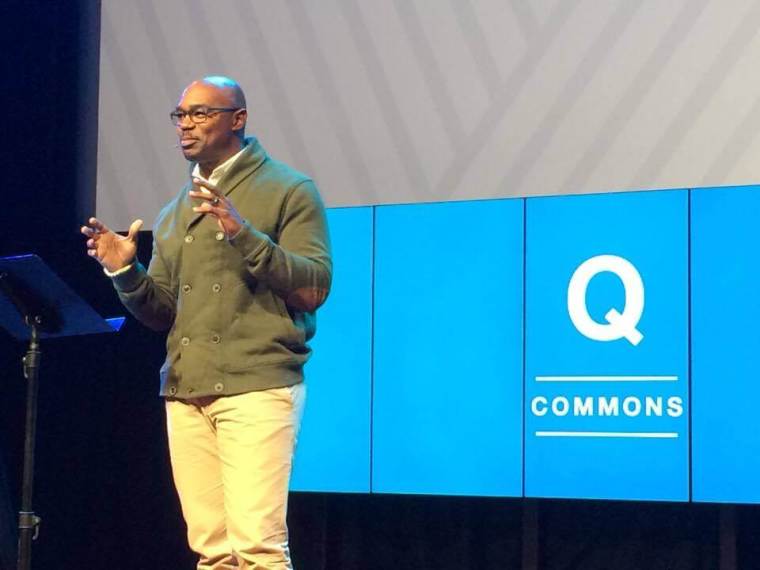 WASHINGTON — Over 200 millennials participated in the Q Commons telecast Thursday night to discuss the touchiest of subjects among them: race relations and the presidential election.
In an age when tensions are running high, many are deeply cynical about what good yet another "conversation" will do. But such attitudes are not deterring the founder of Q Ideas and local pastors hosting their forums.
"I'm a cynic myself," said Dave Schmidgall, a staff pastor with National Community Church in the District of Columbia who facilitated the event, in an interview with The Christian Post.
"I understand the cynicism behind talk, talk, talk. I think culture talk has become more cheap, because you can say whatever you want and it doesn't even have to be truthful anymore, you can just say it," he added.
Nevertheless, Schmidgall said when done right, conversations can pave the way for real reconciliation where Christians learn to love their neighbors well. But that also means they exhibit willingness to make themselves a little uncomfortable.
Mayor Candace Hollingsworth of Hyattsville, Maryland, an African-American woman who was one of the guest speakers at the DC Q event, noted in her remarks prior to the telecast, "there are a variety of ways that you can find differences or divisiveness among us and in many ways divisiveness is as American as baseball and have somehow become a hallmark for us."
Americans often defer hard work and responsibility of community-building, she continued, "to pastors, to politicians, organizers, sometimes to business people because that's what they do for a living. But aren't we supposed to be doing that for a living?" she asked the crowd.
Q Ideas, which was founded in 2007 and mobilizes Christians to advance common good in society, creates space for dialogue, helping believers and non-believers alike winsomely engage cultural moments where disagreement runs deep.
"I think it's in moments of desperation, which it is what we are experiencing in American culture right now, that people actually start to ask the bigger, more important questions," said Gabe Lyons, co-author of the best-selling book unChristian, during an interview with CP on Thursday prior to the telecast.
Broadcast to over 300 cities all over the world, Thursday's speakers included the preeminent Christian apologist Ravi Zacharias, New York Times columnist Ross Douthat, USA Today columnist and CNN commentator Kirsten Powers, and popular rap artist Lecrae.
Lyons told CP that he believes Americans "don't really spend time listening to one another anymore. We're very used to short snippets on Facebook, sharing our opinions and reacting to things."
"As our nation longs for healing and longs for hope — and I think people of faith have our hope in something other than presidents and other than perfect policies or perfect language. And it's in expressing that hope tonight that we give witness to something greater than our own abilities to something greater to solve all the ills of the world," Lyons added.
Joshua Symonette, also a staff pastor with NCC who emceed the DC Q Commons event, said it's essential to humanize people no matter what ideas they hold.
"The reality of the matter is that you can't expect to all of a sudden just start talking about white privilege and prejudice and discrimination, you can't open up with that conversation. There needs to be some sort of safety established, and you can't do that outside of the context of relationship," Symonette said. "For those who are cynical, I would say they're not thinking about it from the standpoint of facilitating a process to go deeper."
Schmidgall agreed, adding: "We need to teach people to build bridges, not armies. We build armies, we get in our camp, we're ready to fight, yell, shout, and that's not reconciliation. Reconciliation is building bridges."
"And we need to redefine what reconciliation is. Cultural reconciliation says you have to be right to come to my side. Biblical reconciliation comes from the Greek word alasso which means exchange. So I think the starting point of reconciliation is simply the exchange and the celebration of that."
Another problem, Lyons noted, is that far too many Americans live in their own echo chambers, veritable bubbles "where we hear opinions of those we agree with and enjoy getting feedback from those who like what we just said."
Christians in particular, Lyons said, would do well to remember that the problems of this world are rooted in sin, which shows up in pride, selfishness and division.
"And when we understand who the real enemy is, we stop placing blame on the other person, labeling people and saying that it's this group that's causing the problem, and it's this ethnicity that's got problems. We stop labeling and being divisive," he said.
"Instead we say, no, they are a child of God, too."
To find out more about Q Ideas, click here.