Husain Abdullah Penalized for Praying in Endzone; NFL Issues Apology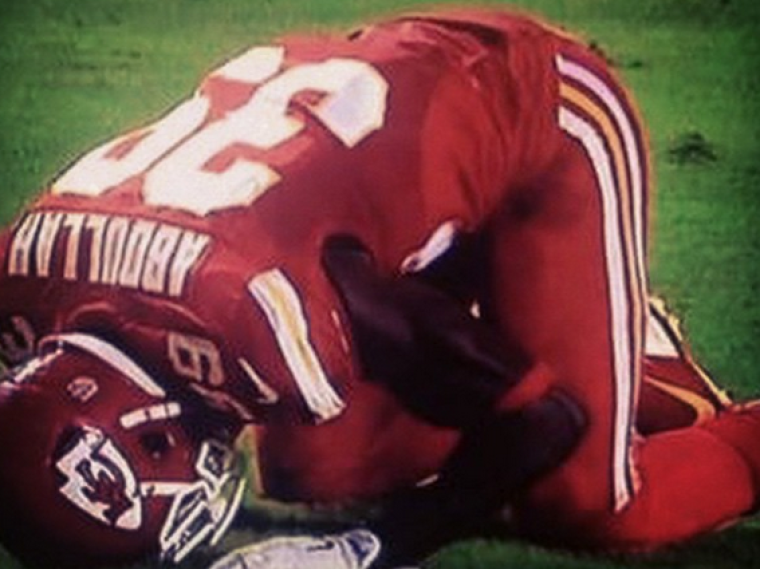 A Muslim NFL player was penalized after dropping to his knees and praying following a touchdown on Monday night, leading to a discussion of whether his prayer should have gotten him a penalty.
Husain Abdullah of the Kansas City Chiefs returned an interception during a game against the New England Patriots. He ran the ball into the endzone for a touchdown before dropping to his knees, putting his forehead to the ground and praying. Abdullah received a penalty of unsportsmanlike conduct, angering fans and Muslims alike.
"Abdullah should not have been penalized," Michael Signora, NFL Vice President of Football Communications, posted on Twitter the following morning. "Officiating mechanic is not to flag player who goes to ground for religious reasons."
The prayer drew comparisons to former NFL star, and prominent Christian, Tim Tebow, who often dropped to one knee in prayer. He started a trend that became known as "Tebowing," which quickly caught on with fans. The NFL universe was not unaware of the irony that Abdullah was penalized for praying while Tebow never was. But the NFL took quick action to avert any upset with its players.
Ibrahim Hooper of the Council on American-Islamic Relations told The Huffington Post that the group was satisfied with the NFL's quick response. Hooper previously urged the organization to clarify its stance on prayer in order "to prevent the appearance of a double standard."
Some have criticized the referees for giving the penalty in the first place, but others have stated that they did not think the refs knew what Abdullah was doing.
"The refs know that 'going to the ground' isn't a penalty," @RealDuality tweeted. "They memorize the rule book. This was a bigoted reaction."
Abdullah has not spoken publicly about the incident but instead posted a photo of himself praying in the endzone, with the caption: "Subhana Rabbial-'Ala" (Glory be to my Lord The Most High)."