In shocking message on Easter, pastor allows kids to hit, spit on and even cut him with steak knife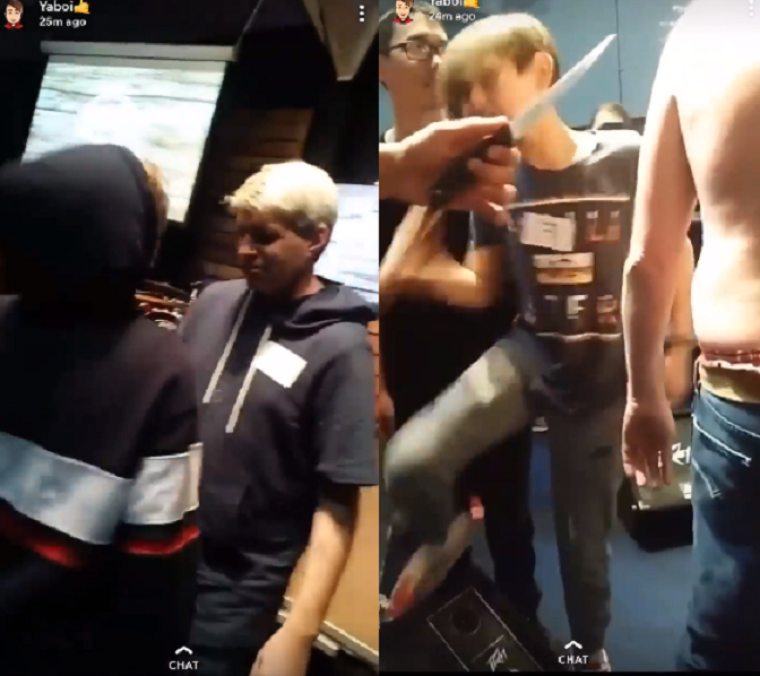 A pastor in Pataskala, Ohio, had members of the public reacting with shock and disgust this week after a video of him allowing children in an after school program to hit, spit on and even cut him with a steak knife to illustrate a message about Easter.
A recording of the message shared on Facebook by Lola Hatfield, shows part-time pastor of Impact City Church, Jaddeus Dempsey, being spat on by several young boys who then later slap him repeatedly in the face without any reaction from the pastor.
Dempsey then removes his shirt and picks up a steak knife and offers it to one of the boys and tells him to cut him "gently."
This request however was met with an incredulous "Are you serious!"
The pastor insisted that he be cut however until one of the boys steps up and draws the blade across his back.
One parent, whose son is featured in the video, said she got a call from a friend warning her about what was happening at the church.
"The guy who is in the video turns around and grabs the knife and he hands it right to my son," the parent identified only as Mandy told 10TV.
She said she and her husband Josh rushed to the church to pick up their son because they found the event inappropriate.
"He was upset. He thought he was in trouble. When I explained to him I'm not upset with you, I just want you to know that the things that happened here wasn't OK," Josh said.
The church's lead pastor, Justin Ross, in an appearance with Dempsey, later apologized for the incident in a video message on Facebook Monday.
Ross said the incident took place during the church's student "after school hangout."
"Each Monday we invite students to come across the street, a place where they can hangout with their friends. We provide activities for them, we feed them. As part of that program we also take five minutes to do a deposit of faith in the students. A chance where we can share the Gospel message of Jesus Christ," Ross said.
Dempsey, who chose to discuss the message of Easter on Monday, took things a little too far Ross said.
"He chose to use an illustration to explain a very important topic about the crucifixion but the illustration went too far and it was inappropriate for the audience that we had," Ross said before retelling the details of the video.
"Jaddeus got up in front of his students and he says, 'I'm gonna ask you to do something that might seem a little crazy, but if there is anyone here that would like to spit in my face you can do so without any repercussions.' Now the students were a little caught off guard. Some got excited about it as they never had the opportunity to willingly spit in someone's face and several students took him up on it," he said.
The process was repeated with the offer to slap Dempsey in the face as well as cut him with the steak knife.
"The reactions are appropriate. Many of you were disgusted, many of you were hurt by this, many of you were very confused. Why this would be taking place in a church, in a youth group? And we agree, it was inappropriate for this audience. And there is really no excuse for why it happened," Ross said.
He argued, however, that the intent behind the exercise is important.
"This part did not get posted on social media. After Jaddeus allowed them to spit on him, slap him and cut him, he sat them down and explained to them about this guy named Jesus who thousands of years ago, He was put on trial for a crime He did not commit," Ross said.
"And He was beaten, He was broken, He was whipped. He was crucified. He died as an innocent man. We believe Jesus had the power at any point to stop them. To stop those that were hurting Him. But He chose to allow it to happen … in order to take the payment of our debt that we call sin," he explained.
Dempsey who spoke later in the video took full responsibility for his actions and apologized to the church community for his "bad judgement."
"I am deeply sorry for the pain that I've caused," he said.