ISIS Destroys Oldest Christian Monastery in Iraq That United Christians Before Catholic-Orthodox Split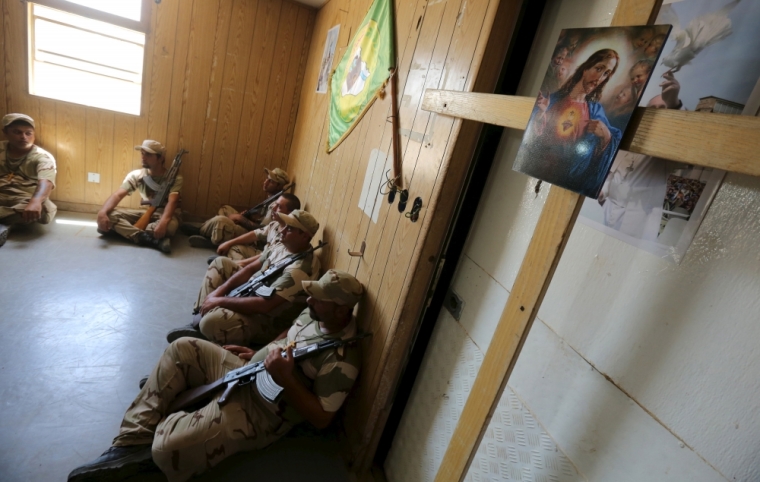 The Islamic State terror group has destroyed the oldest Christian monastery in Iraq, satellite photos have confirmed, reducing to rubble the 1,400 year-old St. Elijah's Monastery that stood as a place of worship before the Catholic-Orthodox split.
The Associated Press reported on Wednesday that it obtained satellite photos from imagery firm DigitalGlobe, which revealed that the site where St. Elijah's Monastery once stood has been reduced to a field of rubble.
Vatican spokesman Rev. Federico Lombardi pointed out that the monastery was a special place for many, because it dated back to a time before the split between the Catholic and the Orthodox traditions.
"Unfortunately, there is this systemic destruction of precious sites, not only cultural, but also religious and spiritual. It's very sad and dramatic," Lombardi said.
AP noted that the monastery has been used as a place of worship for millennia, with generations of monks praying at its chapel.
IS has been carrying out a pointed campaign aimed at destroying Christian churches and all other buildings it deems heretical.
The Syrian Orthodox Church of St. Ephraim in Mosul, which the militants destroyed, later reopened as a "mosque of the mujahideen" or jihad fighters.
The 27,000-square-foot stone and mortar St. Elijah's Monastery reportedly had 26 distinctive rooms, including a sanctuary and chapel, and stood at a hill above Mosul, resembling a fortress.
Stephen Wood, CEO of Allsource Analysis, said that the destruction must have occurred somewhere between August and September 2014.
"Bulldozers, heavy equipment, sledgehammers, possibly explosives turned those stone walls into this field of gray-white dust. They destroyed it completely," Wood said.
Father Paul Thabit Habib, a Catholic priest from Mosul who now lives in Irbil, warned that Christian history is "being barbarically levelled" at the hands of IS.
"We see it as an attempt to expel us from Iraq, eliminating and finishing our existence in this land," Habib said.
BBC News Iraq correspondent Ahmed Maher pointed out that without the satellite images, the fate of the monastery might have never been known.
"This is because journalists and archaeologists cannot go to IS-controlled areas for security reasons. But more importantly, IS did not release any video on its propaganda outlets showing the demolition of this particular ancient site," he wrote.
"The jihadists have released footage showing themselves destroying shrines, churches and antiquities with sledgehammers and dynamite. More than 100 churches and monasteries have been razed to the ground in Mosul and the predominantly Christian villages surrounding it, like Bashiqa and Qaraqosh, since they took control of the area in 2014."
The monastery was originally built in 590, and has suffered several tragedies throughout the years. In 1743, close to 150 monks were massacred by a Persian general after they refused to convert to Islam, while in 2003, one of its walls was smashed in by a tank turret during the war with the U.S.