ISIS Displays New Public Execution Method That Goes Straight to the Heart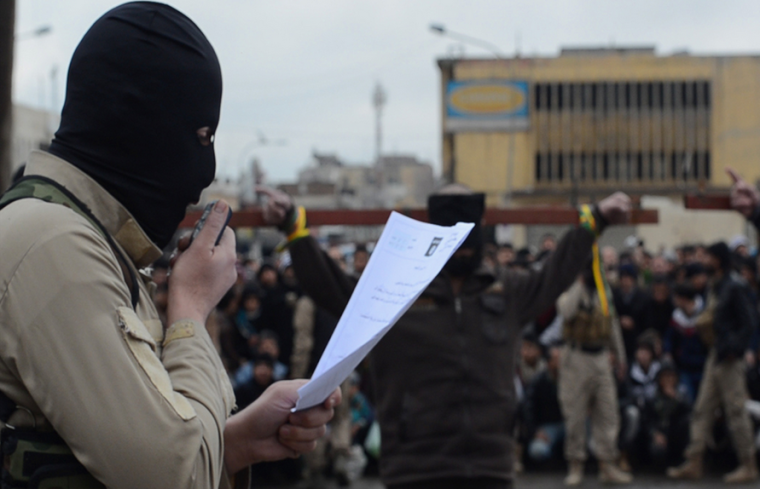 Always looking for new and barbaric ways to publicly execute its victims, the Islamic State terrorist group in Syria has displayed its latest method of public execution.
The Iranian-based AhlulBayt News Agency reports that the jihadi group recently released a set of sickening photos that show a man dressed in an orange prison jumpsuit being publicly executed in the streets of Raqqa after he was charged with cooperating with the United States-led coalition.
Instead of just shooting the man in the back of the head like the jihadis do with many of their prisoners, the photos show the captive sitting on his knees while a heavy-set IS militant drives a knife straight into his heart.
After the man keeled over due to the agony of the knife puncturing his heart, the heavy set militant finished off the job by shooting the man in the back of the head.
According to AhlulBayt, the executed man's name was Abdulhadi Essa al-Salem.
Before he was executed in front of a crowd of civilians that included children, the news agency reports that al-Salem was tortured, tied to a light post in the middle of a street with a sign hanging from his neck.
IS has been known to tie its hostages to light posts and hang signs around their necks that state the alleged crime they are being punished for in order to intimidate other residents of the area not to defy them. Last July, IS crucified and caged at least 94 people in Syria who broke their Ramadan fast during daylight hours.
According to the U.K.-based watchdog group Syrian Observatory for Human Rights, IS has executed more than 4,000 people in Syria since the group rose to prominence in June 2014.
Last Thursday, IS militants reportedly publicly executed a 7-year-old boy in Raqqa in front of his parents. The boy was accused of "insulting divinity" while playing with his friends.
The Kurdish-based ARA News agency noted in its report that executing children is a violation of Islamic law.
IS has also killed many of its foreign fighters who attempted to flee the battlefield.
A provincial source in Iraq disclosed to AhlulBayt that the militant group killed at least 35 of its jihadis by burying them alive in a town about 35 miles outside of the group's Iraqi stronghold of Mosul.