ISIS Kills 45 Fighters by Freezing Them to Death for Attempting to Flee Terror Group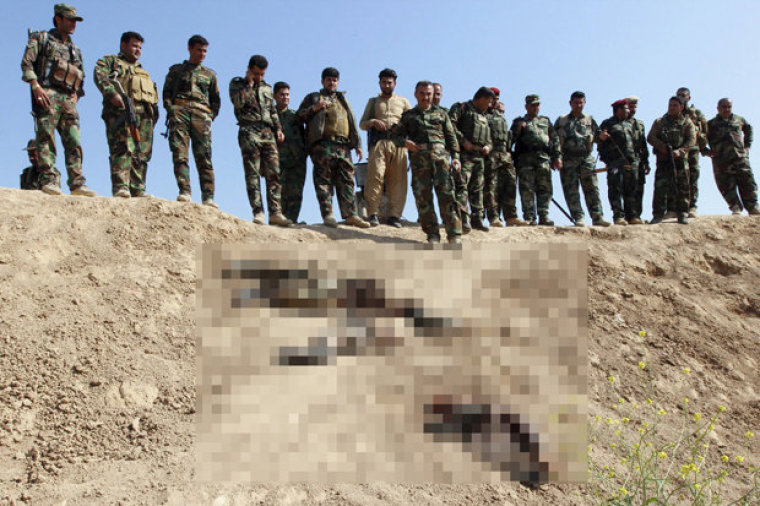 The Islamic State terror group has reportedly killed 45 of its soldiers by locking them in a freezer after they attempted to flee from a battle in Iraq.
MailOnline reported on Iraqi media sources, such as Al Sumaria News, who shared that the 45 IS fighters are believed to have been locked inside forensic freezers, bringing about a slow and prolonged death.
The victims were held inside the freezers for the entire day, after which their bodies were stretched alongside the sides of a road as a warning.
There have been several reports of IS chiefs ordering the deaths of their own fighters who refused to flight or were caught trying to desert IS' ranks, as the terror group continues its war for territory across Iraq and Syria.
The Islamist radicals have used a variety of different methods when carrying out executions, either of its own fighters, captured enemy soldiers, or people accused of being spies. Beside shootings and beheadings, the terror group has also thrown people off buildings, drowned victims and set them on fire, and on a number of occasions it has forced people to wear explosive necklaces.
Last week new propaganda video footage from IS depicted a man in an orange jumpsuit kneeling on the ground wearing a wire and bomb around his neck moments before the explosives go off, killing him in an extremely graphic scene.
IS' acts of brutality have continued despite President Barack Obama claiming earlier in April that the terror group's forces across Iraq and Syria continue to shrink.
"Once again, they have failed," the president said about terror attacks aimed at weakening America's resolve.
"Their barbarism only stiffens our unity and determination to wipe this vile terrorist organization off the face of the Earth."
British media has warned, however, that tourists planning holiday stays at European resorts this summer need to be careful, as sources have said that the terror group has been planting suicide vests and bombs under sun loungers.
One high ranking official, who wasn't named, stated: "It could be a whole new dimension of terror. Holiday beaches cannot be protected."
NATO and the EU have also separately warned that there is "justified concern" that IS is looking to produce biological, chemical and radiological weapons, which can then be used to attack civilian populations.