ISIS Militants Rape, Torture and Crucify 12 Christians Who Refuse to Deny Jesus Christ
ISIS Militants Rape, Torture and Crucify 12 Christians Who Refuse to Deny Jesus Christ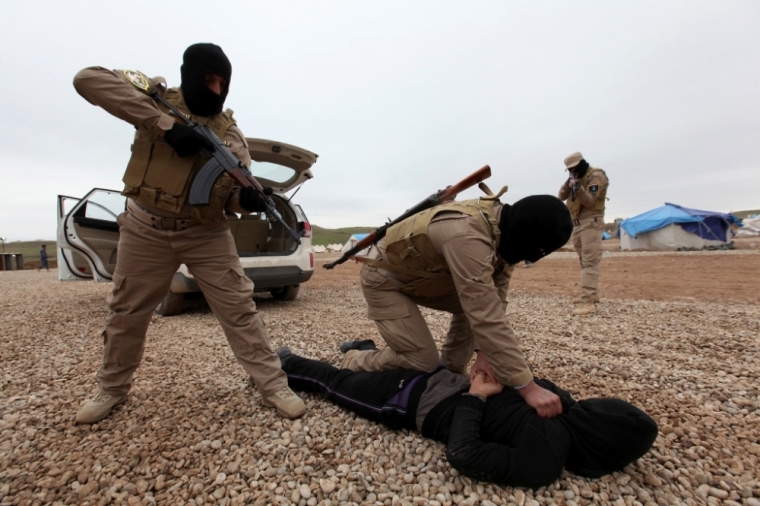 A group of 12 Christians, including the 12-year-old son of a Syrian missionary who established nine house churches in the region, were brutally murdered by Islamic State militants in a village outside of Aleppo in August for refusing to deny Jesus Christ, according to a new report from Christian Aid Mission.
The organization, which focuses on reaching areas in the world where there are few Christians, said that the native missionaries were captured by IS in an undisclosed village on Aug. 7 and ordered to reconvert back to Islam on Aug. 28.
The 41-year-old missionary group leader, his young son and two other workers were told to renounce Christ before a crowd of onlookers, but refused to do so. Their IS captors responded by severing the boy's fingers and offering to stop if his father would convert back to Islam. His father refused once again and the four were tortured, beaten and crucified.
"All were badly brutalized and then crucified," said the ministry director in an Christian Aid report. "They were left on crosses for two days. No one was allowed to remove them."
Signs were posted next to their crucified bodies that read "infidels."
Eight other missionaries who were captured were also ordered to renounce Christ and return to Islam that same day at a separate site in the village.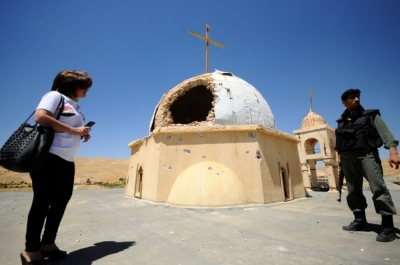 The group included two women who were raped in public by IS militants. All eight were beheaded for not returning to Islam.
"Villagers said some were praying in the name of Jesus, others said some were praying the Lord's prayer, and others said some of them lifted their heads to commend their spirits to Jesus. One of the women looked up and seemed to be almost smiling as she said, Jesus!" said the ministry director.
IS has employed the most brutal and barbaric practices against Christians and fellow Muslims in Syria and Iraq who refuse to align with their ideology.
In September, Christian Freedom International released a video which revealed that IS has been commandeering church buildings in Iraq and using them as torture chambers to coerce Christians to renounce their faith, according to the organization's Director, Jim Jacobson, who described to Breitbart London the ways in which IS is funding its jihad.
"Islamic State militants are also stripping the former places of Christian worship of ancient relics which in turn are smuggled to Western collectors to help fund their terrorist activities," he said.
In the town of al-Quaryatayn in Syria, IS has taken other approaches to addressing Christians, according to Christian persecution watchdog International Christian Concern. Christians must adhere to a set of specific commands if they want to live there.
Besides being forced to pay a tax to IS, Christians are barred from building churches, displaying crosses, praying, worshipping Jesus or committing acts deemed offensive to IS' brand of Islam, carry weapons or selling pork or wine to Muslims. They also must adhere to IS dress codes.
The ICC estimates that there are around 250 Syriac Orthodox Christians living in al Quaryatayn.
"The release of this agreement once again highlights the intents of the jihadists of IS to create a society in which only those who follow their strict interpretation of Islam have any sense of freedom. These restrictions nearly eliminate the presence of Christianity in this region," said Todd Daniels, Middle East regional manager for ICC.
"The campaign by IS extremists to establish their Islamic State and to drive out Christianity from Syria continues to amplify suffering and has caused the displacement of hundreds of thousands of Christians and more than 12 million Syrians. There will be no stable and lasting peace in Syria until citizens from all faiths are able to live together with all rights protected," added Daniels.