ISIS supporter convicted of war crimes, posting photos on Facebook of severed heads impaled on spikes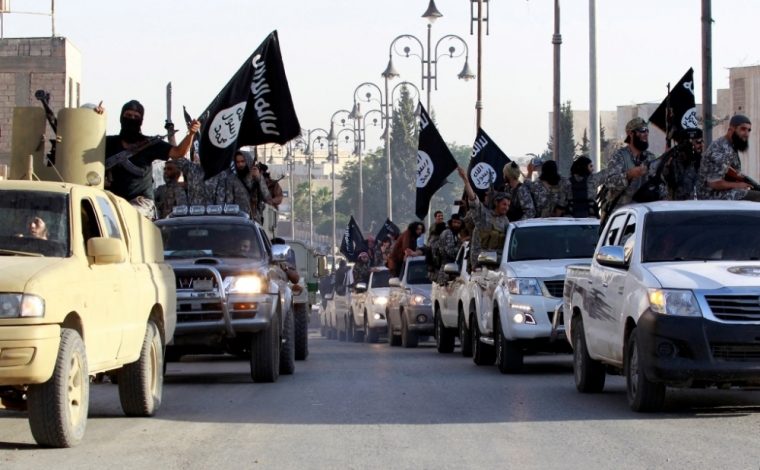 A Swedish court has convicted a 35-year-old woman, Fatosh Ibrahim, of war crimes for posting photos on Facebook of herself posing with severed heads in Raqqa, Syria — a known supporter of the Islamic State terrorist group. Ibrahim has been sentenced to three months in prison.
Ibrahim published photos on two separate occasions in 2014, which depicted severed heads impaled on a fence in Raqqa by ISIS militants, according to Sweden's Goteborg District Court, the Mirror reported, adding that she used her cell phone to take the photos in Raqqa's Naim Square, where the militants had displayed hanged bodies and heads.
The court ruling stated that Ibrahim had made "disparaging comments about the people in the photos and expressed that they deserved what they were subjected to" on Facebook.
The court ruled that Ibrahim had "clearly expressed her sympathy with the actions of the Islamic State group" and that her actions were connected to the armed conflict in the area at the time.
In her testimony, Ibrahim admitted to posting the pictures on Facebook but claimed she didn't know what she was thinking at the time. "I was war wounded. It was very common to see dead bodies in Raqqa," she was quoted as saying.
She is among three siblings from Gothenburg who all joined ISIS and subsequently returned to their homeland, as reported by the newspaper, which said her brother, Hassan Al-Mandlawi, was sentenced to life imprisonment for terrorist activities, while her younger sister died after returning to Sweden with her daughter, who had sustained shrapnel injuries.
The sister's 3-year-old son lost his life when he inadvertently set off a hand grenade while playing with it.
Ibrahim told the court she initially traveled to Syria in December 2012 to visit her brother, not to join ISIS. She also claimed she was forced to stay and was unable to return home.
According to Swedish media, Ibrahim's first husband was British-Pakistani militant Ibrahim Almazwagi, a 21-year-old graduate of Hertfordshire University, who died in 2013. Her current husband is serving time in an Australian prison.
During the trial, Ibrahim claimed she visited Syria because her husband was buried there, but was later forcibly taken to Raqqa.
In addition to the war crime conviction, Ibrahim was also found guilty of threatening and defaming social workers in Sweden after they removed her children from her care.
ISIS captured large swaths of territory in Syria and Iraq in 2014, establishing hardline Islamic Sharia law in areas under the group's control. The group drew international attention by producing gruesome execution videos that were shared online. The Islamic State killed and enslaved thousands. Several affiliate groups across Africa and Asia have aligned with the terrorist group.  
In 2017, Sally Jones, a British jihadi who recruited online for ISIS, was killed in Syria by a U.S. drone along with her 12-year-old son, Reuters reported at the time.
A convert to Islam from southern England, Jones was nicknamed the "White Widow" by the British press after her jihadi husband, Junaid Hussain, also an ISIS militant, was killed by a drone in 2015.
Last August, a federal grand jury in the United States indicted a New Mexico man for attempting to provide material support to the terrorist organization and establish an "Islamic State Center" in his state.
A United Nations report released in 2016, as ISIS controlled a large amount of territory in the Middle East at the time, revealed that 18,800 people had lost their lives and more than 3.2 million people had become refugees due to the unrest in the region caused by the terrorist group's rise.