Jimmy Carter Says His Cancer Is Gone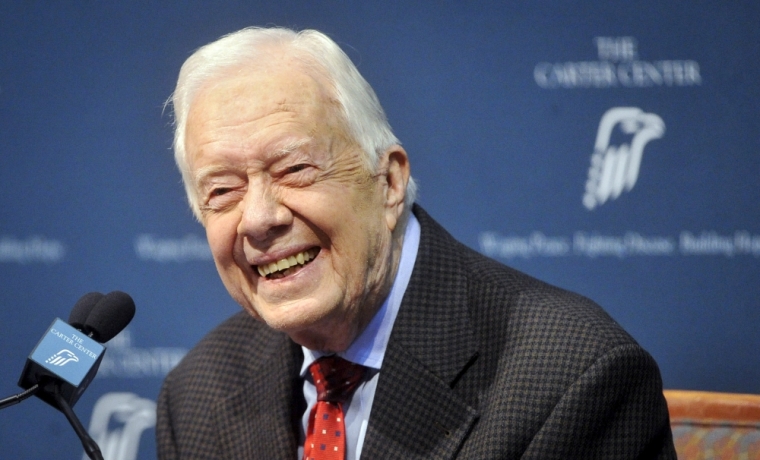 Former President Jimmy Carter who revealed this summer that he had been diagnosed with advanced cancer that had been found on his liver and brain, announced Sunday that the cancer is gone.
"My most recent MRI brain scan did not reveal any signs of the original cancer spots nor any new ones. I will continue to receive regular three-week immunotherapy treatments of pembrolizumab," Carter, 91, said in a statement posted on his Facebook page Sunday.
A statement from the Carter Center early last month indicated that the former president was responding well to the treatment but his announcement Sunday came as an early Christmas gift.
The Christian Post reached out for reaction from the Rev. Jeremy Shoulta of Maranatha Baptist Church in Plains, Georgia, where Carter regularly teaches Sunday school classes but he wasn't available at the time this story was published.
A report from The Atlanta Journal Constitution, however, said Carter first made the announcement Sunday at the beginning of his Sunday school class at Maranatha.
"He said he got a scan this week and the cancer was gone," Jill Stuckey, a close friend of Carter's and a Maranatha member, told AJC. "The church, everybody here, just erupted in applause."
Carter was reportedly teaching about 350 people at the time of the announcement and most of them were visitors. Many of them had no idea the news was coming.
"It's like getting the biggest Christmas gift that you could ever want," said Jan Williams, another close Carter friend who spends the hour before Carter's class humorously instructing visitors on the do's-and-don'ts of being around their famous teacher. "This week was just horrible in the world in terms of all the bad things happening. How wonderful in the midst of all this to get such wonderful, encouraging news."
She further added: "I never felt God was through using Jimmy Carter yet. He's done what the doctors told him to do, and what an example that is for the rest of us."
Carter's grandson, James Carter, also confirmed that his cancer was gone.
"There's no cancer in his body at this point," the younger Carter told AJC. "He's not going to stop doing the treatment, but at this point, there's no cancer. It's incredible news."
Dr. Len Lichtenfeld, deputy chief medical officer for the Atlanta-based American Cancer Society, who stressed he was speaking about cancer in general, told the AJC, however, that the most recent report doesn't necessarily mean there is no cancer in Carter's body.
"It doesn't mean that there is no cancer in his body; it means that there is no indication that they can find cancer for the present," said Lichtenfeld.
Nevertheless, he said, the news is an encouraging sign for Carter.
"The President has done exceptionally well. There are still many patients with melanoma who don't have this outcome," said Lichtenfeld. "He's in the best possible place."