Joanna Gaines Asks for Help From Fans After False Rumor Spreads About 'Fixer Upper' Stars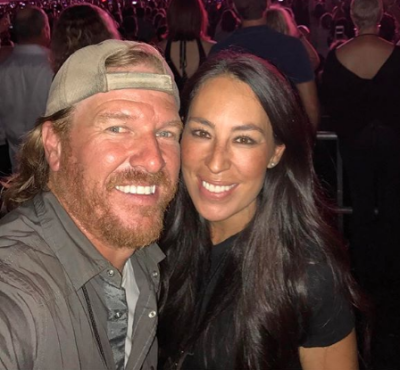 False rumors have been swirling for some time now about "Fixer Upper" stars Chip and Joanna Gaines and the reality stars are now asking fans to help them spread the truth and avoid further scams under their name.
Whether they're mesmerizing viewers with their design and renovation skills on their hit HGTV series "Fixer Upper" or using their platform to reflect their faith, Chip and Joanna have won over the hearts of many Americans who are now their fans. With fame, however, comes its share of false accusations and the Gaines are speaking out.
"There have been rumors floating around about me leaving the show to start a skincare/makeup line. I wanted to take a minute to let y'all know that it's simply not true. This is a SCAM!" Joanne said on Friday in a Facebook post.
She also shared a photo reiterating the fact that she does not have a skin care product and finished her post yesterday by asking for their fans to help put the rumors to rest.
"Please spread the word by sharing, re-posting, and/or retweeting this post and send it to any information regarding the fake news websites or sponsored ads to reporting@magnoliamarket.com," she continued.
Unfortunately, many of the fans who read the post had already bought the "fake skin care product" and were disappointed that the home renovator took so long to share that it was not her own product.
"You should have posted this a few months ago..I never order anything like this...but because it was your's I did....said it was free and I only had to pay shipping...well I did that and got the product...then a few weeks later my bank account gets charged again," one Facebook user wrote.
Another said, "I fell for the scam and ordered the "free trial". To see TWO $97 charges on my credit card!! I disputed it with my CC company and got the money back but was very upset. Lesson learned!!!"
Others maintained that they knew it wasn't true because of how the description was written.
It's not the first time rumors floated around about the Gaines that were not true. The pair also shot down rumors in a blog post in April hoping to set the record straight.
"We've heard it all," Joanna revealed at the time, while stating that she heard claims that they were moving out of Waco in favor of Las Vegas and were even lying about the number of children they have. "You can't believe everything you read," she added.
Chip and Joanna have four children: Drake, 12, Ella, 10, Duke, 9, and Emmie, 7. The mother also addressed allegations that she was leaving the show.
"No! I am not getting into the business of facial creams. And No! We are not expecting baby #5. And no worries, believing some of these stories happens to the best of us," she said.
Although there are many false allegations, the successful home renovation gurus and reality TV stars do have a lot of businesses. The couple own Magnolia Homes, a remodeling and design business in Waco, Texas. They also have a retail shop called Magnolia Market at the Silos (which draws up to 40,000 visitors a week), as well as paint, rug, wallpaper and furniture lines, a real estate company, a quarterly magazine, a luxury vacation rental, and a restaurant.
Now in its fourth season, "Fixer Upper" has been living proof for the Gaines that what God promised them when they were a couple of kids in college has come to pass. According to multichannel.com, the show continues to shatter multiple rating records for the HGTV network and is now one of the highest-rated in the network's history.
Chip also recently announced the upcoming release of his book, Capital Gaines: Smart Stuff I Learned Doing Stupid Stuff. Set to release in October, the book is the Gaines' second, with the first one being The Magnolia Story, which details how they built their home renovation empire.
For more information on the couple, click here.
Follow Jeannie Law on Twitter:
@jlawcp