Jon Stewart Defends Phil Robertson's Free Speech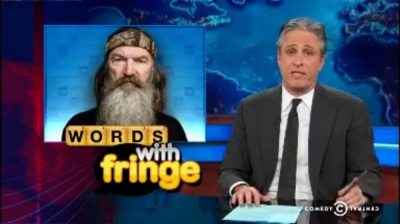 Comedy Central "news" pundit Jon Stewart voiced his support for the free speech argument that some "Duck Dynasty" fans had used to defend Phil Robertson, after A&E suspended the reality television show star for comments he made about homosexuality.
"I think what the guy said was ignorant. But I also have an inclination to support a world where saying ignorant s–- on television doesn't get you kicked off that medium," Stewart told an applauding audience.
"But I guess I stand with the free speech absolutists at Fox News who don't believe you should pressure people to have to adhere to culture norms of speech — mostly," said Stewart, who had earlier conceded that he did not watch the show.
Stewart went on to point out that Fox News seemed in favor of free speech when it came to "Duck Dynasty," but drew the line at the "war on Christmas." He showed a series of brief segments of the cable news network channel hosts and guests expressing outrage whenever Christmas had seemingly been scratched from the holiday lexicon.
"[Fox News'] belief in free speech doesn't extend to the holidays, when the word 'Christmas' is mandatory," Stewart quipped.
Stewart also took on Robertson's claims that among the black people he had witnessed in pre-Civil Rights Louisiana, "no one was singing the blues."
"[He's] forgetting of course, that there was where the blues were invented," said Stewart.
A&E suspended Phil Robertson from "Duck Dynasty" following an interview in which he listed homosexuality as a sin in GQ's January issue.
Robertson commented, "It seems like, to me, a vagina – as a man – would be more desirable than a man's anus. That's just me. I'm just thinking: There's more there! She's got more to offer. I mean, come on, dudes! You know what I'm saying? But hey, sin: It's not logical, my man. It's just not logical."
He also told GQ, "Neither the adulterers, the idolaters, the male prostitutes, the homosexual offenders, the greedy, the drunkards, the slanderers, the swindlers – they won't inherit the kingdom of God. Don't deceive yourself. It's not right. ... We never, ever judge someone on who's going to heaven, hell. That's the Almighty's job. We just love 'em, give 'em the good news about Jesus – whether they're homosexuals, drunks, terrorists. We let God sort 'em out later, you see what I'm saying?"