Arizona megachurch Pastor Joshua Butler resigns amid controversy over book's hyper-spiritualization of sex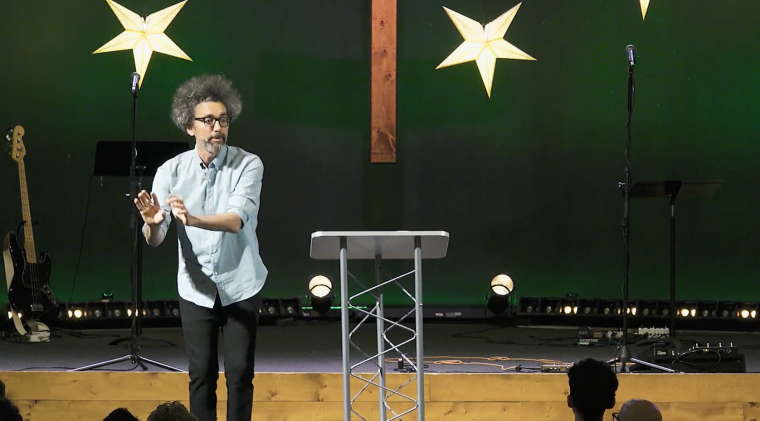 Joshua Butler, an Evangelical Christian pastor and author, resigned from the leadership of his Arizona megachurch on Wednesday following backlash over his book, Beautiful Union, in which he asserted that "sex is an icon of Christ and the church."
"We have found ourselves in an impossible situation," Butler wrote to members of Redemption Church in Tempe in announcing his resignation, according to a copy of the letter posted on social media.
"On the one hand, I feel called to step more into these public conversations. I desire to be humble, charitable, winsome, and wise. There are some mistakes I've made I wish to own but also deep convictions I hold that I wish to contribute to the broader conversation. Our elders have been unanimous, alongside multiple mentors and leaders I trust (within Redemption and beyond) in affirming this sense of priority in this season."
An excerpt from Butler's book, titled "Sex Won't Save You (But It Points to the One Who Will)" was published on the website of The Gospel Coalition in March. His book was officially released in April.
The excerpt described sexual intercourse in spiritual terms, characterizing sex as a man granting a holy gift to a woman and comparing it to the relationship between Jesus and the Church.
In the excerpt, Butler states, "sex is an icon of salvation," adding: "Generosity and hospitality are both embodied in the sexual act. Think about it. Generosity involves giving extravagantly to someone. You give the best you've got to give, lavishly pouring out your time, energy, or money."
"At a deeper level, generosity is giving not just your resources but your very self," he wrote. "And what deeper form of self-giving is there than sexual union where the husband pours out his very presence not only upon but within his wife? Hospitality, on the other hand, involves receiving the life of the other."
The excerpt sparked backlash for hyper-spiritualizing sex and promoting problematic theology, along with being offensive to the abuse survivor community.
"During my own years of marriage to a porn-addicted pastor, marital sex was both exploitative and robotic," wrote abuse survivor Sarah McDugal in an op-ed for The Christian Post. She contended that for survivors of adult assault or childhood molestation, "tying explicit imagery to the concept of salvation comes across as both insulting and profane."
"As a virgin bride with no benchmark to compare, I spent 13 years believing that unpleasant, unfulfilling sex was the norm. Back then, Butler's article would have reinforced my sense that his porn-inspired fantasies dictated my undeniable obligations, regardless of physical or emotional discomfort. After all, if ejaculation is his most sacrificial gift, then closing the doors to the Most Holy Place must equal the ultimate spiritual rejection. You can't get much more effective with sanctified spiritual guilt trips to coerce sexually exploited wives to never say no."
Prominent pastors also urged The Gospel Coalition to remove the article and issue an apology, including former Saddleback Church Pastor Rick Warren and Kevin DeYoung. Rich Villodas, pastor of New Life Fellowship in New York, issued a statement retracting his initial endorsement of the book.
The Gospel Coalition later removed the article and issued an apology, and Butler resigned as a fellow with the Keller Center for Cultural Apologetics, a project of the organization. 
However, the link is still active with a new headline that reads "Beautiful Union Book" and a brief statement: "We recognize that the adapted excerpt from Josh Butler's forthcoming book Beautiful Union lacked sufficient context to be helpful in this format." The statement also included a link to a preview sample of the book.
In his resignation letter, Butler cited the controversy's toll on church staff and leaders and the need to participate in public conversations about his book without harming the church. 
"I don't want to drag Redemption into that public conversation with me," he wrote. "The toll of this controversy on many of our staff and leaders this month has been intense at both Redemption Tempe and other Redemption Arizona congregations. While they have borne that burden well, I am concerned that my continuing to step into this public conversation would generate distraction from the primary ministry God has called us to as a local church. As elders, we've affirmed this assessment together."
In response to the feedback he received, Butler stated his intention to revise the book for future printings. He also expressed his willingness to engage in discussions with any church members who were upset or offended by the controversy surrounding his book.
"I care about your pain and your story and commit to simply listening, not seeking to explain, defend, or justify. I care about you," he wrote. "I've loved leading at Redemption Tempe, love you all as my church family, and I'm looking forward to what God has in store for the season ahead."
Butler's photo and bio no longer appear on the church's website.