Justin Bieber Torso Tattoo: Pop Star's Giant New Inking Covers Up His Christian 'Son of God' Tattoo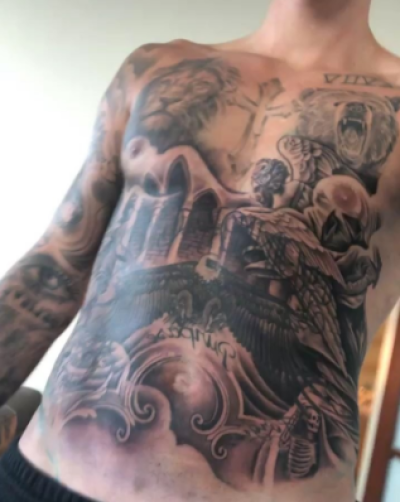 When it comes to tattoos, Justin Bieber just can't help himself.  He may have dozens already, but he's really pulled out all the stops this time with a giant new tattoo covering his entire torso. 
It even covers over his 'Son of God' tattoo that is an apparent reference to his Christian faith, although his latest inking does seem to keep with a spiritual theme.
The imagery is somewhat dark, with skeletons, gargoyles and some church-like arches. 
But Bieber was clearly pleased with it as he took to his Instagram on Saturday to show it off in some selfies. 
He appeared in front of the bathroom mirror in one shot and in the other, he offered fans a close up.  The 'Son of God' tattoo may have been swallowed up by the giant new torso inking but the cross covering his heart is still on view, as is the bear and the lion, two of his earlier inkings. According to People.com, Bieber has at least 60 tattoos on his body. The tattoo artist behind the inking is the acclaimed Keith 'Bang Bang' McCurdy. He was also really happy with it and praised the singer on Instagram for being able to sit through the pain for three days straight. '@justinbieber Thank you for the trust,' he wrote. '26 hours over 3 consecutive days is the most I've ever tattooed anyone in my 13 year career. You're tough as nails man!'
But not everyone's loving it as much as Bieber and his tattooist.  His fans have been sharing their opinions on his Instagram posts and they are divided.
'Sad :(,' wrote one person. 
'OMG what have you done,' said another.
While some hated it, others fans clearly loved it and some just defended his choice to do what he wanted.
'It looks awesome,' said one fan. 
'Opinions are opinions, you choose whether you care or not,' wrote another. 
Bieber has been taking some time out lately after recently cancelling his Purpose world tour. 
He shocked fans at the time but explained that he needed to spend some time on himself and wanted his 'mind heart and soul to be sustainable.'