K. Michelle Shares Prayer for Tamar Braxton After Pair Quell Issues at BET Awards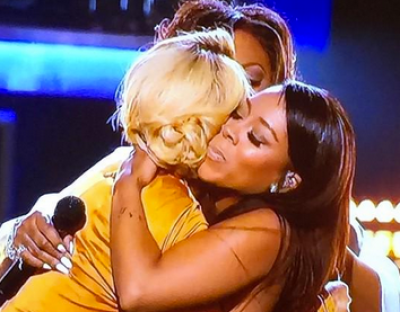 After years of publicly shooting verbal jabs at each other, singer K. Michelle revealed that she is now praying for fellow Christian songstress Tamar Braxton following the pair's joint performance at the 2015 BET Awards show.
The 31-year-old singer born Kimberly Pate, joined 38-year-old Tamar Braxton for a performance with the legendary Patti LaBelle where the two women settled their disagreement. After the performance, the women embraced onstage and K. Michelle took to Instagram to offer prayers for her former rival's success.
"Thank you @tamarbraxtonher and my mother Patti for a moment I will never forget. Tamar, we've been through a lot," K. Michelle wrote. "I truly pray for your continued success. Love u ladies."
Before hitting the stage with K. Michelle, Braxton also shared her thoughts about ending her public issues with her fellow songwriter.
"With the whole women's empowerment and everyone coming together, and everyone coming from a place of where we all can understand each other, I'm doing a very special performance with myself and K. Michelle. In the past, we've both had a lot of disagreements about life, in general," Braxton told Entertainment Tonight. "This actually the first time we'll be meeting each other. I'm just really excited because I'm really about girls sticking up for each other and being there for each other ..."
Braxton and K. Michelle began feuding in 2012 when the latter spoke about being physically abused by Mickey "Memphitz" Wright. Wright, once worked as a Jive Records music executive who managed K. Michelle. Wright is also married to Braxton's good friend, Toya Wright.
"... It's just time for all the nonsense to stop," Braxton told "Entertainment Tonight." "Let's just empower each other and be great!"