Ken Ham's Answers in Genesis Calls Atheism 'Hopeless' Faith in 'Religions and Cult' Book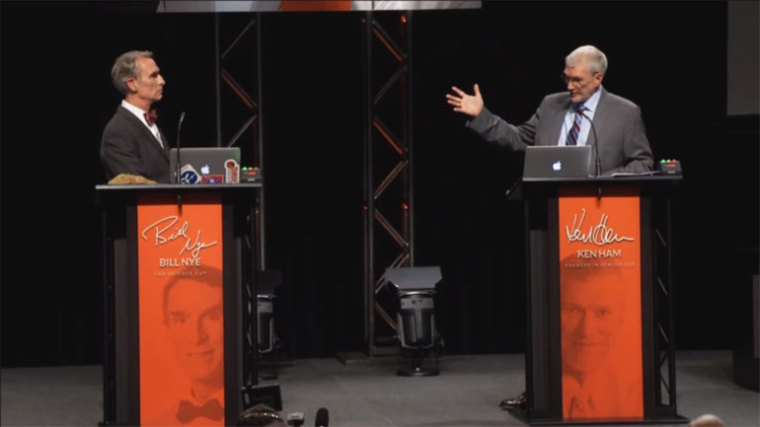 Young Earth Creationist Ken Ham's Answers in Genesis ministry has focused on atheism and "humanistic type of religions" in the final book of its series based on world religions and cults.
"Atheism and secular humanism are religions. To understand and combat these religions, they are featured in the brand-new Volume 3 of our World Religions and Cults book series," Ham wrote on Facebook on Wednesday, promoting the book.
"Atheism — a blind faith religion that flies in the face of what is evident around us in the creation. It is a religion without hope and meaning. We need to show atheism for what it is — a religion many secularists are trying to impose on the entire culture," he continued.
The book, which was edited by Roger Patterson and Bodie Hodge, claims that it will be "one of the most valuable for the Church in the Western World where anti-god and pro-evolution religions are beginning to explode, for it was written to refute those religions and show how they fail."
World Religions and Cults Vol. 3 also promises to show believers how to spot the tenets and oppose humanistic religions, as well as how to present the Gospel to those "who have been deceived" by atheism.
Ham has said on several occasions that atheism is a "bankrupt, meaningless, and hopeless" worldview, and argued that non-believers need to "borrow" from Christianity.
"How can secularists talk about morality? Without an absolute basis where do they draw the lines? Who draws the lines? Ultimately it fails," Ham, who is also the president of the Ark Encounter and the Creation Museum, said back in September.
"Secularists borrow from the Christian worldview — they borrow from the laws of nature, from laws of logic — they assume God whom they reject," he added.
Major secular organizations in the U.S., such as American Atheists, have argued that atheism is not a religion, however.
"Atheism is usually defined incorrectly as a belief system. Atheism is not a disbelief in gods or a denial of gods; it is a lack of belief in gods," the group explains on its website.
"Why should atheists allow theists to define who atheists are? Do other minorities allow the majority to define their character, views, and opinions?" they ask.
"Atheism is not a belief system nor is it a religion. While there are some religions that are atheistic (certain sects of Buddhism, for example), that does not mean that atheism is a religion. Two commonly used retorts to the nonsense that atheism is a religion are: 1) If atheism is a religion, then bald is a hair color, and 2) If atheism is a religion, then health is a disease."
Ham has agreed that non-believers he interacts with on social media "hate having atheism referred to as a religion," but insisted "that's exactly what it is."