Kirk Franklin gives first interview since leaked phone call with son: 'I am disappointed in myself'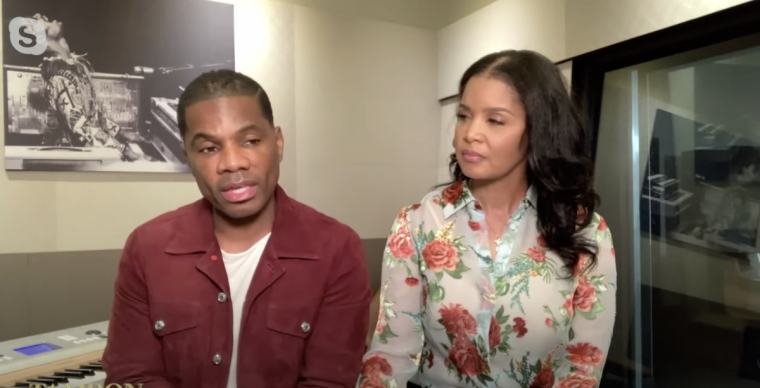 Kirk Franklin spoke publicly about his dispute with his estranged son, Kerrion Franklin, that made headlines last week after the latter leaked a recording of their conversation that was laced with cursing and threats.
The gospel pioneer and his wife, Tammy Collins, spoke with Tamron Hall on her self-styled show Wednesday, where the 16-time Grammy Award-winning artist provided further details about his heated exchange with his 32-year-old son that was leaked on Instagram by Kerrion. In the clip, Franklin is heard cursing and physically threatened his son.
Franklin said on the show that many people in his inner circle have known "of the tension and the challenges that we've been going through as a family privately."
With Collins by his side, the music minister said his son has been in and out of counseling for over 20 years and asserted that his behavior has changed over that time.
"When he became a grown man, his disrespect became more aggressive," Franklin said.
"I respect Kerrion. I'm not Kerrion's equal though, I'm his dad," he added. "I can't hear you when you are extremely aggressive when we're communicating."
Franklin admitted that there were times when things have gotten so bad that he and his son have gone a year or more without talking.
Regardless, Franklin assured that no matter how "agitated" or "frustrated" he gets with his eldest child, he will never stop seeking to help him and will continue to pick up his phone calls, even if the conversations "kind of derail."
"I never want him to feel what I felt not having a father," Franklin explained. "It's important for me because what if that call is the call that things change? So I never know. And I never want to give up."
In the interview, Collins also detailed the long toxic history between Franklin and Kerrion's relationship. Although neither Franklin nor his wife attacked the former's adult son, they assured viewers that they have continued to try and seek help.
Kerrion's mother has also broken her silence by speaking publicly about the tumultuous family dynamic. She echoed Franklin's sentiments that she wants her son to get help.  
Following the leaked portion of his recent argument with Kerrion, Franklin issued a video apology on social media on Sunday. In the plea, he revealed that he and his son have a "toxic relationship" and have "tried for many years through counseling, through therapy, to try to rectify this private family matter." 
He continued: "Recently, my son and I had an argument that he chose to record. I felt extremely disrespected in that conversation and I lost my temper. And I said words that are not appropriate. And I'm sincerely sorry to all of you."
In the now-viral clip, the "Smile" composer can be heard using profane language and physically threatening his son, who also cussed at his father. 
"I will break your neck, (N-word). Don't you ever disrespect me," the 51-year-old can be heard saying before hanging up. The conversation is laced with profane language coming from Franklin. The son revealed that the exchange was "recent." 
While speaking with Hall, Franklin concluded the conversation by saying that "people have every right to be disappointed" in his behavior.
"I am disappointed in myself for using that language and at the same time, I'm human, I'm a father," he admitted, asking that everyone continue to pray for him and his family as he is a father "to a son with a toxic turbulent relationship."
Franklin ended the interview by saying that his "humanity won" in his most recent exchange with his child and assured his supporter that he is an "imperfect man, fighting to serve a perfect God."
Watch the full interview below: