Kirk Franklin: God Is Creative, So Why Shouldn't My Music Be, Too?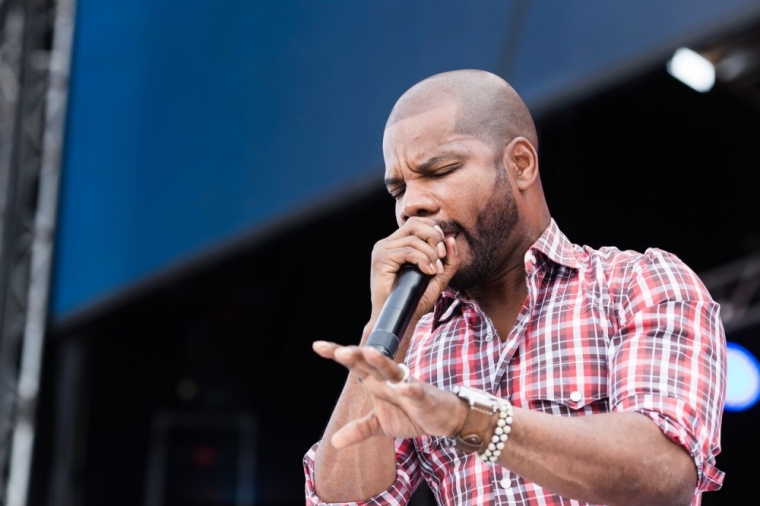 Kirk Franklin says he's dismayed that some people in the Christian community aren't open to him breaking beyond the boundaries of what they believe gospel music is supposed to sound like.
"If I'm writing and doing music celebrating the Creator, who is the most creative being in the world — I mean, when you look at nature and when you look at all of the beautiful created things — why should I be limited in expressing myself? He's creative, so why shouldn't my music be creative, too?" Franklin questioned in an interview with The New Yorker. "But everyone in my community, and especially the consumers, they don't see it that way. Which is weird for me."
Franklin, the gospel music industry veteran who has broken the mold with songs like "Stomp," has written and composed some of the most well known songs in the industry.
Even though he's elevated his reach from that of a recording artist and composer to the head of Fo Yo Soul Records (RCA), the 46-year-old star still feels like some members of his community won't accept some of the music he has a desire to make.
"It makes you feel good when you do a song that, sonically, can fit right next to Drake," he said. "But our audience, they don't care. And it hurts that they don't care!"
While he maintains his Christian values, Franklin has made it no secret that he also enjoys mainstream music. Just last month, he let over 1 million fans on Twitter know that he appreciates the talents of singer Bruno Mars.
"OK, I give in, the Bruno Mars album is dope. I guess he said somebody gotta do it," Franklin tweeted.
The message, however, garnered mixed reactions. One fan decided to speak up about Franklin's choice in music by asking, "secular music Kirk?"
Franklin responded by questioning if all of the social media critic's lifestyle choices were centered around their faith.
"Do you just wear Christian clothes or eat at Christian restaurants or just watch Christian television?" Franklin asked before writing, "love u bro."
While the exchange died down soon after, Franklin has publicly shared his affinity for other artists in the past. In 2015 he complimented Taylor Swift's musical talents when speaking to Hip Hollywood.
"I think she is an incredible songwriter," Franklin told Hip Hollywood about Swift.
Aside from the 27-year-old "Shake It Off" singer, Hip Hollywood reported that Franklin is also a fan of secular artists Kendrick Lamar, Adele and Justin Bieber. Last year, he collaborated with mainstream music artist Pharrell Williams who produced his song "123 Remix."
The gospel music singer and producer has worked hard to usher in new talent in the industry with his record label, and as host and executive producer of the BET gospel music singing competition, "Sunday Best."
"It's very cool to see people get excited about content that is still very vertical," he said in a previous interview with The Christian Post. "That's what I want to do and get involved in. I continue to try to push that agenda."