Lady Gaga Prays to 'Whoever' Creator Before Oscars Performance With Rape Survivors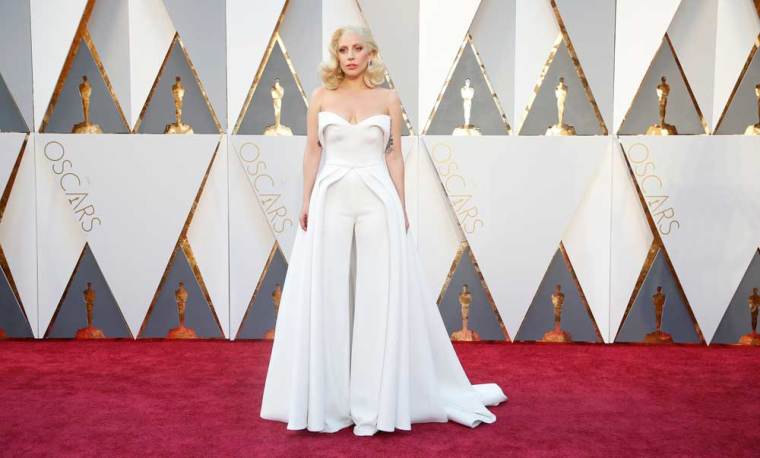 Lady Gaga delivered a prayer prior to her emotional Oscars performance for "Till It Happens to You" on Sunday, according to a rape survivor who accompanied the singer onstage.
Andrew Brown, one of the 50 survivors of sexual abuse who joined Gaga on stage for the charged performance, told AOL.com that the singer said a prayer backstage thanking God for giving them the chance to share their important message.
"She just sort of said: 'To the creator – whoever whatever created the universe – thank you for bringing us here, for giving us this story to tell and this message to give.' And then after the prayer she said, 'Gonna go out there and sing the [expletive] out of it!' " Brown told AOL.com this week.
Gaga's song is from "The Hunting Ground" documentary, which details stories of rape on U.S. college campuses.
U.S. Vice President Joe Biden introduced Gaga's performance during Sunday's awards'show, asking audience members and viewers to join in a pledge to stop rape on college campuses.
The pledge is "To recognize that non-consensual sex is sexual assault. To identify situations in which sexual assault may occur. To intervene in situations where consent has not or cannot be given [and] To create an environment in which sexual assault is unacceptable and survivors are supported," Biden said.
"Too many women and men, on and off college campuses, are still victims of sexual abuse," Biden added. "Let's change the culture so that no abused woman or man [...] ever feels like they have to ask themselves, 'What did I do?' They did nothing wrong."
The vice president also encouraged viewers to join the "It's On Us" campaign to stop rape culture.
Gaga's performance received rave reviews, with Rolling Stone magazine calling it "powerful" and The Verge calling it "emotional."
The pop artist and actress revealed in an interview with Howard Stern in December 2014 that she had been raped as a teenager.
"It happens every day, and it's really scary, and it's sad. It didn't affect me as much right after as it did about four or five years later. It hit me so hard. I was so traumatized by it that I was like, 'Just keep going.' Because I just had to get out of there," Gaga told the radio host.
Following her Sunday performance, Gaga revealed that several of her relatives, including her grandmother and aunt, did not know of her experience until she sang at the Oscars.
"My grandmother (in the middle) and my Aunt Sheri (on the right) both called me the day after the Oscars because I never told them I was a survivor," Gaga wrote in a caption of an Instagram photo of her relatives on Tuesday.
"I was too ashamed. Too afraid. And it took me a long time to even admit it to myself because I'm Catholic and I knew it was evil but I thought it was my fault. I thought it was my fault for ten years," the artist continued. "The morning after the Oscars when I talked to my grandmother Ronnie, with tears in her eyes I could hear them welling through the phone she said to me 'My darling granddaughter, I've never been more proud of you than I am today.'"
"Something I have kept a secret for so long that I was more ashamed of than anything – became the thing the women in my life were the most proud of. And not just any women, the ones I look up to the most," Gaga added.