Legionaries of Christ's Head of Rome Seminary Leaves Priesthood After Fathering 2 Children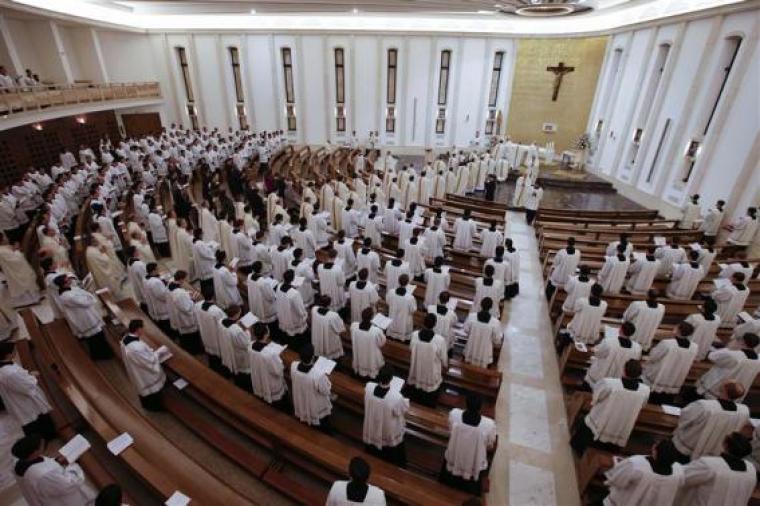 VATICAN CITY — The Legionaries of Christ, a Catholic religious order which fell into disgrace after the discovery that its founder was a sexual abuser with a secret family, has been hit by fresh scandal with revelations that the head of its Rome seminary fathered two children.
The order said in a statement late on Friday that Father Oscar Turrion would leave the priesthood. It also released a letter by Turrion in which he asks "forgiveness for the scandal ... forgiveness for my bad example and the negative witness I have given."
The Legionaries is a conservative order of Roman Catholic priests. Turrion was rector of the Pontifical International College Maria Mater Ecclesiae, a seminary for men in the order studying for the priesthood in pontifical universities in Rome.
The Legionaries said Turrion, a 49-year-old Spaniard, told his superiors in March that he had just had a daughter. A new rector was appointed and Turrion was ordered not to practice his ministry publicly.
On Thursday Turrion acknowledged that he had previously had a son with the same woman several years ago, the order said. This meant he had a secret family while he was head of the seminary.
In his letter, Turrion said he did not come clean earlier "out of weakness and shame" and that he had not used any of the seminary's money, supporting his family with donations from friends.
He said he had "lost his grounding" and fell in love with a woman during the period of turmoil that hit the order when revelations about its founder, the Rev. Marcial Maciel Degollado, came to light between 2006 and 2014.
Maciel founded the order in Mexico in 1941 and for decades the Vatican dismissed accusations by seminarians that he had abused them sexually, some when they were as young as 12.
The order was run like a cult, former members said, with rules forbidding any criticism of the founder or questioning his motives.
Maciel enjoyed the support of the late Pope John Paul and was spared official censure for years despite what critics say was overwhelming proof of his crimes.
In 2006, a year after John Paul's death, a Vatican investigation concluded that the previously denied accusations of molestation were true. Pope Benedict ordered Maciel to retire to a life of "prayer and penitence."
After Maciel's death in 2008, Vatican investigations found that he had also fathered several children with at least two women, visited them regularly and sent them money. He also used drugs.
The Vatican appointed a commissioner to run the order and phase in a new leadership, rejecting suggestions from critics that it be suppressed. New constitutions for the order were approved in 2014 but the Vatican still has a special representative in its leadership.
Turrion's case was very similar to that of Thomas Williams, a former Legionaries member who left the priesthood in 2013 after it was discovered that he had fathered a child with the daughter of the former U.S. ambassador to the Vatican.
Williams, an American moral theologian, kept his family secret while continuing to teach at the Legionaries university in Rome, appearing often on U.S. television.
Reporting by Philip Pullella; editing by Clelia Oziel