LGBT Activists Target Trump's Pro-Life Christian Delegate at UN, Label Her 'Anti-Trans'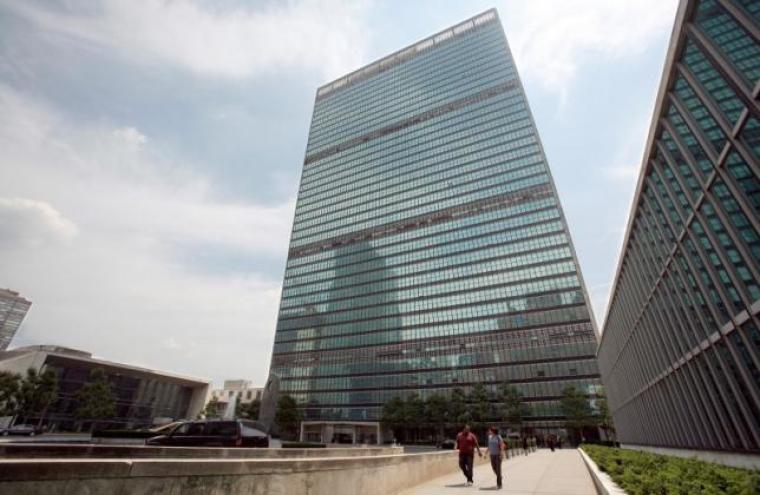 Far-left activists are targeting a Christian representing the Trump administration in a U.N. delegation for her past advocacy against the Obama administration's transgender bathroom mandate and for reportedly saying the United States is "pro-life."
Bethany Kozma, who was appointed by President Trump to be the senior adviser to the office of Gender Equality and Women's Empowerment at USAID, is being targeted by left-wing activists for reportedly saying in a closed-door meeting at the U.N. that the U.S. is a "pro-life nation," and for previously speaking out against gender identity policy in public schools. Kozma formerly served in the Department of Homeland Security and in the White House under former President George W. Bush.
Kozma is said to have made the statement while nations were negotiating the final draft of a document at the annual women's rights conference, the U.N. Commission on the Status of Women, in New York. The CSW is the largest global gathering on women's rights and gender equality and is attended by 45-member states and leaders from thousands of civil society groups from around the world.
Others maintain that during the meeting Kozma noted that the current Administration is pro-life, which is accurate. The Trump administration has publicly adopted a pro-life stance in its international relations, reinstating and expanding the Mexico City policy shortly after taking office, which restricts federal funding from going to organizations that advocate, promote or perform abortions overseas.
OutRight Action International, an international LGBT activist groups, issued a statement this week demanding that Kozma to be removed from the delegation, calling he an "anti-trans activist who has collaborated with the Family Research Council," which it claims is a "registered hate group."
Jessica Stern, executive director of OutRight Action International, told The Independent Thursday that it "comes as little surprise that [Kozma] is mischaracterizing the status of abortion for Americans, which is most certainly legal." They also claimed that she is a "disrupter, plain and simple, with a long history of opposing women's rights and gender justice ... and seems to reserve a special hatred for transgender children."
In the past, Kozma wrote pieces for the Daily Signal expressing her opposition to the Obama administration's 2016 "Dear Colleague" letter that threatened to withhold federal funds from public schools that didn't open girls' bathrooms, locker rooms, and showers to boys who identify as female, and vice versa. She has also publicly spoken out against such measures in Fairfax County, Virginia, at school board meetings.
Thus far, neither U.N. Ambassador Nikki Haley nor anyone else in the Trump administration has commented on the matter.
"I remain hopeful that this administration will do the right thing and back their own," said Susan Yoshihara, senior vice president for research at the New York-based C-Fam, in an interview with The Christian Post on Friday. 
LGBT activists were empowered in the last administration, explained Yoshihara, who sees no indication that they have been sidelined in any way.
"It's something that observers are waiting to see what happens toward one of Trump's own. He's the one that appointed her," she said. "What's his administration going to do? And what is Ambassador Haley going to do? That is the question."
Yoshihara believes that, like many things, the intimidation swirl around Kozma is but a test as to whether the U.S. is truly committed to being pro-life on the global stage.
"And it matters because the Mexico City policy does not apply at the U.N. It does not apply to multi-lateral funding," she said, noting that the U.S. pours billions of dollars into U.N. agencies that are not accountable to the American government.
"The American people have the right to know where these agencies receive their mandates. It's from documents like this one that Bethany is negotiating," Yoshihara added. 
"So when the American people put in a pro-life president and said [with their votes] 'we want to be internationally pro-life' that's why they send people like Bethany here, to make sure that the billions of dollars are not going to circumvent our Mexico City policy."
And since the government's affairs in New York City do not always grab the attention of the Washington political media talking heads, "sometimes people who come here to fight for the administration get hung out to dry, and that would be a shame in this case," she said.
OutRight International also objected last year when C-Fam's Lisa Correnti was appointed to the U.S. delegation to the CSW.
"Correnti's advocacy for vulnerable women and children was dismissed with Outright launching a smear campaign, including a voluminous dossier condemning positions C-Fam has taken on LGBT issues," C-Fam's Friday Fax noted.