Lindsey Graham '91 Percent Sure' He'll Run for President; Personal Tragedy Taught Him Importance of Family, Friends, Faith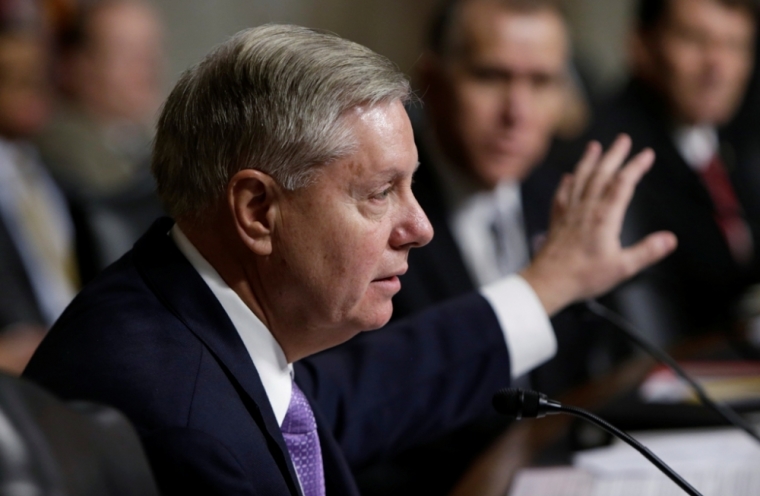 South Carolina Senator Lindsey Graham said Sunday there's a "91 percent" chance he will get into the 2016 presidential race. He also spoke about the important lessons he learned after both his parents passed away and he had to care for his younger sister.
"Ninety-one," Graham said on "Fox News Sunday," when asked what percent chance there was he would run, and when reminded that Republican Carly Fiorina said recently there was a 90 percent she would enter the race.
"I've got to put the means together," he explained.
He said his foreign policy would be better than what Republican candidate Rand Paul and Democratic candidate Hillary Clinton have proposed. "I think I've got a good message. I think I've done more right than wrong on foreign policy. I've criticized the president for being weak and indecisive. I've been a problem solver in Washington and I think I've got something to offer the party and nation."
Graham said he will make the decision about 2016 in May, and added, "If I can raise the money, I'll do it."
He said he's confident he could win the early-primary state of South Carolina. "If I'm on the ballot, I'll win."
Thus far, three Republicans have officially announced they're running for president: Senator Ted Cruz from Texas, Sen. Rand Paul from Kentucky and Sen. Marco Rubio from Florida.
Other Republicans expected to enter the race are: former Florida Gov. Jeb Bush; Wisconsin Gov. Scott Walker; New Jersey Gov. Chris Christie; former Arkansas Gov. Mike Huckabee; former U.S. Sen. Rick Santorum; former Texas Gov. Rick Perry; Louisiana Gov. Bobby Jindal; former business executive Carly Fiorina and retired neurosurgeon Ben Carson.
Rubio has reported financial commitments of $40 million or more, Cruz has raised about $31 million, and Paul's campaign has raised about $2 million.
Graham appeared to hold back tears as he spoke about the challenge of raising his sister after his parents passed away while he was still in college.
"It made me realize that the promise of tomorrow is just a promise," Graham said on Fox News. "It taught me how much I was loved by the rest of my family. My aunt and uncle helped me raise my sister. Social Security survivor benefits coming into my family made a world of difference … I understand we're all one car wreck away from needing help, but what it told Lindsey Graham above all else is that family, friends and faith really do matter. And I'm a lucky man to have all the support I've had all these years."