Little Sister Pulled From Car: Hero 4-Year-Old Girl Rescues Sibling After Crash Kills Mom (VIDEO)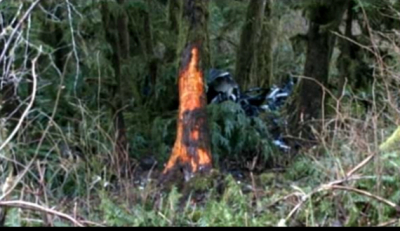 A little sister was pulled from a car by her four year old sibling after a tragic car crash that killed their mother, according to an extraordinary report out from Washington state on Wednesday.
The four year old girl pulled her two year old sister from the mangled wreckage of their family car to rescue her, according to reports. She then kept both of them warm under a blanket in the rainy, cold weather for six hours until a passing car stopped and found them, sparking an emergency call to 911.
Authorities have praised the toddler for her bravery and quick thinking, and say that the girls probably only survived the ordeal because the older sibling had got them clear of the car and covered them both up to keep them warm.
According to KING5, both girls suffered injuries in the car crash, which took place at about 2 a.m. on Wednesday in a remote area near the Pacific coast.
The two sisters managed to survive until after 8 a.m. when a passing driver noticed a fresh cut in the bark of a tree by the roadside and went to investigate.
The driver who eventually found the girls, Kraai McClure, told KING5: "I just can't imagine what the little girls were going through. It could have been a really different ending, but it is, you know, a halfway happy ending."
The girls' 26 year old mother, Jessica Rath, was tragically killed in the crash, which occurred as she was driving with her two children on her way to pick up her husband, who is a fisherman working on the Washington coast.
According to NBC News, the father had told his wife that his boat had changed destination and would be docking in Portland, Ore. instead. He told her that she and the kids should forget about picking him up and head home, however, even though it was late, his wife decided to make the trip to Portland regardless, according to a KING5 report.
Authorities have suggested that Rath could have fallen asleep at the wheel and would have died instantly upon impact in the crash. However, the cause of the crash is still be investigated.
Russ Winger, a spokesman for the Washington State Patrol, told The Times: "We're lucky we had someone paying attention or we may not have found them for a long time. Hypothermia could have set in if they were found any later."
The two year old girl was said to have been seriously injured in the crash and was flown to Portland. Her older sibling, who has been described as a "hero" was treated at a hospital in Astoria, Ore.
Here is a video report into the tragic and extraordinary story: