Liz Cheney Framed as Soft on Same-Sex Marriage in Wyoming Senate Race Attack Ad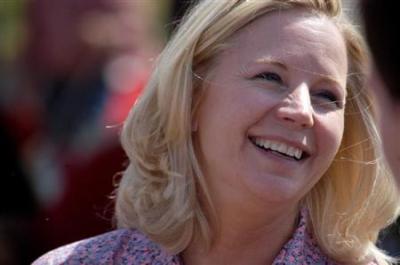 Liz Cheney, daughter of former Vice President Dick Cheney, has recently been the center of a new campaign ad created by an outside group in her Wyoming Senate race. The advertisement seeks to argue that Cheney is soft in her opposition to same-sex marriage.
Cheney has previously said that she is not personally for same-sex marriage, and she believes the legalization of same-sex marriage should be left up to voters in individual states.
The television commercial by the American Principles Fund, a conservative super PAC, seeks to paint Cheney as not being strictly opposed to same-sex marriage. The advertisement takes excerpts from a 2009 interview on MSNBC in which Cheney says that she does not support a federal constitutional amendment banning same-sex marriage and that she approves of the state department's decision to extend benefits to same-sex couples.
"MSNBC: The go-to network for Barack Obama and Washington's liberal elites. So what's Liz Cheney doing here?" the commercial's narrator questions.
"In Wyoming, Cheney campaigns as a conservative. In Washington, she appears on MSNBC to campaign against the marriage amendment and support government benefits for gay couples," the advertisement continues, going on to show the excerpts from Cheney's 2009 interview.
The commercial ends with the statement: "Liz Cheney: Wrong for Wyoming."
However, Cheney asserted earlier this year that she does not personally support same-sex marriage, and believes any legalization of the practice should be handled on a statewide level by a people's vote.
"I am strongly pro-life and I am not pro-gay marriage," Cheney said in a statement to The Daily Caller in late August. "I believe the issue of marriage must be decided by the states, and by the people in the states, not by judges and not even by legislators, but by the people themselves."
Cheney maintains her stance on same-sex marriage even though her sister, Mary Cheney, is openly gay and married to her partner, and Dick Cheney has voiced his support for same-sex marriage.
The attack ad is the first from either side in the contentious Republican primary race. Cheney is seeking to oust three-term Republican Mike Enzi from his Senate seat, and pundits in the western state have already described Cheney to be an underdog in the race. The primary vote is set for August 2014.
Sarah Huckabee Sanders, head of the American Principles Fund and daughter of former Arkansas Governor Mike Huckabee (R), said in a statement that the statewide advertisement is the first of many campaign ads seeking to promote social values within the GOP party. She said in a statement that her super PAC believes that Republican candidates do not have to shy away from hot button social issues, such as abortion or same-sex marriage, in order to win a campaign.
"The unilateral truce on social issues within the GOP is bad for our party and wrong for our country – our core values are under attack, and we will stand for those who stand for what's right," Huckabee Sanders said in the statement, according to Politico.
Cheney's campaign has already fired back against the advertisement, arguing that it was created by an outside super PAC as a "dishonest smear" campaign. "This is a dishonest smear by an out-of-state super-PAC," Cheney spokeswoman Kara Ahern told The Hill. "The people of Wyoming deserve better."