Mark Driscoll's Response to Question on Anorexia: Satan, Idolatry May Be Culprits
Mark Driscoll's Response to Question on Anorexia: Satan, Idolatry May Be Culprits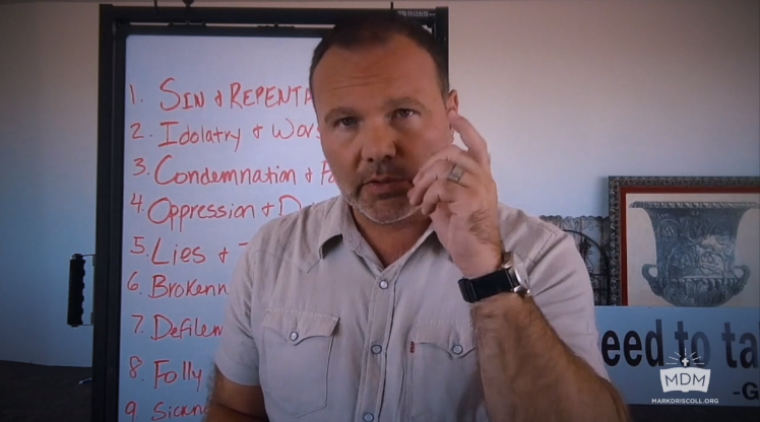 Is an eating disorder considered a sin? Arizona-based Trinity Church Pastor Mark Driscoll answers, including a response that Satan's oppression and idolatry can sometimes be culprits.
In a video message posted to his website Monday in response to a female viewer's question about whether anorexia nervosa is sinful, Pastor Mark Driscoll opened up a larger discussion about the societal pressures on physical appearance many women and men face. Those pressures are often exacerbated by celebrity and social media. Driscoll offered suggestions on how to combat the viewer's challenge.
According to WomensHealth.gov, per the National Eating Disorders Association, the average American woman is 5'4'' and weighs 140 lbs., while the average American model is 5'11'' and weighs 117 pounds. "All too often, society associates being 'thin' with 'hard-working, beautiful, strong and self-disciplined,'" the report said. In contrast, being "fat" is associated with being "lazy, ugly, weak and lacking will-power."
Rather than trying to provide a cut and dried answer to the viewer's inquiry about anorexia, since he did not know sufficient details about her personal and spiritual life, Driscoll offered a list of nine categories of behavior in which to contemplate critical questions that can be applied to life issues like hers.
"Whatever your besetting, struggling, tempting, troubling issue of life might be, these are the questions that I would ask," he said, adding that his corresponding categories resulted from his experience in a "really difficult season" of his own life.
In the pastor's first category, Sin and Repentance, Driscoll asked if the viewer was violating God's word, and if there was something in the Scriptures that she was living contrary to, directly or in principle. If that was the case, he advised her to seek repentance.
Idolatry and Worship, Driscoll's second category, included anything that a person might put in the place of God. "We live for that person or thing," he said. "It can be a body type, it can be an achievement, it can be a father's approval, a boyfriend's approval, a husband's approval — whatever the case might be," Driscoll said.
"It might be wanting people to love us or like us or to compliment us, or to pay attention to us, or to desire us … Who or what is at the center of your life and driving your decision making? If it's anyone or anything other than the Jesus in the Bible, that's idolatry. The way out of that trouble is to start worshipping God."
In Driscoll's third category, Condemnation and Forgiveness, the pastor explained that "Obviously when we are sinning and rebelling or we're acting foolishly or making bad choices — or whatever the decision might be — we feel condemnation. We feel embarrassed, we feel ashamed. We feel like our past will haunt us forever. What we need to accept is God's forgiveness. So any guilt or shame that you might bare, Jesus loves you. He died for you … You don't need to live under condemnation of who you are or what you've done."
Oppression and Deliverance, the pastor's fourth category, teaches that Satan and demons are lying to the children of God. "The Bible says that Satan is the accuser of the children of God. That he accuses them day and night … If you start realizing this oppression, you can get out of it by acknowledging what God has to say … The way out is deliverance. You have victory in Christ (Colossians 2) … "
The Trinity Church pastor's remaining categories include Lies and Truth, Brokenness and Healing, Defilement and Cleansing, Folly and Wisdom, and Sickness and Wellness.
See Pastor Mark Driscoll's full video message here.