Michael Hyatt Shares Blog and Social Media Tips in 'Platform' Book
Michael Hyatt, chairman of Thomas Nelson publishers and an influential blogger, built his large online audience using blogs, Twitter and Facebook. He is now passing along marketing tips and techniques that he has learned over the past eight years in his latest book "Platform: Get Noticed in A Noisy World."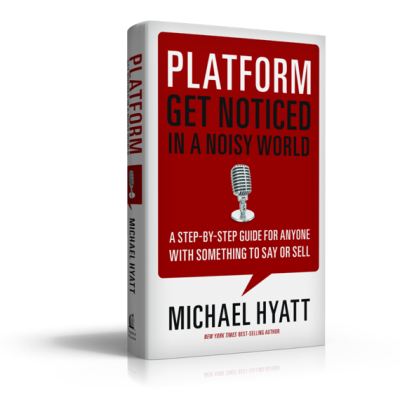 Hyatt argues in the book that in today's crowded marketplace compelling content is no longer enough for someone to get noticed. As a former CEO of Thomas Nelson, Hyatt had to turn away authors and writers with brilliant material because they didn't have a platform to market their message.
"Content was king still but platform had become queen," he told blogger Brad Lomenick in a recent interview.
Without a platform, even a great message or product can get lost amid all the "noise" created by other competitors and distractions, according to Hyatt.
"Platform" serves as a step-by-step guide on how any author, business owner, sales people or pastors can build a platform or expand an existing platform using blogs and social media.
"This book is a for someone who has anything to say or sell," said Hyatt.
The book is divided into five parts / steps:
• "Part One: Start with the Wow" talks about how to make a compelling product by making sure the experience of the user exceeds the expectation.
• "Part Two: Prepare to Launch" helps the reader create a mindset to succeed by having clear goals and team.
• "Part Three: Build Your Home Base" teaches a reader how to draw and build an online audience through blogs.
• "Part Four: Expand Your Reach" gives the ins and outs to using Twitter and Facebook.
• "Part Five: Engage Your Tribe" is on how to monitor comments and follow up with blog readers.
Hyatt writes from experience, offering practical steps. If statistics on his audience are any indication, it would appear his methods indeed work.
Hyatt's  Intenational Leadership blog reaches 300,000+ unique visitors every month. He has at least 123,000 Twitter followers and over 11,000 Facebook fans.
Despite his purposeful approach to growing his readership, his journey to build a platform was actually "accidental." In 2004, he started blogging as a way to disentangle his thoughts and archive his best thoughts. For four years, no more than 1,000 people would follow his posts.
The turning point was in 2008-- the advent of social media. Hyatt began to aggressively use Twitter and Facebook. He also got linked by Lifehacker which brought a flood of visitors to his website. Some of those visitors that came through Lifehacker gave his blog the initial momentum it needed to build a following.
He now wants to "shorten the learning curve" for others by sharing his success and failures in building his personal platform.
"I could have done it a lot faster if I knew then what I know now," said Hyatt.