Move of Holy Spirit coming to LGBT persons amid battle over Equality Act, therapy bans: pastor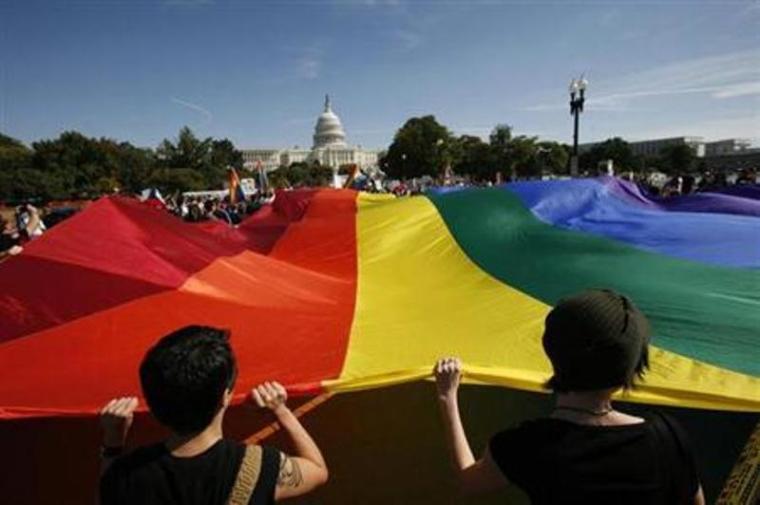 A move of God is afoot among those who once identified as LGBT, one pastor says, as laws prohibiting counseling for unwanted same-sex attraction and gender confusion are being considered.
Ken Williams, co-founder of the Redding, California-based Equipped to Love explained in a phone interview with The Christian Post on Thursday that it felt like a threat was put forth last year in California with AB 2943, a bill that was ultimately withdrawn but would have banned therapies for persons with unwanted same-sex attraction or gender confusion by classifying them as "consumer fraud." 
What ended up happening, he said, was the sparking of a movement of people who once identified as LGBT but no longer do.
"In the '80s, when I was struggling, there was no safe person for a gay person to come out to. But today, there is no safe place for a once-gay person to come out to because of the social narrative being that LBGTQ is something to celebrate and leaving that life is controversial," he explained.
The bill caused concern among those who had quietly found resolution to their unwanted same-sex attraction and confusion about their sexual identities and were going on and living their lives, many in heterosexual marriages with children. Williams has been married to his wife for nearly 14 years and now has four children.
"When this bill came forward all of us realized, 'Hey, we've got to come forward and go public and let the world know out there that there are different options that should be protected for people.' Because not everybody that is finding themselves with same-sex attraction or gender confusion is content to live that out, for many different reasons," he elaborated.
"So all of a sudden there is this movement now of people who once identified as gay standing up and saying, 'Hey world, I actually do exist and please don't take away our rights.'"
More broadly speaking, a sovereign move of the Holy Spirit is afoot, he believes. It's one that will be led by those who, due to the nature of their often painful journey with their sexuality, come to know God in the most intimate of ways.
"God is definitely on the move and He is passionate," Williams said.
"For me, having had life experience of same-sex attraction and homosexuality and leaving that and having to discover at a very deep level what were the root issues ... that culminated later in same-sex attraction. And having worked with as many people as I have that have left homosexuality behind, you come to realize that gender confusion and homosexuality is a relational issue, an intimacy disruption," he offered.
"The gift of homosexuality, if you will, is that those who find themselves in an atmosphere where they can access God's presence ... they by default have to know God very intimately. The issue was an intimacy deficit so God can open up an intimacy in Him that satiates those needs that are deep within a person. The end state of that person, very often if not always, is a person who is very sold out in following Jesus and knowing the Father's love. "
Williams was recently in Washington, D.C., to speak with congressional staffers about his concerns with the Equality Act that recently passed out of the House Judiciary Committee and will likely pass when it comes to a full floor vote. 
He explained in a Daily Signal podcast on Tuesday that during his teenage and college years he was "struggling every hour of every day with same-sex attraction," which for him was unwanted and then "had several different experiences and a relationship for a period of time that was homosexual."
"If we're going to call something the Equality Act, it sure would be great if it felt equal to all people. And so LGBTQ, the Q stands for queer or questioning. Well, questioning, OK, let's take that. So if someone's questioning their sexual identity, shouldn't they be able to consider going down multiple paths if they're questioning?"
"I never wanted to have sex with men. That's just the only people I was sexually attracted to. That probably doesn't seem like it makes any sense. But that's pretty common actually," he said.
He noted that at various seasons in his life he was addicted to homosexual porn but has been free from it for the past 15 years.
"We don't really plan our sexual desires. We find ourselves with our sexual desires. And when I found myself with mine at, I don't know, 13 or 14 years old, I realized to my shock one day, 'Wow, I'm not like the other boys. I'm sexually attracted to the boys. I feel like I'm more like one of the girls,'" he added.
When asked if he considers what he now does in ministry to be "conversion therapy" Williams replied that he does not.
"And I know over 100 people that have left homosexuality and I don't know a single one of them that has ever experienced what people would say is conversion therapy, and they don't know of anyone who has either," he said.
"It's this term that gets used in culture that all of us with life experience, we don't even know what you're talking about. That didn't happen to us. And in the movies that are out there, it's very unfounded. So I have [seen] some things happen that were harmful to people. I'm sure that there are some cases out there, but I don't personally know of any."