National Geographic 'Shaking Fist at God' With Cover of 9-Y-O Transgender Child: American Family Association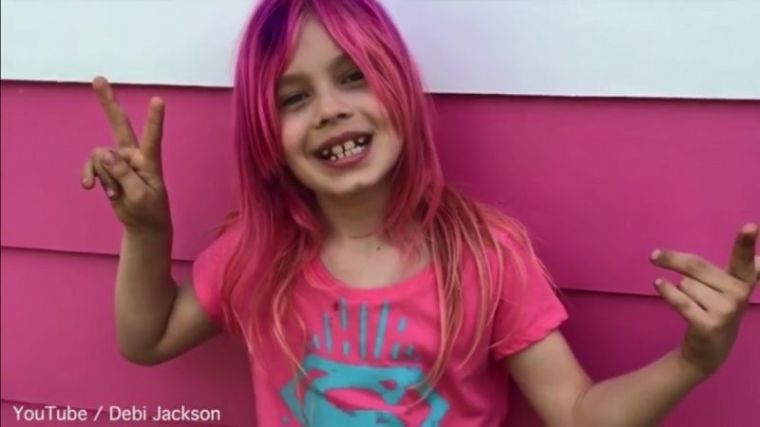 Avery Jackson, a 9-year-old child who was born male but is transitioning to look like a girl, is set to be featured on the cover of January's issue of National Geographic which is hailing the "gender revolution." The American Family Association, however, is describing the promotion of gender dysphoria as "shaking a fist at God."
The January issue of the popular magazine features Jackson on the cover with the quote "The best thing about being a girl is, now I don't have to pretend to be a boy."
As Fusion reports, the 9-year-old was featured on the documentary series "Avery Chats" last year which followed Jackson's process of transitioning. 
"When I was born, doctors said I was a boy, but I knew in my heart I was a girl," Jackson said in one of the videos. "So I may have some boy body parts, but that's not wrong, that is OK."
The American Family Association, a conservative group that has been warning against "gender confusion" in society, slammed the magazine's decision to promote transgenderism.
"National Geographic shakes a fist at God and biblical authority on their radical mission to advocate gender confusion in upcoming issues. The biblical teaching of the truth about gender identity is confirmed by biological science," the group said on its Facebook page.
"Human sexuality is binary by design. Binary means there are two and only two options according to medical science — a child either has an XY chromosomal pattern or an XX. These are genetic markers which indicate God's master design for humanity and create the capacity for human reproduction," it added.
National Geographic's editor-in-chief Susan Goldberg said the upcoming issue is meant to explore the lives of transgender people in different places.
"We wanted to look at how traditional gender roles play out all over the world, but also look into gender as a spectrum," Goldberg said.
"There's lots of coverage on celebrities, but there wasn't an understanding on real people and the issues we face every day in classrooms or workplaces in regards to gender."
Transgender children and teenagers have been raising their profile this past year in media, with transgender teenager Jazz Jennings being featured in Microsoft's latest Christmas-themed ad that was criticized by conservatives, such as Bill Donohue of the Catholic League.
The AFA led a major boycott against retail giant Target earlier this year over its bathroom policies that allow male customers to use women's bathrooms and dressing rooms if they identify as female, saying that the company's actions are endangering children.
"Our major concern was that Target's policy would grant voyeurs and sexual predators easier access to their victims by allowing men in women's restrooms and changing areas, which puts women and girls in danger," AFA President Tim Wildmon wrote in a letter to Target CEO Brian Cornell in September, after Target proposed to solve the problem by adding one single-occupant unisex bathroom to its 300 U.S. stores that don't already have one.
"Unisex bathrooms are fine, but our request has always been that Target maintain the gender-specific bathrooms as well — if the company is interested in guaranteeing the safety and privacy of women and girls who patronize the retailer's stores," Wildmon added.