ND state Sen. Doug Larsen, wife and sons killed in tragic Utah plane crash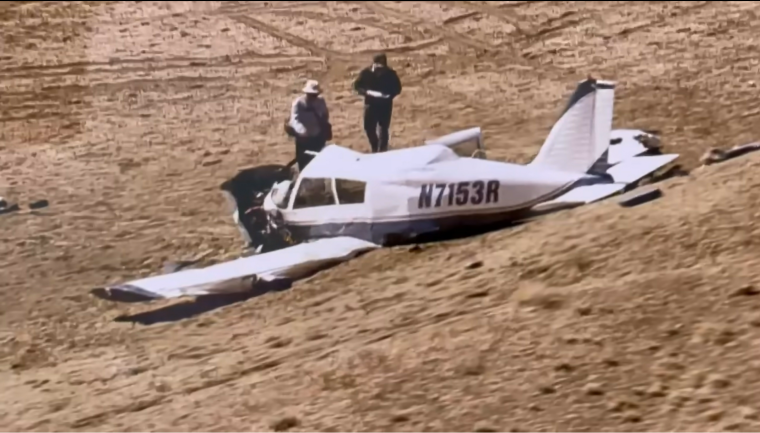 Decorated military aviator and North Dakota State Sen. Doug Larsen, his wife, Amy, and their two young sons died tragically Sunday after a single-engine aircraft the senator was flying crashed shortly after he took off from the Canyonlands Regional Airport in Utah.
The Grand County dispatch center received a report at 8:26 p.m. on Sunday about an isolated incident involving an aircraft taking off from the airport "then crashing into the ground," according to a release from the Grand County Sheriff's Office.
First responders — including the Grand County Sheriff's Office deputies, Grand County EMS, Moab Valley Fire Department, Canyonlands Regional Airport, and Classic Air Medical — found the aircraft "in a remote area bordering Canyonlands Regional Airport."
"Tragically, the pilot of the plane, North Dakota State Senator Douglas Larsen, his wife, Amy Larsen, and their two youngest children did not survive the crash," the release stated.
Fabian Salazar, an air safety investigator for the National Transportation Safety Board, said during a press conference Monday that Larsen was flying a Piper Cherokee PA-28140 aircraft, and the cause of the crash is still under investigation.
A preliminary report on the crash will be ready in about two weeks, Salazar said, while a final report would be ready within the next year and a half. 
Grand County Sheriff Jamison Wiggins said he has been providing as many updates as possible to the Larsen family and described the aftermath of the crash as "a tough scene."
"Last night, I was on the scene and tried to provide the family with the most updates that I possibly could at the time," Wiggins said Monday. "It's very tragic. It's very sad. Like I said to the Larsen family, as a first responder, it was a very tough scene."
Though investigators couldn't say much about Larsen's flight experience, local news outlets report that he was a decorated North Dakota Army National Guard aviator who first enlisted on March 14, 1994, as a combat engineer before becoming an aviation officer on Oct. 19, 2006.
He was mobilized in 2009-2010 to Iraq as the company commander for Charlie Company of the 2-285th Assault Battalion, and in 2013-2014 to Washington, D.C., in support of Operation Noble Eagle with the 1-188th Air Defense Artillery Battalion.
Amy Larsen had also been learning how to fly.
In a Facebook post on Dec. 22, 2020, Larsen noted how his wife "flew her first flight as a pilot" and "shot her first handgun" in recognition of "Yea Amy Day."
Larsen, a Republican, has been praised by those who knew him as a "man of faith" and "patriot."
"On behalf of the NDGOP, we offer our heartfelt sympathy to the extended Larsen family. Senator Doug Larsen (D34) was a man of faith and a patriot who served in the National Guard. His voice will be missed in the North Dakota Senate," North Dakota GOP Chairwoman Sandi Sanford said in a statement.
In an email to fellow senators cited by The Associated Press, Republican Senate Majority Leader David Hogue said the family was returning to North Dakota after visiting family in Arizona when their plane crashed.
"They were visiting family in Scottsdale and returning home. They stopped to refuel in Utah," Hogue said.
"I'm not sure where the bereavement starts with such a tragedy, but I think it starts with prayers for the grandparents, surviving stepchild of Senator Larsen, and extended family of Doug and Amy," Hogue noted. "Hold your family close today."
North Dakota Gov. Doug Burgum, a 2024 Republican presidential hopeful, recalled Larsen as a "tenacious advocate for individual rights and the freedoms he defended through his military service."
"We extend our deepest sympathies and prayers to his family and friends and join his legislative colleagues, National Guard brothers and sisters and the Mandan community in mourning the tragic passing of Sen. Larsen and his family," Burgum said in a statement.