New Labor Dept. guidelines protect the beliefs of faith groups in grant programs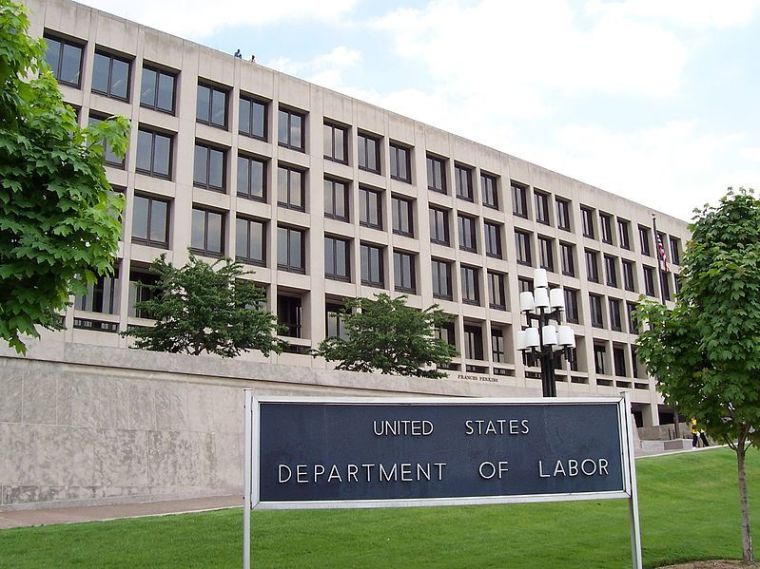 U.S. Secretary of Labor Eugene Scalia issued new guidance barring the department, service providers and state agencies from discriminating based on religious belief in a move aimed at improving the ability of faith-based organizations to participate in grant programs. 
On Friday, Scalia became the latest department head to issue a new directive and guidance following President Donald Trump's 2017 executive order and ensuing directives calling on federal government agencies to issue guidelines on how to best protect religious freedom. 
"The directive and guidance issued today acknowledge the central role that religion and religious freedom play in civil society," Scalia, son of the late U.S. Supreme Court Justice Antonin Scalia, said in a statement.  
"The directive and guidance issued today send a clear message that the Department of Labor will continue to uphold religious liberty for America's workforce, employees of the Department, and religious organizations."
Scalia issued department-wide guidance on grant policies to "improve public awareness and clarity about the Department's protections for religious liberty interests in grant administration."
According to the department, the guidance "works to improve the ability of nonprofit and faith-based organizations to defend their rights and participate in DOL programs."
"DOL, DOL social service providers, and State and local governments administering DOL support must not discriminate against a program beneficiary or prospective program beneficiary on the basis of religion, religious belief, a refusal to hold a religious belief, or a refusal to attend or participate in religious practice," the guidance document reads. 
"Program providers must not impermissibly restrict program beneficiaries' rights to exercise religious freedom. DOL, DOL social service providers, and State and local governments administering DOL support are not precluded from accommodating religion in a constitutionally permissible manner."
According to the department, the new guidance gives more certainty to nonprofit and faith-based organizations regarding "what guarantees the Department's regulations give grantees to preserve their religious character."
Furthermore, the document declares that religious organizations do not forfeit their exemption from federal discrimination laws if they receive direct or indirect support from the department. 
"Some DOL programs, however, were established through Federal statutes containing independent statutory provisions that require that recipients refrain from discriminating in employment on the basis of religion," the guidance reads. 
Scalia's new directive orders agency heads to "incorporate and advance religious liberty principles in their daily operations."
Among other things, it instructs agency heads to ensure religious liberty protections for all Department employees and job applicants and verify that department rules adhere to the First Amendment of the Constitution and applicable federal laws. 
The agency heads are also being told to assess the consistency of "new departmental documents and guidance" with the 2017 memorandum by the Department of Justice ordering all federal agencies to protect religious beliefs to the "greatest extent practicable and permitted by law."
Scalia's directive further orders administrators to consider "modifications to promote religious liberty protections," and ensure that "religious organizations are given the opportunity to compete equally with non-religious organizations for Federal financial assistance at the Federal and State levels."

It also demands that Labor Department officials "respect the full scope of legal religious exemptions, including the ministerial exception." The ministerial exception is a legal principle in which churches and religious organizations are given exemptions to employment discrimination laws when it comes to hiring decisions made for positions responsible for sharing and teaching the faith. 
Kelly Shackelford, the president and chief counsel of the First Liberty Institute, praised the new guidance.
"Without these protections, religious organizations risk facing discrimination for making employment decisions that are consistent with their beliefs," Shackelford said. "Religious organizations should never be forced to abandon their religious character and mission in order to be eligible to contract with the federal government. We applaud Secretary Scalia for working to ensure that religious organizations are treated on equal terms as other organizations."
First Liberty Institute submitted a public comment in support of the department's rule proposal in September 2019 that clarified that religious organizations "may make employment decisions consistent with their sincerely held religious tenets and beliefs without fear of sanction by the federal government."
"Many religious ministries, charities, and other organizations stand ready to partner with the government to help individuals in need," First Liberty stated at the time. "This proposed rule not only protects their right to be free from anti-religious discrimination in the contracting process, but it also ensures that the government is free to contract with the entities that are best able to provide services to the public — regardless of religious affiliation."
Under the Obama administration, concerns were raised by faith groups when an executive order was issued banning workplace discrimination based on sexual orientation or gender identity for federal contractors. 
The guidance states that the department, social service providers as well as state and local governments must also ensure that no direct department funding is used for "explicitly religious activities."
"The restriction against using financial assistance for explicitly religious activities does not apply when the assistance is indirect, meaning that the beneficiary chooses the service provider and the cost of the service is paid through a voucher, certificate, or other similar means of government-funded payment," the guidance reads. 
In cases where an organization conducts an explicitly religious activity using non-department funds and also offers a social service program using direct department funds, the organization must offer to do the explicitly religious program at a time or place that is different than the department-sponsored program. 
"Explicitly religious activities may occur in another room at the facility at the same time as directly-supported training, or in the same room if offered at a different time from the directly-supported training," the guidance explains. 
The guidance assures that organizations that are receiving department funds only by indirect means do not need to modify their program activities to accommodate a beneficiary of DOL funding that chooses to enroll in the organization's program.