New White House Press Sec. Sarah Huckabee Sanders: 4 Things You Should Know
New White House Press Sec. Sarah Huckabee Sanders: 4 Things You Should Know
2. She is reportedly a lot like her dad, Mike Huckabee.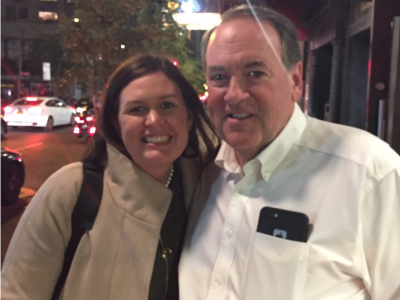 "Sarah is more like her dad than anybody else in the family," said Curtis Coleman, a former Huckabee adviser who has known the former Arkansas governor for decades, in a Sunday article in Newsweek
"She has a sanguine personality ... a ready smile and is one of those people who starts out liking you. You kind of have to prove to Sarah she can't like you, because she'll start out liking you."
Her involvement with her dad's political career goes way back into her childhood; she was stuffing campaign envelopes when she was 9 years old. She is his youngest child and only daughter.
She told C-SPAN in April: "I was a political junkie from an early age, I got a front row seat on something I love to do."
"And something I love to be part of, even better than that I had a chance to do something I love and do that with my dad. It helped prepare me for the life I'm living right now."
She considers her father her "hero."
"He's an amazing politician, but an even better parent," Huckabee Sanders told Time in 2010. "Every day he challenges me to be a better person and I will forever be grateful for that."