NFL Minn. Vikings' Adrian Peterson Says: 'I'm Juicing on the Blood of Jesus'
NFL player and devout Christian Adrian Peterson does not take performance enhancing drugs, but rather "juices on the blood of Jesus," the Minnesota Vikings running back wrote in a recent article for the newly-launched website, Monday Morning Quarterback.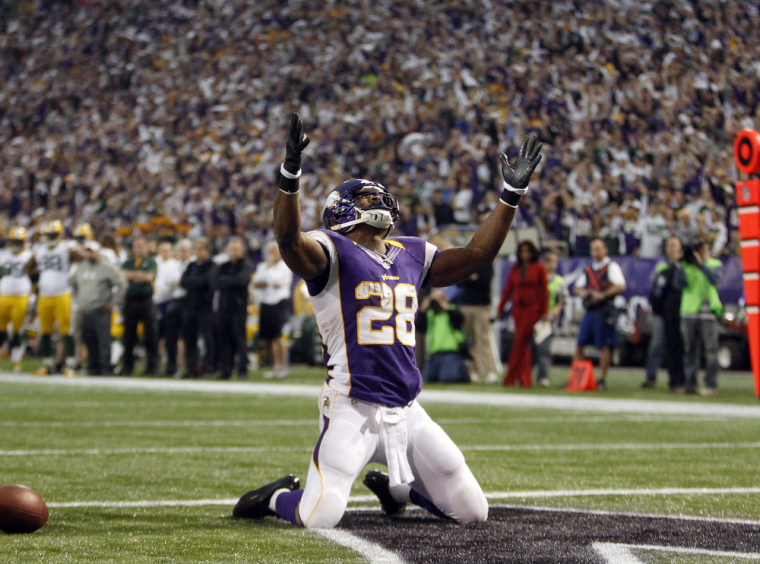 One of the featured segments of Monday Morning Quarterback, a website started by Sports Illustrated senior writer Peter King, is a section entitled "10 Things I Think I Think," in which star NFL athletes list 10 thoughts they have about their personal athletic performance and football in general.
In a recent installation of "10 Things I Think I Think," Peterson listed one of his most memorable on-field interactions from the 2012 season, when an unnamed linebacker from the Detroit Lions approached Peterson after a succesful game and asked him: "Adrian, what are you taking? What juice you using? I gotta [sic] get me some of that."
Adrian writes that his response to his fellow NFL player was: "I'm juicing on the blood of Jesus. Faith is what got me to this point." Peterson goes on to write that when the Vikings played the Lions later in the season, the same anonymous linebacker approached Peterson and said: "I appreciate you saying that. You opened my eyes."
"That was pretty cool," Peterson said of the experience. Peterson, who was named the NFL's Most Valuable Player of 2012, has previously been outspoken about his Christian faith. Peterson's immense success on the field has gained him the nickname "Purple Jesus," a title which he has said he understands, but doesn't necessarily support due to his Christian faith.
When holding an ask-me-anything session on the community sharing website Reddit earlier this week, Peterson said that he has mixed emotions regarding the nickname: "That's pretty funny, but I'm big on faith. I don't really like to be called 'Purple Jesus' because there's only one. I get what they're saying though."
Peterson has also credited his faith in Jesus to his quick recovery from tearing both his ACL and his MCL in December 2011.
"Without Him, doing this recovery, I had no chance – at all! No chance to do this on my own. He kept my mind at ease, doing the rehab. For me, because I've used this principle my whole life, it was so easy to buy into it and know; put this in God's hand, have faith; that simple process, your principles that you have, having faith and believing," Peterson previously told the Christian Broadcasting Network.
The NFL's premier running back is the Vikings' all-time lead rusher, and in addition to winning the NFL MVP award last year, he also won the AP NFL Offensive Player of the Year Award, and was voted as number one on the NFL's Top 100 Players of 2013.