Nicki Minaj Apologizes for Nazi Imagery in 'Only' Video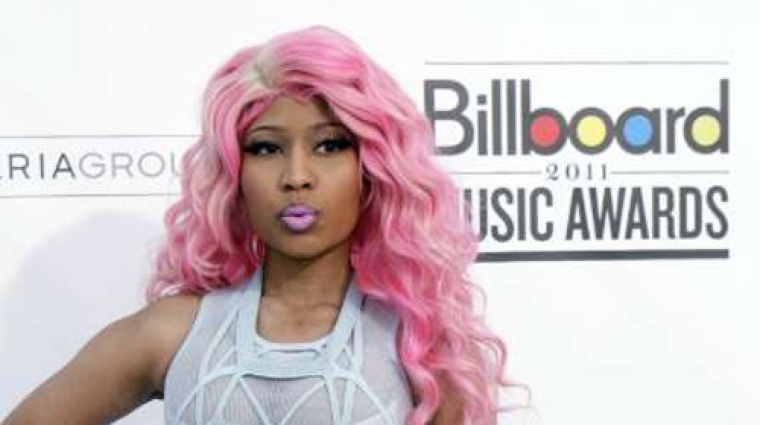 Nicki Minaj apologized for the Nazi imagery in her new lyric video for "Only" Tuesday. The rapper's video has red banners over a grey background, military themes and swastika-like logo in the video, which caused controversy in the hip-hop community and earned the ire of those who believe she is being anti-Semetic.
Nicki Minaj's apology came on her Twitter account, where she said that although the imagery was inspired by Cartoon Network show "Metalocalypse" and the stylistic choices of "Sin City," she still takes responsibility.
"I didn't come up w/the concept, but I'm very sorry & take full responsibility if it has offended anyone. I'd never condone Nazism in my art," she said. "Both the producer, & person in charge of over seeing the lyric video (one of my best friends & videographer: A. Loucas) happen to be Jewish."
Nicki Minaj's Nazi imagery is fairly present throughout the video, which was released Friday. An animated version of the artist sits on a red throne with red carpet while being fanned by attendants. Legions of soldiers, tanks, flying jet fighters, bombs, guns and military attire are present as well. Perhaps the most egregious violation is the stylized Young Money logo – that's her label – which was compared to a swastika.
"Nicki Minaj's new video disturbingly evokes Third Reich propaganda and constitutes a new low for pop culture's exploitation of Nazi symbolism," Abraham H. Foxman, the national director of the Anti-Defamation League, told Fox news. "The irony should be lost on no one that this video debuted on the 76th anniversary of Kristallnacht, the 'night of broken glass' pogrom that signaled the beginning of the Final Solution and the Holocaust."
Despite Minaj's apology, Jeff Osbourne, the director of the video, made it obvious that the Nazi imagery was an artistic choice. He refused to apologize.
"First, I'm not apologizing for my work, nor will I dodge the immediate question. The flags, armbands, and gas mask (and perhaps my use of symmetry?) are all representative of Nazism," he wrote.
"As far as an explanation, I think its actually important to remind younger generations of atrocities that occurred in the past as a way to prevent them from happening in the future," he continued. "So if my work is misinterpreted because it's not a sappy tearjerker, sorry I'm not sorry. What else is trending?"