Nikki Haley defends picture with Caitlyn Jenner, appreciates 'her conservative views'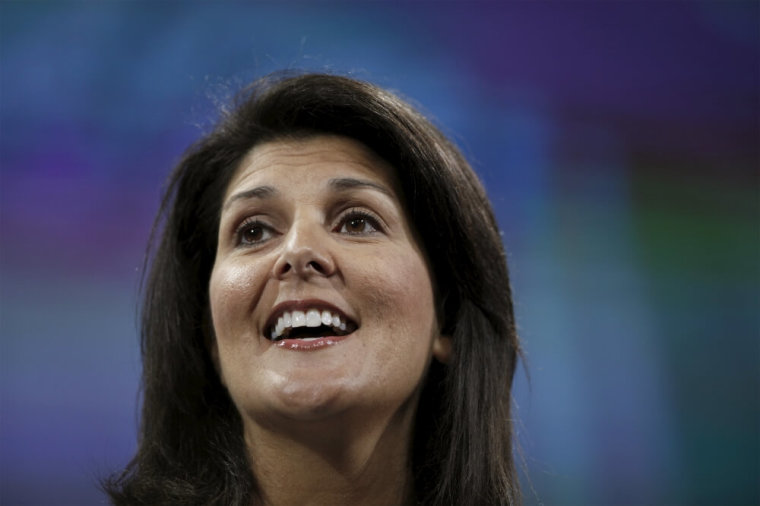 Former South Carolina Gov. Nikki Haley has defended her decision to pose for a picture with trans-identified celebrity Caitlyn Jenner after the two became the subject of a Twitter thread discussing the downfall of the Republican Party.
In a tweet Saturday, Twitter user @rightwingsavag2 asked: "If you could summarize the downfall of the @gop in one photo what would it look like? And why is it this photo?"
The tweet was accompanied by a photo of Haley, who later served as U.S. ambassador to the United Nations under former President Donald Trump, standing beside former Olympic athlete Bruce Jenner, who for the last several years has identified as Caitlyn.
The user answered his or her own question as to why that picture captured the downfall of the Republican Party, declaring: "We became trans to own the libs. Checkmate bigots. -Republicans 2021."
Actor Dean Cain, a prominent Hollywood conservative, retweeted the post, accompanied by the caption "Dang it. I laughed."
In response to Cain's tweet, Haley responded by tweeting, "I don't find it funny."
"Caitlin came to see me at the UN and I appreciated her conservative views," Haley wrote. "I will continue to think that the Republican Party is one of conservative views by all people regardless of the demographics. To me, that's not funny, it's America."
Cain replied: 
"The humor, and what I found funny – was the way the tweet was worded. Had nothing to do with conservative views, or you, or Caitlin, or the UN, or America. Caitlin and I have been friends for decades."
The post citing Haley and Jenner standing together as a summary of the downfall of the Republican Party came just one day after Jenner became the latest declared candidate in the yet-to-be-announced California recall election.
"I'm in! California is worth fighting for," Jenner proclaimed in a Friday tweet accompanied by a statement announcing the launch of the "Caitlyn for California" campaign.
"For the past decade, we have seen the glimmer of the Golden State reduced by one-party rule that places politics over progress and special interests over people," Jenner argued. "This isn't the California we know. This is Gavin Newsom's California, where he orders us to stay home but goes out to dinner with his lobbyist friends."
The aforementioned private dinner between Newsom and lobbyists at an upscale California restaurant that took place as residents of the state were instructed to stay home and not travel for Thanksgiving is seen as the event that accelerated the push to recall Newsom.
Supporters of the recall effort have gathered the required number of signatures to force a recall. But a date for the election has not been finalized.
Other Republicans seeking to unseat Newsom include Kevin Faulconer, the former mayor of San Diego, California's second-largest city; 2018 Republican gubernatorial nominee John Cox; and former Congressman Doug Ose.
In the 2018 gubernatorial election, Cox lost to Newsom by nearly 24 percentage points.
While members of the LGBT community generally favor the Democratic Party, Jenner has expressed support for conservatism and the Republican Party going back to 2015, when Jenner, who still identified as Bruce at the time, sat down for an interview with ABC News's Diane Sawyer.
Although his declaration that "I'm a woman" was the main headline from the interview, Jenner also said, "I've just never been a big fan" of then-President Barack Obama because "I'm kind of more on the conservative side."
The athlete turned reality TV star answered in the affirmative when Sawyer asked, "Are you a Republican?"
In addition to Jenner, Haley is also seen as a Republican who aspires to run for a higher office. Haley is frequently mentioned as a possible candidate for the 2024 Republican nomination for president. 
Haley has been met with criticism from some in the Republican Party and the conservative movement for her views on foreign policy and insufficient loyalty to Trump, still an enormously popular figure among the GOP base.
Skepticism of Haley among conservatives dates back to January 2016, when Haley provided the response to then-President Obama's State of the Union Speech and used her platform to take veiled swipes at then-candidate Trump.
In a straw poll taken at the Conservative Political Action Conference, an annual gathering of grassroots conservative activists, Haley received 3% support in a hypothetical Republican presidential primary that included Trump, making her the fourth-most popular hypothetical candidate of those listed.
In a hypothetical field without Trump as a candidate, Haley's support was also measured at 3%, making her tied for sixth place.