'A symbol of racialized hatred': Noose on tree at DC church investigated as possible hate crime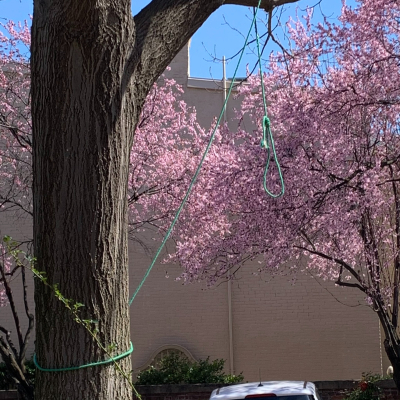 An unknown party hung a noose on a tree on the property of a Washington, D.C. church, and local police are investigating the incident as a possible hate crime.
The noose was discovered last Friday at St. Mark's Episcopal Church, a congregation founded in the 19th century based in Southeast D.C., near Capitol Hill.
Michele Morgan of St. Mark's sent an email to church members explaining that they found the noose hung from one of the trees in the courtyard on Friday morning.
After contacting police about the noose, church leadership "prayed around the tree, reconsecrating the space and blessing the tree and the sacred space of our church."
"That symbol of hatred has no place in our churchyard, in our city, or our country. I know that this symbol causes fear in people ... hearts," wrote Morgan.
Describing the noose as "a symbol of racialized hatred," Morgan also noted that the surrounding community reached out to the congregation "in overwhelming ways."
"We have received phone calls from allies in the work of racial justice: WIN, Everyone Home DC, Newtown Action Alliance, and other Episcopal churches," she continued.
"Past parishioners from all over the country have checked in, asking if they can do something. I received a call from a woman who is willing to stop by and check on the church and another who is ready to come and walk people to their cars."
The noose was first spotted by a vocal ensemble group known as The Thirteen, which had been practicing a rendition of Johann Sebastian Bach's "Saint John Passion."
The Thirteen's production included an African American playing the role of Jesus. The production will focus on issues of systemic racism, the group's artistic director, Matthew Robertson, told WTOP.
"And so it's unclear whether the church, for their strong progressive stance, was the target, or whether this production was the target. But regardless, we at The Thirteen condemn racism in all its forms," Robertson said.
D.C. Ward 6 Councilmember Charles Allen took to Twitter to denounce the noose display, calling on followers to declare that "hate has no home here."
"A noose was found today at St Marks Episcopal Church on the Hill. A despicable symbol & act of hate. [Metropolitan Police Department] has been on scene & is working with church leadership," Allen tweeted.
Metropolitan Police Department spokesperson Hugh Carew told CNN that the department is investigating the incident as a hate crime. 
"These types of offenses are taken seriously and are entirely unacceptable," Carew said.