Obama Talks Nicki Minaj, Mariah Carey Feud: Reveals Favorite
"American Idol" judges Nicki Minaj and Mariah Carey recently received some words of wisdom from none other than President Barack Obama.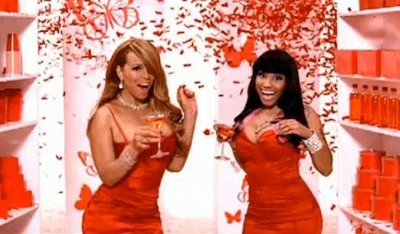 The feuding panelists recently made headlines after a shocking video of their verbal fight went viral on social networking sites, but Obama remains confident that the pair will overcome their differences.
"I think they are going to be able to sort it out, I am confident. I am all about bringing people together, working for the same cause," Obama recently told Miami radio host Michael Yo on "The Yo Show."
"I think both outstanding artists are going to be able to make sure that they're moving forward and not going backwards," he went on.
On Oct. 2 Minaj, whose real name is Onika Tanya Maraj, reportedly became enraged at Carey, 42, over jabs that were allegedly made while filming for "American Idol" in Charlotte, North Carolina. Sources claim that Carey had repeatedly disrespected Minaj, 29, during filming which prompted the rapper to fly off the handle.
"I told them I'm not f----- putting up with her f------ highness over there! ... Figure it out!" Minaj is heard ranting on the video.
In one of the most vicious and awkward incidents on the singing reality TV show, Minaj reportedly stormed off set during her heated confrontation with Carey following an alleged dispute over a contestant's performance. Their fellow panelists Keith Urban and Randy Jackson appeared stunned as they nervously watched on.
Since the incident occurred, both Carey and Minaj have prolonged the feud by publicly speaking out against one another. President Obama admitted that Carey is his favorite, though.
"Mariah. She's actually done some events for us. I've gotten to know her and Nick [Cannon]. She's a wonderful lady," Obama said. "Nicki, I don't know, but I've got her on my iPod."
It was recently speculated that Minaj had endorsed Republican Presidential hopeful Mitt Romney due to the lyrics in a song she released. However, Obama accurately pointed out that the rapper was rhyming as an alter ego, and that the Romney endorsement reports are false. Minaj later confirmed the President's assessment.