Octomom and Strip Club Lawsuit, Nadya Suleman Cancels Gig Because She 'Fears for Her Life' (VIDEO)
Nadya Suleman could now be forced to strip at a local club, which has threatened to sue the Octomom if she does not appear for her stripping debut.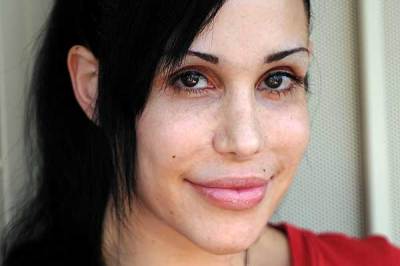 Nadya Suleman, in a recent desperate quest for money, has stated that she is now willing to do anything in order to support her family. During an interview on Showbiz Tonight in May, Suleman said "all that matters is that I can take care of my family" when asked about her entrance into adult entertainment.
Following a nude photo shoot for a British magazine and a stint in pornography, Suleman recently agreed to strip at a local Florida nightclub.
Suleman's representatives had confirmed in June that she would take on the lewd gig at West Palm Beach's T Lounge, from July 11 - July 14 in order to earn more money and promote her new adult video. However Suleman later backed out of the gig after she learned that one of the nightclub employees had referred to her as crazy.
"Nadya will not be appearing at this club in July or in the future," Suleman's reps told TMZ.
"She's got a lot of mouths to feed so it was only a matter of time," Michelle, a bartender at the lounge, told CBS in an earlier interview, prompting Suleman to back out of the gig. "She must be a little crazy, normal people don't have that many children, but we're all curious."
The nightclub however, has decided to follow suit charging that Suleman did not give due warning about not fulfilling her agreement with the club.
According to TMZ, "a lawyer for the club has fired a letter off to Octo's camp, claiming Nadya failed to give the club written notice of her cancellation, so if she doesn't perform as scheduled ... the club will sue."
Suleman's reps however, claim that Suleman now fears that performing could put her life at risk.
"Nadya felt defamed and was in fear for her life to step into a club where they have already set a negative tone," the Octomom's reps told TMZ.