Oklahoma Tornado Death Toll Still Unknown; Oklahomans Pull Together Amidst Tragedy, Loss of Life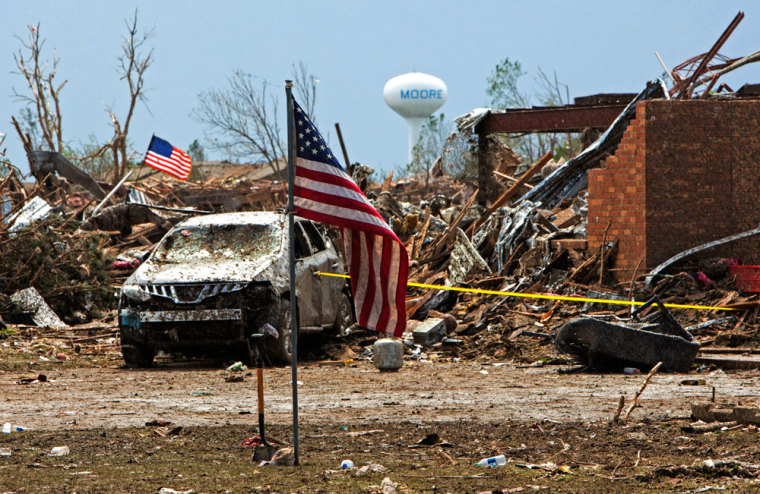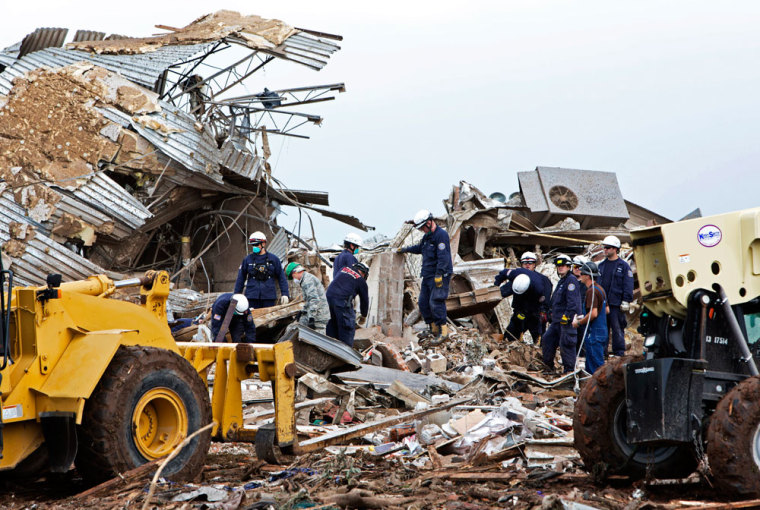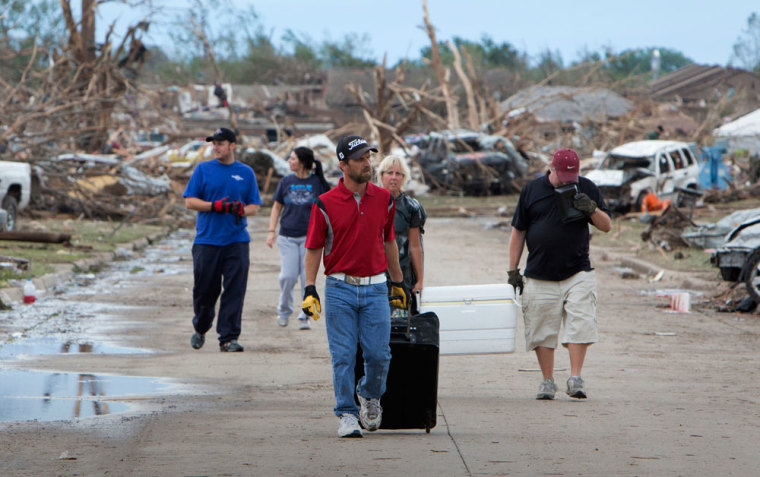 View Photos
Oklahoma Baptist Disaster Relief (OBDR) and the Salvation Army are among the faith-based organizations providing aid and comfort to the residents of Moore, Okla., and surrounding areas, following Monday's devastating tornado that killed at least 24 people, a number that is expected to increase as search and rescue teams continue to dig through the rubble.
Speaking at a noon press conference, Oklahoma Gov. Mary Fallin reported on the devastation she witnessed from an aerial view on Tuesday: "38,000 residents are without power – 20,000 in Moore and Oklahoma City," including areas that are without water. Fallin said there are no confirmed numbers of deaths, but there's an estimated 237 people who have sustained injuries from the tornado.
Gene Jones of OBDR told CP on Tuesday that their organization has two feeding stations set up in Oklahoma, one in Shawnee and the other in Moore. "These have the capacity to serve 25,000 meals a day. Our meal count is only about 4,000 now, and is expected to grow to 10,000 in the next two days."
Jones said they have enough volunteers to serve this week and are already working on the volunteer rotation for next week. "Oklahoma is taking care if its own right now, at least in my area," he said. People can, however, give a monetary donation to fund OBDR's Oklahoma relief efforts by making a donation to their local Southern Baptist Church and labeling it as a contribution to the organization, and the church will pass the donation directly to fund the OBDR's efforts.
Kristi Davis of the Eagle Heights Church in Oklahoma City is also working to coordinate relief efforts to provide groceries to church members and residents who are without power and running water. "There's no cellular service in Moore and we're just finding out which of our members are without food and water," said Davis, whose church is collecting money to send out their teams who are buying groceries to take to families who are without power.
CP has also confirmed that the University of Oklahoma has opened up its campus residences to families who have lost their homes, and is even welcoming their pets. The university has already provided housing and meals to more than 100 people and is collecting personal care items and baby formula.
The Salvation Army's disaster response units are also on the ground providing food, and spiritual and emotional support to first responders and survivors. They've already dispatched response teams from Arkansas to help teams serving in the Oklahoma City area.
The organization said that monetary donations are the most critical need as supplies and personnel are mobilized. Donors are encouraged to give online at www.SalvationArmyUSA.org or by calling 1-800-SAL-ARMY (1-800-725-2769).
"Many of these impacted communities will take months or even years to recover," said Major Steve Morris, the Arkansas-Oklahoma Divisional Commander. "The Salvation Army is committed to being there with them throughout and providing aid wherever it's needed."
The Journey Church of Norman, Okla., is an additonal church collecting food and personal care items to provide for survivors' most immediate needs. To read the list of items needed, click here.
President Barack Obama declared Oklahoma a major disaster area and promised to supplement state resources with federal aid. Speaking at the White House Tuesday morning, Obama said he spoke with Mayor Lewis of Moore, Okla., Gov. Fallin, as well as Homeland Security and FEMA directors, and announced that FEMA has activated search and rescue teams from Texas, Nebraska and Tennessee, to assist in search and recovery efforts of the mobile response units and to ensure that local and state response teams "have all of the resources they need at their disposal."