Oklahoma Woman Who Found Dog in Tornado Rubble Could Get New Home
Internet Rallies Funds for Barbara Garcia, Bazzie After Heartwarming Reunion Caught on Tape
Oklahoma tornado survivor Barbara Garcia touched the hearts of many when her on-camera interview with a news network was interrupted by the discovery of her mini schnauzer, whom she thought had been lost in the tornado that had leveled her home and those of her neighbors. Now, Internet users are rallying together to try to pay for a new home for Garcia and her dog.
"Well I thought God just answered one prayer to let me be okay. He answered both of them, because this was my second prayer," Garcia told CBS News correspondent Anna Werner as she coddled her "poor little" schnauzer, who was discovered pinned under the wreckage directly behind the elderly woman.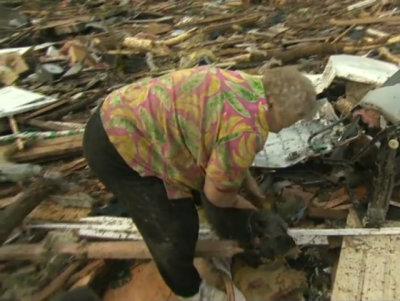 Garcia had been explaining how she and the dog, Bazzie, had taken refuge in the bathroom when the powerful tornado smashed through their neighborhood in Moore, Okla., on Monday. While she got knocked around but remained conscious, Garcia found that she was alone once she emerged from the pile of sticks that minutes before had been her home — her mini schnauzer was nowhere to be found. Or so Garcia thought.
The video on the CBS News website of Garcia and Bazzie's unexpected reunion has been shared nearly 500,000 times on Facebook and a link to the video tweeted by more than 20,000 people, many of whom describe Garcia's story as "heartwarming," "touching" and one that brought them to tears.
One Minneapolis woman, Erin DeRuggiero, was so moved that she has launched a crowdfunding campaign to help Garcia get a new home.
"I do not know Barbara Garcia personally, but was incredibly moved by her story and of her reunion with her dog, captured on live TV after the Moore, Oklahoma tornado on May 20th. I was so deeply moved, that I had to DO something for her, immediately, so that we can impact her life directly as quickly as possible," DeRuggiero explains on the "Build Barbara Garcia a House" campaign page at GoFundMe.com.
"My goal is to show her that 'life in the big city' also means helping strangers, and reaching out to make a difference in their time of need. ... I live far away from Moore, Oklahoma, but want the residents there to know that we will stand by them, and lend support in any way possible. If I can inspire you to donate $1, $5, $10 to help Barbara build a new house (complete with a dog house for her canine companion) please share with friends and together maybe we can help her heal."
The goal of the crowdfunding campaign is to raise $25,000, and a little over $1,400 had been raised on Thursday. DeRuggiero managed to locate Garcia after being contacted by another Moore, Okla., resident who shared that Garcia is 74 years old and has a son. In addition, DeRuggiero was contacted Thursday by CBS News apparently for a follow-up piece on Garcia and the crowdfunding campaign that has been launched on her behalf.
Meanwhile, Garcia and her fellow Oklahomans are looking at a long recovery, according to officials. The tornado, estimated to have delivered winds of up to 200 mph, leveled 12,000 to 13,000 homes, and hit two schools and a local hospital. An estimated 24 people may have been killed, with 10 children counted among the casualties. Overall, an estimated 33,000 people may have been directly affected by the powerful twister that hit on Monday just 10 miles from Oklahoma City.
In addition to declaring a state of emergency in several counties, with President Barack Obama also promising federal aid, Oklahoma Gov. Mary Fallin asked members of the public to keep her state in their prayers.
"Oklahoma people are very strong, and they will make it through this, but we're going to need a lot of prayer and a lot of support to get back on our feet," Gov. Fallin told Politico.
In the days since Garcia and Bazzie's video has emerged online, Web users have been pointing to a similar on-camera incident from 2011, when an elderly woman who survived a tornado in Tuscaloosa, Ala., found one of her missing cats while surveying the wreckage of her home with a news crew.
Watch a clip of tornado survivor Judy Pugh finding her cat below: